I originally bought shares of Store Capital (NYSE:STOR) in mid Marchfor its perceived safe dividend (more details here in the March edition of my top U.S. stock ideas).

For a while Store Capital seemed to have been a nice buy as shares appreciated nearly 8% in a month. However, the last 3 trading days (Wednesday to Friday) more than shaved off those gains: the shares have fallen nearly 12%, which may be a cause of concern for some investors.
This big drop requires further investigation. Should you avoid Store Capital or is it a buying opportunity?
First, let's take a look at the drop.
The drop
Store Capital's dramatic drop was spurred by Spirit Realty Capital (NYSE:SRC), which had credit issues with some of its tenants.
From Wednesday to Thursday, Spirit Realty shares fell nearly 28%.
It caused a ripple effect that dragged down the shares of other triple-net lease companies, including Store Capital, Realty Income Corp (NYSE:O), and National Retail Properties (NYSE:NNN).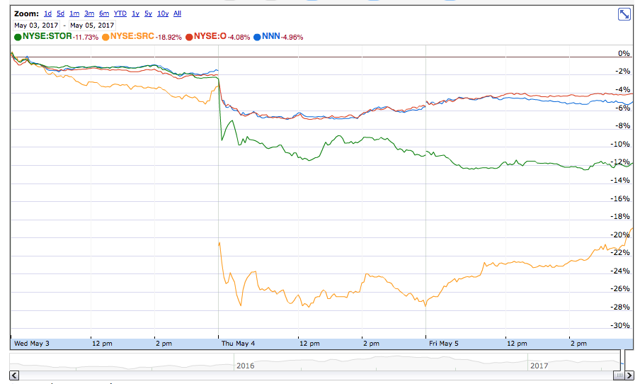 Source: Google Finance
By Friday, the shares of all of the net-lease players had partially recovered except for Store Capital.
If someone just looked at Store Capital's recent stock price, they'd think it's a bad business. However, the company's recent results indicate the opposite.
Improving business fundamentals
Coincidentally, Store Capital released its Q1 results on Thursday. Compared to Q1 2016, the company's adjusted funds from operations ("AFFO") per share increased by 7.5% to $0.43, and its dividend per share increased by 7.4% to an annualized payout of $1.16.
Store Capital's portfolio has also grown bigger and more diversified. Specifically, at the end of the quarter, it had 1,750 investment property locations across 369 customers operating in 107 industries (versus 1,397 investment properties across 321 customers operating in 90 industries in Q2 2016).
Store Capital's top 10 customers contribute 17.7% of its base rent with no one contributing more than 3.1%. Further, 82.3% of its customers contribute less than 1.1% of its revenue.
Store Capital also maintained a high occupancy of 99.5%, including properties which were under contract negotiations. As of the end of Q1, it had nine vacant properties, which were not under contract negotiations. As well, the company had a weighted average remaining lease term of about 14 years.
A buying opportunity
I believe there's a disconnect between Store Capital's price drop and its strong business fundamentals. The company has become more profitable, but its share price has fallen below its Q1 2016 low point of $22.
At the end of March, Store Capital raised net proceeds of $220.8 million from a public offering which sold common shares at $23.10 per share.
Whether compared to Q1 2016, at which time Store Capital earned lower AFFO per share, or the recent public offering price, the shares are cheap.
At below $21 per share, Store Capital offers a safe yield of almost 5.6% with a payout ratio of about 68%. Moreover, it can deliver above-average returns because the shares are undervalued.
Assuming a reasonable multiple of 15, Store Capital can deliver annualized returns of roughly 17% over the next few years.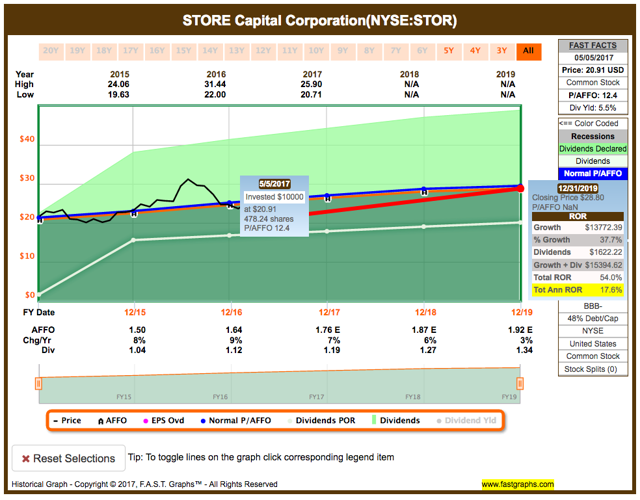 Investor takeaway
There's a disconnection between Store Capital's share price drop and its business, which continues to perform. Even though Realty Income and National Retail are viewed as higher quality and have also experienced pullbacks from the shockwave of Spirit Realty, I believe Store Capital will deliver higher returns because it's cheaper and expected to have slightly higher growth than the bigger companies.
I believe income and total returns investors should consider Store Capital today and that the shares will head higher in the next 1-3 years.
Share your thoughts in the comments below
Are you buying Store Capital at current levels?
Or are you buying Realty Income, National Retail, or even Spirit Realty?
Author's note: If you like what you've just read, consider following me. Simply click on the "Follow" link at the top of the page to receive an email notification when I publish a new article.
This article first appeared in my premium service, from which my subscribers get priority attention and gain access to my real-time buys and sales. Feel free to try the service for free for two weeks.
Disclaimer: This article consists of my opinions and is for educational purposes only. Please do your own research and due diligence and consult a financial advisor and or tax professional if necessary before making any investment decisions.
Disclosure: I am/we are long STOR.
I wrote this article myself, and it expresses my own opinions. I am not receiving compensation for it (other than from Seeking Alpha). I have no business relationship with any company whose stock is mentioned in this article.