Sometimes the best lessons can be learned by looking back at the past. When it comes to investing, the word "long term" is relative. To some investors, this can mean as little as a year and a day. For others, an idea needs 3 - 5 years to bloom. For even others, their goal for buying and holding is for decades.
Of course, any snapshot of time when it comes to examining the history of stocks can depend greatly on economic cycles. A group of investments during the bottom of a bear market can look much different from those nearing a market top. There's no perfect measure, but when it comes to looking at things like business growth, I prefer an outlook of 10 years. While most of Wall Street looks at next quarter's earnings projections or a YOY increase, I find it prudent to follow Graham's suggestion of measuring earnings growth over a 7 - 10 year period. The validity of this approach has not been studied much by other back-testers. You can find many back tests on most every other metric, but this one doesn't even show up as an option on most screeners.
So for this article and the rest of the "industry history" pieces I will write, I'll be looking 20 years back. First, examine each stock's performance from 2007 - 2017. It's hard to argue against such a hold period as not being long term, and it presents a sort of worst case scenario, with stocks peaking in 2007 and being far from a buy low. Then, I'll look back to 1997 to examine the 10 year growth histories of net income and shareholder's equity. The data from 1997 - 2007 would be readily available for the prospective investor in 2007. If those metrics scored well and then resulted in 10 years of strong stock price performance to follow, it might be a good consideration for future ideas. At the very least, these findings will contribute to the body of evidence for or against these metrics.
In my previous article about the computer manufacturing industry, the two big winners in there had excellent 10 year growth histories from 1997 - 2007. This article will examine if the same can be applied to the high market capitalization companies in the restaurant industry.
As far as the last 10 years go, the restaurant industry's leaders have done really well from a return on investment perspective. Consider that in this time period, the S&P 500 has seen a stock price appreciation of 59.35%. Each of these 4 stocks (MCD, SBUX, YUM, CMG) have beat that handily by at least double, and a couple have done so significantly. With this kind of past performance, it's no wonder that investors are seriously optimistic for the times to follow.
McDonald's
| | |
| --- | --- |
| Price/Earnings | 2007 |
| MCD | 30.5 |
| S&P 500 | 16.5 |
| Price/Book | |
| MCD | 4.4 |
| S&P 500 | 2.7 |
| Price/Sales | |
| MCD | 3.1 |
| S&P 500 | 1.5 |
| Price/Cash Flow | |
| MCD | 14.6 |
| S&P 500 | 11.6 |
Source: Morningstar
On each of these metrics, MCD carried a higher valuation than the market average. If you look at the stock price chart below, you'll see that these higher valuations correspond with the positive momentum surrounding the company since 2003. With a 2007 debt to equity of 0.92, the company was still able to maintain a stable balance sheet.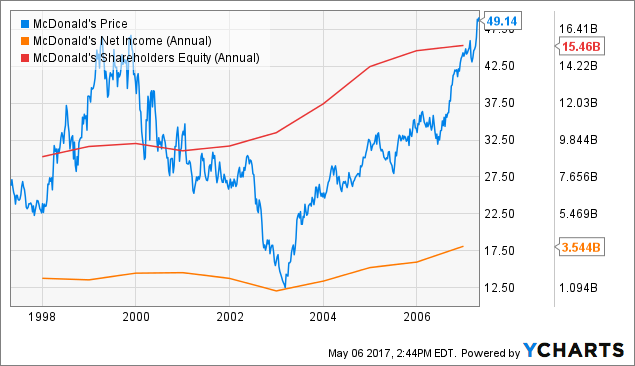 Interestingly enough, this stock performed the worst out of the group in regard to previous 10 year average earnings growth and shareholder's equity growth, yet was still able to reward investors with a 188.36% price appreciation. Earnings growth over the period averaged 4.5% a year, while shareholder's equity grew an average of 7.2% a year. Notice how the red line growth slows near the end while the orange continues on a rapid pace. Shareholder's equity growth can sometimes trail earnings growth, and it's possible that this contributed to the superior stock performance to follow.
Starbucks
| | |
| --- | --- |
| Price/Earnings | 2007 |
| SBUX | 23.0 |
| S&P 500 | 16.5 |
| Price/Book | |
| SBUX | 6.6 |
| S&P 500 | 2.7 |
| Price/Sales | |
| SBUX | 1.6 |
| S&P 500 | 1.5 |
| Price/Cash Flow | |
| SBUX | 10.7 |
| S&P 500 | 11.6 |
Source: Morningstar
When I think of business staples that are posted up no matter where you go, I think of 3 companies: Wal-Mart (NYSE:WMT), McDonald's and Starbucks. It's no surprise that with this kind of popularity the stock has been able to flourish. From 2007 - 2017, the stock's price grew a whopping 297.07%. It obtained this with a starting debt to equity of 1.3, which is very close to where most companies are. Notice how although the P/E was slightly higher than average, it was accompanied with a moderate P/S and P/CF. That means that sales are there, but earnings are either wasted away with high costs or being invested elsewhere for future profitability. The greater the gap between these 2 ratios, a higher P/E and lower P/S, the greater the chance that this is happening.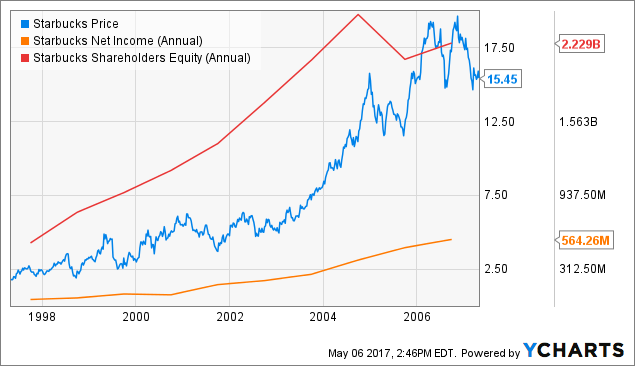 The 10 year growth numbers for this stock were incredible. Earnings were increased an average of 107% a year over the time period, while shareholder's equity increased a solid 32.9% a year. The extremely high earnings growth can partly be attributed to lower earnings in 1998 - 1999, but it shouldn't detract much from this impressive accomplishment. You can see that after 2000, earnings just continued to grow linearly. This is a sign of a fantastic business model.
Yum! Brands Inc
| | |
| --- | --- |
| Price/Earnings | 2007 |
| YUM | 22.8 |
| S&P 500 | 16.5 |
| Price/Book | |
| YUM | 16.8 |
| S&P 500 | 2.7 |
| Price/Sales | |
| YUM | 2.0 |
| S&P 500 | 1.5 |
| Price/Cash Flow | |
| YUM | 13.2 |
| S&P 500 | 11.6 |
Source: Morningstar
This stock performed well despite having a very low level of net assets compared to its other financial measures. This means return on equity is obviously high, and it can signal a business model that requires very little capital to do well. The prevalence of high liabilities compared to its assets is easily seen with its 2007 debt to equity of 5.3. Of course the stock did well, but I'll argue that there's no need to have taken such a high risk investing in a stock with that much debt. An easy comparison is Starbucks above. It had much less leverage but still obtained superior results.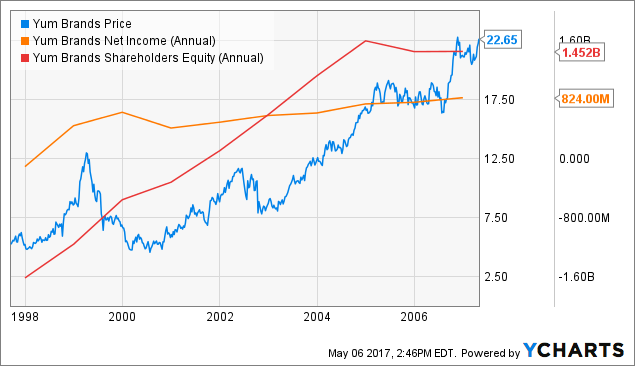 The calculations for shareholder's equity 10 year growth for this company were difficult because of its negative equity in 1998, 1999 and 2000. Using the 2001 shareholder's equity value in the growth calculation, the company averaged 165% a year. Earnings were relatively stable in growing 10.4% a year over the time period.
Chipotle
| | |
| --- | --- |
| Price/Earnings | 2007 |
| CMG | 69.0 |
| S&P 500 | 16.5 |
| Price/Book | |
| CMG | 8.6 |
| S&P 500 | 2.7 |
| Price/Sales | |
| CMG | 4.5 |
| S&P 500 | 1.5 |
| Price/Cash Flow | |
| CMG | 33.2 |
| S&P 500 | 11.6 |
Source: Morningstar
Chipotle's growth story is one of the best in the last decade. Their stock has grown by 506.05%, and is highly regarded by many analysts and individual investors. What's most impressive is what they've been able to do with limited debt, having a debt to equity of only 0.28 in 2007. Their success had not gone unnoticed, as evidenced by their high valuations shown in the table above. As time went on, this popularity has become even more extreme.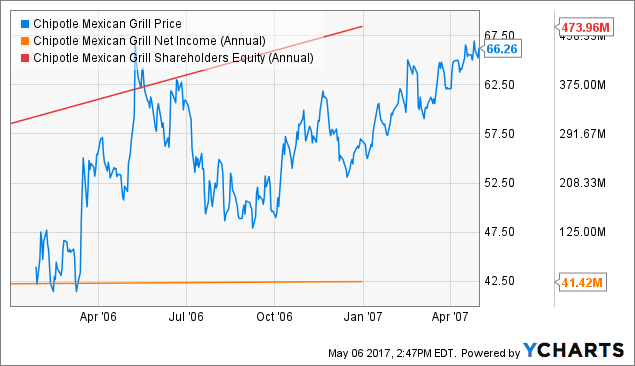 From a 10 year perspective prior to 2007, there isn't enough data to make a calculation due to CMG going IPO in 2006. Using available 2005 data, I calculated their earnings growth to average 43.6% a year and shareholder's equity growth 40.8% a year.
Conclusion
It's clear that the company's with outstanding 10 year growth numbers ended up performing very well afterwards. The only exception to this was MCD, which did well anyways. If we learn anything, it can be that signs of growth success can sometimes be hidden in plain sight for many years.
Disclosure: I/we have no positions in any stocks mentioned, and no plans to initiate any positions within the next 72 hours.
I wrote this article myself, and it expresses my own opinions. I am not receiving compensation for it (other than from Seeking Alpha). I have no business relationship with any company whose stock is mentioned in this article.