Shake Shack (NYSE:SHAK) went on an IPO back in January 2015, having reached an all-time high of $96.8 per share in May 2015. Since then, the stock has dropped significantly and by January 2016 tumbled to the all-time low of $30. While having made a lot of attempts to get back to the initial price of around $52, it remained flat ending 65% below the all-time highs. However, the chart below is similar to many post-IPO patterns demonstrated by a multitude of other stocks. Therefore, the price is unlikely to stay at the current level for long.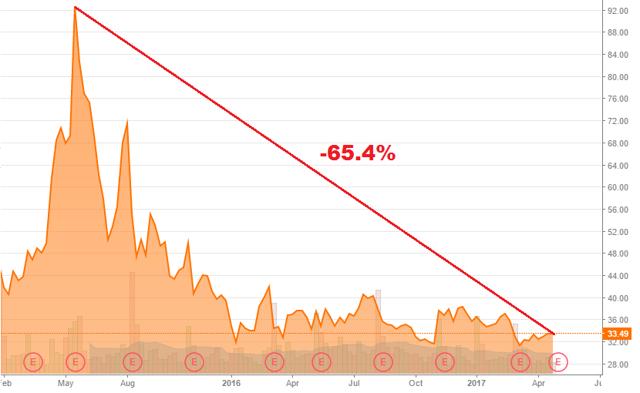 (Source: Seeking Alpha)
Let us move further to see how the stock has been doing compared with the market (S&P 500). We have made a snapshot of one-year performance, and it is clear how large the deviations have been and, while the stock followed the market closely through the turbulent period in May-July of 2016, it became less volatile since then but also deviated far from the index by April 2017. That being said, the stock has been attracting followers and shaking off pessimists to finally reach a long-term support level and establish a somewhat above-average market beta for the sector.

(Source: Google Finance)
Now let us turn to the fundamentals. The company's market was and still is a challenging and highly competitive place to be in. After all, whenever and wherever your favorite Shack location is unavailable, you can always eat somewhere else. Companies in this sector can hardly create incorruptible loyalty to their brands. However, this does not stop new market entrants. Shake Shack has been following industry trends closely, unlike some of its competitors, and has demonstrated the following developments:
- It has gone digital by implementing a mobile app;
- It prioritizes customer experience by investing in seasonal offerings;
- It is well diversified through its owned and licensed stores and plans to get into the new accounting method for its build-to-suit stores.
Shake Shack is doing the right thing by simplifying the customer shopping experience with a new application called Shack App. As the CEO Randy Garutti mentioned in the Q42016 earnings call, "I'm fairly certain that my own young children will experience retail and restaurants in a very different way than I did" (Source: Seeking Alpha). Although the app was launched nationwide back in Q42016, it got a massive attention only in February coupled with the special offering of a free burger for each download. That being said, it did cost the company nearly 90 thousand free Shack burgers or 6% of total orderings nationwide. One may think of it as a blurred indicator of success; however, since then, the average transaction was up by 15%, while 25% of app users can already be considered returning customers. In terms of financials, the digital purchases account for 6% of total transactions. This is a good number for a six-week period or so.
So, what does the app offer? We may turn to the Q42016 Earnings call transcript to find out:
"Following your next Knicks and Rangers game or the next time you're on the Long Island Railroad, Amtrak or New Jersey Transit, now you can pre-order on the app, name your pickup time, grab your Shack and make your train home" (Source: Seeking Alpha).
The company is paying close attention to its menu with innovations like the one using the canvas of burgers and chicken together for the first time. There are also several seasonal offerings to be mentioned. The Q1 seasonal taste belongs to Mud Pie, Mint Cookies, and Cream and Salted Vanilla Coffee shakes, which sounds new and tempting.
To remain strong among its competitors, Shake Shack is diversifying itself with owned and licensed national and international stores. This can be seen in the diagram below: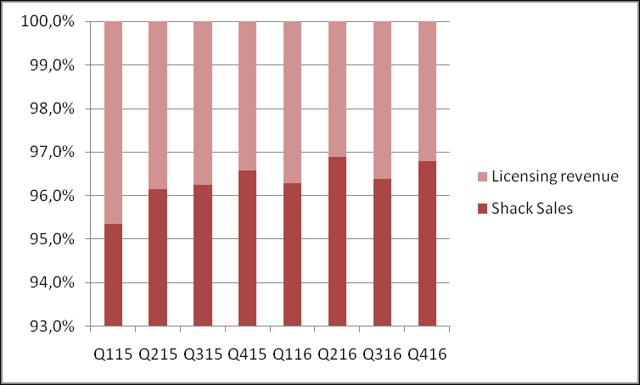 (Source: Company's financials, infographics by author)
At this time, licensing revenue is under pressure, is Shake Shack's own sales have been growing faster since Q1 2015.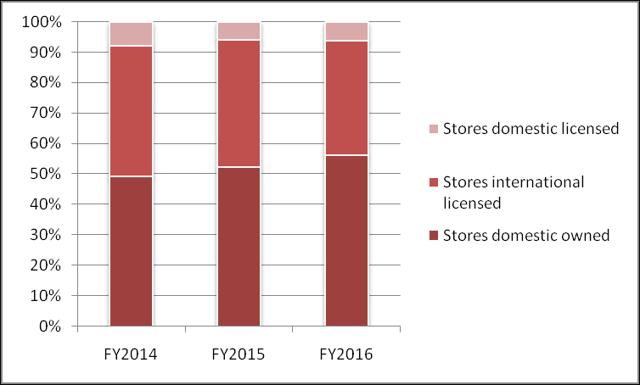 (Source: Company's financials)
As for the stores pipeline, it has grown by 81% since Q1 2014. In total, the major part of Shake Shack's business is in the domestically operated stores. As the company stated in the latest earning call, it has plans to expand with 22 to 23 domestic company-operated Shacks and eleven new licensed Shacks. As for FY2016, the company has beaten guidance, opening 20 domestic stores versus the estimate of 19 locations.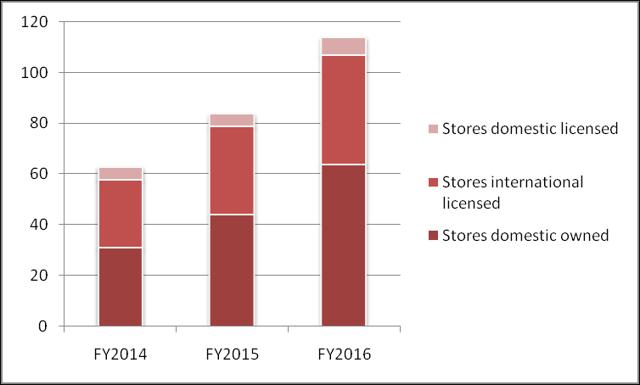 (Source: Company's financials)
In terms of like-for-like sales growth, the company has shown a 4.2% increase on a year-over-year basis with a two-year stacked comp of 17.5%. The outstanding increase in sales of 43% in Q42016 on a year-over-year basis is mainly explained by the prior opening of the twenty new domestic stores with a like-for-like sales growth of only 1.6%. Will the growth rate be higher in the future? The management expects the annual same-stores-sales growth to be in the range of 2% to 3% - very conservative to say the least.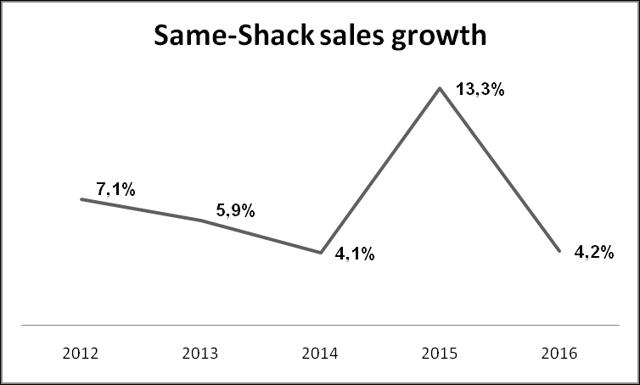 (Source: Company's financials)
While looking at the return metrics and margins, Shake Shack does not seem very competitive with a ROE of only 9.8% and a ROA of 4.8% compared to the industry's average of 14.5% and 7.1%, respectively. That said, there is a lot to be done before the company can beat Wendy's (NYSE:WEN) or Buffalo Wild Wings' (NASDAQ:BWLD) results. The same story goes with the margins, as the company has been showing below-average numbers in the gross, operating, and net profit margins, altogether. It is worth mentioning that Buffalo Wild Wings has almost the same net profit margin (4.8% vs. Shack's 4.6%), although it has a market capitalization double that of Shake Shack's, and its stock is considered mature.

(Source: Thomson Reuters)
Glancing at the history, one can see that the company has suffered from serious headwinds in terms of its ROE and ROA metrics with the FY2015 figures of -3.8% and -15.5%, respectively:

(Source: Morningstar)
The balance sheet is the only thing considered to be undoubtedly strong relative to the peers. The company has no debt and the largest current and quick ratios of 2.65 and 2.62, respectively. It has one of the highest inventory turnover ratios of 275.9x coupled with one of the lowest average day receivables of 6.9x:

(Source: Thomson Reuters)
Now let us get closer to valuation. We value Shake Shack with the DCF model. In our valuation, we have applied the Gordon growth approach and the EBITDA multiple method to see the entire picture and to cross-check our main assumptions:
- We are projecting the annual growth in total revenue of 30%, which is split between the owned and licensed stores in the same manner as it has been as of today;
- The projected EBITDA margin is similar to the FY2016 figure of 16% of net sales;
- The net Income margin remains at the same level as in FY2016 - at 5%; Cash flow from operations is expected to stay mostly flat, slightly up at 22% of revenue;
- CAPEX remains at 20% of sales, as we do not know exactly how fast the company will be growing one year from now;
- The implied free cash flow yield is 2% (estimated free cash flows divided by forecasted annual sales);
- WACC is calculated to be at 8% given zero debt.
In terms of the multiple method, we have chosen the average between the company's own next-twelve-months' EV/EBITDA multiple and one of its competitor's figure of 18x. We have decided not be too conservative taking the peers' NTM multiples as Shake Shack is still a young and growing company unlike giants such as McDonald's.

(Source: Thomson Reuters)
The valuation showed a base scenario with a target price range of $33 to $36 per share, yielding a -4% to 6% upside potential from the current levels. The optimistic scenario implies a per-share range of $35 to $38, or a 1% to 11% upside potential.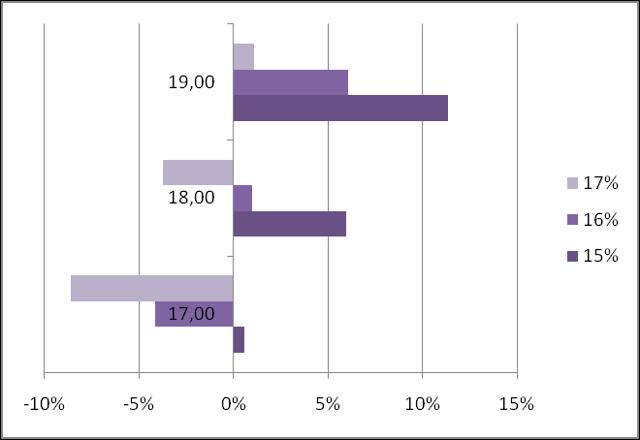 (Source: Author's DCF model)
As for the Gordon growth model, we have assumed a conservative 1% annual growth of free cash flows into perpetuity keeping in mind the company will not be able to grow 30% year over year into eternity. The base scenario shows us the range of 3% to 50% potential upside or the range of $35.5 to $51.4 per share.
As a result, the base scenario shows us an upside potential ranging from -15% to 27% and a target price range of $29 to $44 per share: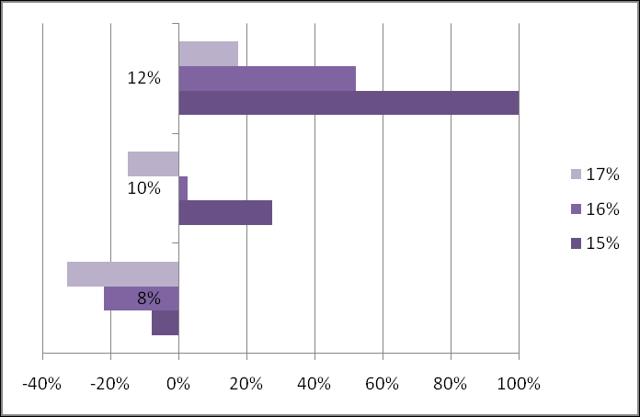 (Source: Author's DCF model)
Conclusion
Our valuation model shows there is modest upside in Shake Shack's stock. Although we see diminishing same-Shack sales on a year-over-year basis for FY2016 and Q42016, there is still much to expect with the Shack's app launch, menu optimization, and new collaborations worldwide. Looking at Shake Shack from a different angle, we also do not see vivid bearish catalysts. That said, we expect the company to pick up with the same-store sales and increase margins and efficiency metrics as it matures. And as for now, we consider the target price range of$49 to $51 for the FY2017.
Societe Financiers is an investment research team focused on long-term, long- and short-only ideas. Our research objective is to cover equities in various regions, such as North America, EMEA, Asia, Australia, and Emerging Markets.
Readers should consider whether any advice or recommendation in our research articles is suitable for their particular circumstances and, if appropriate, seek professional advice, including tax advice. The price and value of investments referred to in our research articles and the income from them may fluctuate. Past performance is not a guide to future performance, future returns are not guaranteed, and a loss of original capital may occur. Fluctuations in exchange rates could have adverse effects on the value or price of, or income derived from, certain investments.
Certain transactions, including those involving futures, options, and other derivatives, give rise to substantial risk and are not suitable for all investors. Transaction costs may be significant in option strategies calling for multiple purchase and sales of options such as spreads.
Disclosure: I/we have no positions in any stocks mentioned, and no plans to initiate any positions within the next 72 hours.
I wrote this article myself, and it expresses my own opinions. I am not receiving compensation for it (other than from Seeking Alpha). I have no business relationship with any company whose stock is mentioned in this article.