Description
Listed on the Indonesia Stock Exchange and also traded over the US OTC markets (stock: OTCPK:PSGTF; ADR: OTCPK:PSGTY), PT Semen Indonesia (SMGR) is the #1 cement producer in Indonesia with c.41% market share (based on SMGR's sales volumes and Indonesia 3M17 cement consumption). SMGR is majority-owned by the Indonesian government (c.51% shareholding).
SMGR owns manufacturing facilities in Java, Sumatra, and Sulawesi.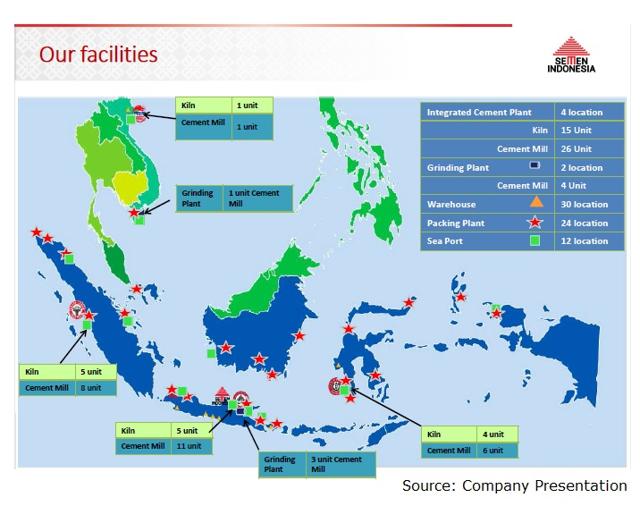 This is supported by its extensive distribution capabilities across the archipelago, allowing the firm to enjoy strong market shares throughout the country.
Highlights and Key Concerns
Benefits of increasing infrastructure spending...
The Indonesian government has identified infrastructure (including hard/social/supportive) as a key development area for the next few years. We had written a short write-up on the above when we researched on Indocement (OTCPK:PITPY). Interested readers, please refer to the article.
As an SOE cement producer with large scale operations, we believe that SMGR will benefit extensively from increased infrastructure spending. However, we would highlight that infrastructure projects typically use lower-margins bulk cement.
... limited by overcapacity in the cement market…
Currently, and in the next few years, the Indonesian cement market is expected to be oversupplied significantly, leading to falling utilization rates and selling prices. The effects of the oversupply have been covered in our article on Indocement.
Despite being the market leader, SMGR has not been spared and its Average Selling Prices (ASP) has been on a downtrend.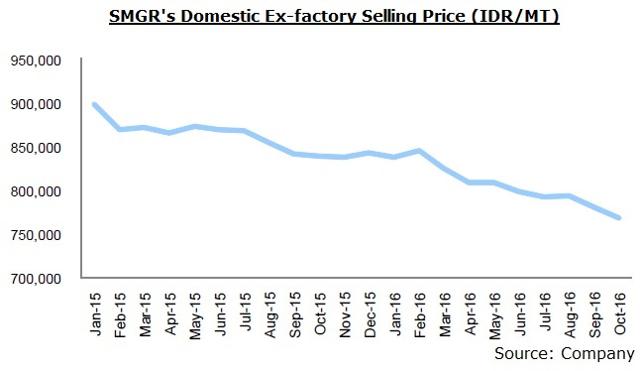 The cement oversupply issue is not expected to turn around in the near term. Firstly, even if cement consumption grows at an assumed CAGR of 8% till 2020 (an assumed figure that is higher than historical growth rates), it would still be lower than cement supply.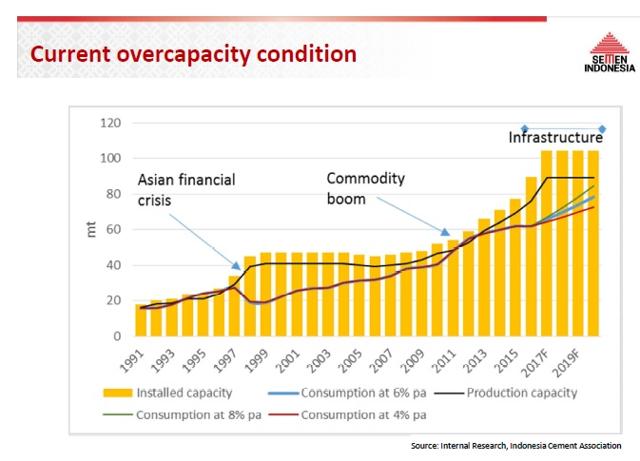 Secondly, large foreign cement players (e.g. Anhui Conch (OTCPK:AHCHF)) have only commenced operations in Indonesia in the last few years and are more likely than not to continue to grow their market share in the archipelago. While industry consolidation will certainly benefit the incumbents, we have not seen signs of such practices. Thirdly, incumbents, including Indocement and SMGR, will continue to expand production capacities in the next few years to defend their market shares.
Falling ASPs have further exacerbated the issue of rising costs
We argue that the impact of cost increases to SMGR has been and is expected to remain asymmetrical. In the event that production costs increase, the market dynamics discourages SMGR from raising prices as this could result in it losing market share. Falling volumes would translate to higher fixed unit costs (which account for c.20% to c.25% of COGS), which lowers margins. Should it absorb rising variable costs, it will also affect margins adversely.
The impact of rising costs has been evident in 1Q17, during which SMGR's COGS/MT rose c.14% YoY, resulting in its gross margins falling from c.40% in 1Q16 to 30% in 1Q17. This has been due to lower ASPs and rising costs (including overhead and coal).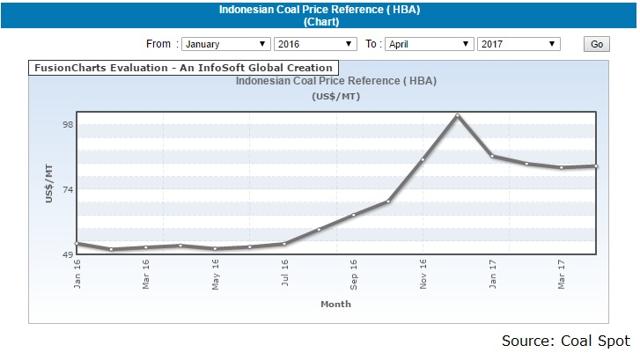 When production costs are lower, market players (especially foreign entrants) could lower their pricing to capture market share, likely leading to similar actions from competitors. Further worsening the situation is that SOEs (which are large players) such as SMGR could potentially be instructed to lower prices in order to achieve social goals (as seen in 2015). This has and will likely lead to industry ASPs falling.
… resulting in lower net margins/ROEs/FCFFs

The effects of the falling ASPs and rising costs on SMGR have been evident. EBITDA/MT has been on a downtrend since 2012, leading to falling net margins and ROEs. In addition, dividend payouts have fallen by c.8% and c.19% in FY15 and FY16, respectively.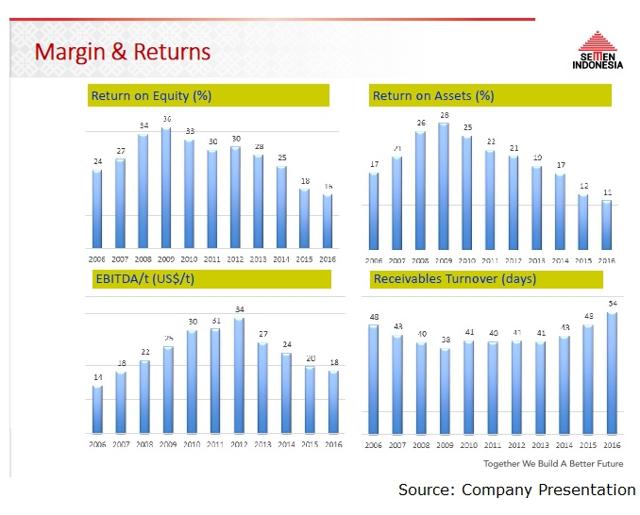 Going forward, we expect operational challenges to continue pressuring SMGR's net margins and dividend payouts, particularly when we consider that SMGR may need to conserve its balance sheet for potential acquisitions during industry consolidations should the opportunity arise.
Property sales unlikely to excite in 2017
Bag cement remains the primary format of consumption (c.78% of total consumption), and the property sector accounts for c.90% of bag cement consumption. Hence, the housing sector remains the key demand driver, and this was evident from 2010 to 2013, when the strong property presales drove utilization levels to a high and led to the Indonesian cement sector rerating.
Going forward, the Indonesian property market is expected to remain lackluster, as the impact from the tax amnesty program is lower than expected, and also considering potential interest hikes, that would likely have an adverse impact on property demand. In the absence of exciting property sales, we think that cement consumption growth is unlikely to reach the highs experienced from 2010 to 2013 despite the optimism of the impact of infrastructure projects.
Key Risk To Our Observation
In the event of any industry consolidation, SMGR's share price would likely be catalyzed upwards as the market is likely to price itself ahead of any ASP changes (expected to be impacted positively during industry consolidations). Furthermore, we would expect SMGR to leverage on its strong balance sheet (0.1x net debt/equity as of December 2016) to acquire smaller competitors. However, majority of the players are still planning to expand organically.
Conclusion
SMGR's share price (IDR8,800 as of 5th May 2017) is near the bottom end of its five-year price range of IDR7,975-IDR19,000. This is reflective of its deteriorating fundamentals (both operationally and financially as seen in its declining margins, ROA, and ROE) as well as the transition of the Indonesia cement industry from one that enjoyed high utilization to an oversupplied one. In consideration of our less-than-optimistic fundamental outlook for SMGR in the next one year, we will not consider an entry in the company despite its current share price and PE (c.12x). This is in spite of the increasing infrastructure spending, as we believe that the benefits could be limited by the excess supply as well as the fact that such projects generate lower margins, in general.
This article is part of Seeking Alpha PRO. PRO members receive exclusive access to Seeking Alpha's best ideas and professional tools to fully leverage the platform.
Disclosure: I/we have no positions in any stocks mentioned, and no plans to initiate any positions within the next 72 hours.
I wrote this article myself, and it expresses my own opinions. I am not receiving compensation for it (other than from Seeking Alpha). I have no business relationship with any company whose stock is mentioned in this article.
Additional disclosure: Thank you for your time in reading the above article. I read and write on a wide range of companies on a regular basis. If you are interested in obtaining the latest updates, you could do so by clicking "Follow" button. This article is intended to provide information to readers and in no way does it constitute investment advice. As I have no knowledge of individual reader's circumstances, goals, and/or portfolio concentration or diversification, readers are expected to complete their own due diligence before purchasing any stocks or other securities mentioned. This post is illustrative and educational and is not a specific recommendation or an offer of investment product or services.
Editor's Note: This article covers one or more stocks trading at less than $1 per share and/or with less than a $100 million market cap. Please be aware of the risks associated with these stocks.