Investors seem positively enamored of McDonald's (NYSE:MCD) this year. In just five months, the stock has gained over 18 percent, adding nearly $30 billion of market capitalization and bringing the company's value to $118 billion. Shares surged after the latest quarterly report, where McDonald's exceeded expectations on both revenue and earnings. In the eyes of many Wall Streeters, this beat constitutes evidence that CEO Steve Easterbrook's turnaround plan is really working. The latest uptick enhances the company's two-year performance, which has been quite generous to McDonald's investors in the form of a 50 percent appreciation in the price of the stock.
But the more one digs into the company's numbers and thinks seriously about the competitive landscape, the more it becomes clear that the recent run is becoming untethered from reality. McDonald's has been slow to respond to competitors that have moved aggressively to promote better quality products and slash prices in order to steal market share. Franchisee enthusiasm sits at rock bottom with many berating out-of-touch executives in McDonald's corporate. Operational efficiency has deteriorated as management lurches from one half-cooked initiative to the next, offering many vague platitudes and few concrete improvements. The effect of years of folly can easily be seen in the company's sales and profits, which are still well below the levels seen several years ago.
Let's start with those income statement items. Annual revenue reached a high of $28 billion in 2013. That figure now stands at $24.6 billion, having declined every year since. Some of that ostensible sales loss can be attributed to corporate's ongoing plan to offload the 20 percent of restaurants that are company owned. Indeed, McDonald's plans to be 90 percent franchised by 2018, and is currently looking for buyers for its restaurants in fast-growing markets such as Asia. But all of this wheeling and dealing is not bolstering the bottom line, which is off 16 percent from its 2013 peak.
So what happened? The damage, much of it self-inflicted, did not happen overnight. Take the McDonald's menu, which epitomizes years of corporate committee thinking. Back in the Ray Kroc days, the chain served up less than a dozen items on its "amazing menu," reproduced below. But the minimalist menu was not amazing enough for executives. Over time it became positively supersized, growing to 85 items by 2007 and an astounding 145 items by 2013. In true stupidity, McDonald's abandoned its winning formula of burgers and fries to become all things for all people. The menu creep has without a doubt been a total failure, consisting of a long parade of memorable flops which has only served to wreak havoc on operations and customer service. The drive-thru is now 25 percent slower than 10 years ago, and customers feeling pressured to make a quick decision often drive away unsatisfied.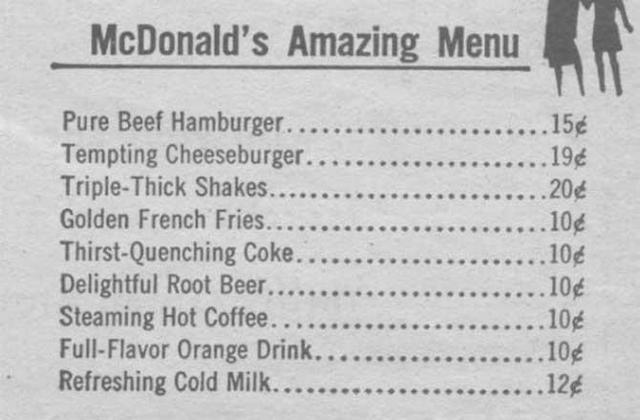 Compare this nonsense to In-N-Out Burger's simple menu, which has remained largely unchanged for nearly 70 years. During my first ever visit to an In-N-Out, I knew what I wanted (literally) within 10 seconds. The food was tasty (ranked number two for fast food burgers in Consumer Reports), the store clean, and everyone present seemed to be enjoying themselves. The drive-thru line nearly stretched to the street, but an employee sped up the process by taking orders right at the car window. No surprise that the western U.S. chain has achieved a cult following, earning accolades from none other than Warren Buffett, who once reportedly expressed interest in acquiring the company. In fact, I daresay that In-N-Out represents the total antithesis to McDonald's. The food at the latter is not only bad for you, but also just plain bad, ranking at the bottom of fast food taste tests.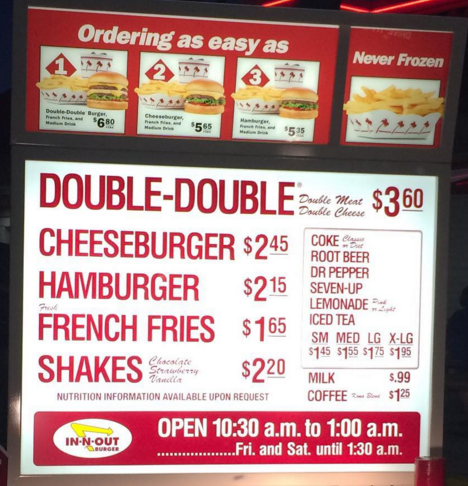 I would also argue that McDonald's has slipped enormously in terms of value. My own survey of area restaurants shows that McDonald's still holds a slight edge on price alone, at least when it comes to the main combo meal (that is, the signature burger plus fries and drink). But competitors such as Wendy's (NYSE:WEN), Burger King (NYSE:QSR), and Taco Bell/KFC (NYSE:YUM) have been aggressive with discounts and couponing. The latest strategy in fast food has entailed dispensing with much of the "value" menu and instead offering bundle deals, which bring in more revenue. But what was supposedly a "limited time offer" has gone on for years, putting pressure on profits all around. Simultaneously, the issue of quality has come into play. Wendy's has openly mocked McDonald's for its frozen patties, asserting that it only uses fresh beef. Indeed, McDonald's has suffered repeatedly over the years from embarrassing revelations about the quality of its food.
As to Easterbrook's turnaround plan, there is less here than meets the eye. The recent earnings "beat" is largely the result of a massive cost restructuring program, not actual improvement in the underlying business. McDonald's corporate apparently believes it can cut its way to greater profits by eliminating headquarters jobs and jettisoning company-owned locations, but no explanation has been given as to how this will impact operations. The chain already suffers from quality control issues in Asia, and prematurely turning over its restaurants there to another operator will probably worsen that problem.
Indeed, it looks as though many of the costs will simply be shifted to franchisees, whose satisfaction with corporate management has reached an all-time low. According to a Nomura survey last October, operators scored business outlook at a 2.37 out of 5. On the same scale, they rated their relationship with McDonald's corporate at an abysmal 1.73. Highlights from the survey include frustrations about discounting, menu complexity, and remodeling initiatives. They also expressed alarm about layoffs at the corporate level, stating the obvious concern that the burden of these cut jobs will fall onto franchisees. The cost "savings" have to come from somewhere, and it looks like the operators are about to get the short end of the stick.
The chain's "Vision 20/20" growth plan fully articulates the misplaced priorities, emphasizing the implementation of technology, building out a delivery system, and financial engineering to reward shareholders. I remain extremely skeptical about the removal of the human element from the ordering process, which seems more likely to increase operational friction and frustrate customers. Plus it does nothing to address McDonald's fading value proposition and menu overload, which still lie at the heart of the chain's problems. The proposed delivery system, already popular in Asia, is certainly nothing to bet money on since the company has provided few details. It certainly works well in a country such as China where many people zip around cities on mopeds, but would be operationally very difficult in the core U.S. market. The chain's goals for 3-5 percent sales growth and margin improvement from 30 to 40 percent by 2019 look more like aspirational fantasy than achievable targets. Easterbrook vaguely promises to hit these objectives "through enhanced technology to elevate and modernize the customer experience, [and] a focus on the quality and value of our food and redefined convenience through delivery."
Perhaps McDonald's only real competitive advantage is its ubiquity. Aside from Subway, McDonald's is by far the largest restaurant chain in the world, tallying more than 36,000 stores globally (with over 15,000 of those in the U.S. and Canada). That is double the number of locations of Burger King and nearly six times the count of Wendy's. Many consumers' first exposure to fast food came at an early age with Happy Meals, which is a really powerful thing. McDonald's probably holds an edge in terms of familiarity, which means that despite my dislike of the food, I still find myself choosing McDonald's because at least I know what I am getting. Whether I am on the other side of the country or halfway around the world in Hong Kong, I know I can always get an edible breakfast at McDonald's.
For that reason, I do not think that the company is in any real danger. It will probably do quite well over the long term, but right now I cannot see any reason why it is a better investment than other large international businesses. True, the stock has smashed the S&P 500 over the last decade, but it has underperformed over the last five years. When asked about McDonald's in 1998, Warren Buffett stated that he preferred businesses that can succeed "absent promotional or price appeals," which McDonald's relies on very heavily. So while I would not be seller of McDonald's if I held shares today, I certainly would not be a buyer. The competitive and operational challenges that the company now faces could depress profits for a prolonged period, and I do not see that coming to an end under the company's current regime.
Disclosure: I/we have no positions in any stocks mentioned, and no plans to initiate any positions within the next 72 hours.
I wrote this article myself, and it expresses my own opinions. I am not receiving compensation for it (other than from Seeking Alpha). I have no business relationship with any company whose stock is mentioned in this article.