Jeff Ubben, founder of ValueAct Capital, is considered an activist and a gentleman in the hedge fund world. He and his activist hedge fund are now knocking at the gates of private equity firm KKR (NYSE:KKR). The fund owns 4.9% of KKR via derivatives and the company's stock is up to multi-year highs on the news.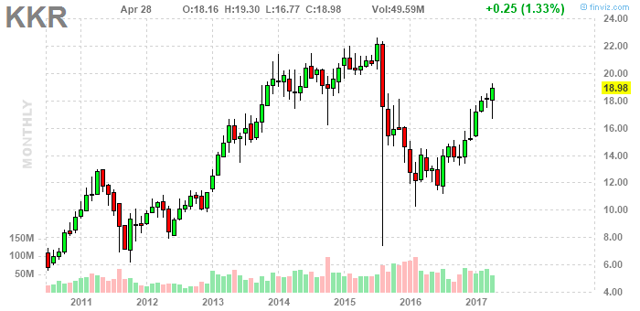 The big thesis.
The big thesis presented by ValueAct is to transform KKR from a partnership to a corporation. ValueAct says shares could double to $37 a share with such a move, where it'll attract a new shareholder base and get the recognition for its recurring management fees that it deserves.
The shift from a partnership structure to a corporation would save KKR tax dollars should Donald Trump's tax reduction plan for U.S. corporations come into effect.
But therein lies part of the rub - the crux of ValueAct's thesis relies on changes in the U.S. tax code.
The big part of Trump's plan is to reduce corporate taxes from 35% to 15%. Yet, for alternative asset managers running an LLC or LP structure, they wouldn't see the same benefit. Hence, the ValueAct push to transition KKR from an LP to an Inc.
The ValueAct KKR thesis can also apply to other private equity players, meaning the more prudent move for investors could be to look at companies that haven't seen the same run-up.
One such company that comes to mind is The Carlyle Group (NASDAQ:CG). For one, all the major asset management companies with an LP structure - such as CG, KKR, Blackstone (NYSE:BX), AllianceBernstein (NYSE:AB) - all trade at a discount to the asset managers with a conventional C-corp. structure, like BlackRock (NYSE:BLK), Ameriprise (NYSE:AMP) and T. Rowe (NASDAQ:TROW). ValueAct even alluded to there being a nice upside to other managers given the tax reform, and it's true.
Even if the likes of KKR and CG don't go through the conversion to an Inc. tax structure, they'll still benefit from lower corporate tax rates. That is, both have billions of dollars invested in U.S. companies that would benefit from a tax rate reduction. The value of their investments increase as the company's profit margins go up, but also the carried interest flow-through that is paid to the asset managers will increase. A win-win.
Overall, there's the idea that human capital businesses are great businesses. Human capital is a recurring theme of ValueAct's, having taken stakes in professional services companies that thrive on human capital, such as CBRE (CBRE) and Willis Towers (NASDAQ:WLTW). The asset management business is human-intensive and can do well going forward as we see a shift away from active investing to alternative investments.
Ubber, the perfect activist.
The only way activism works in asset management is if it's done constructively, and it doesn't get more constructive than Jeff Ubben and ValueAct. This comes as most asset managers running the LP structure are insulated from an activist's ability to take board control.
Shareholders (or correctly called unitholders of an LP) do not elect the board. That likely doesn't matter here, as ValueAct already has a working relationship with KKR management, including co-founder and namesake CEO Henry Kravis. ValueAct does, however, like a board seat before taking a meaningful stake in a company, so I expect the topic has already come up and for ValueAct to get a board seat at KKR before 2018.
Jeff Ubben is a nice guy, but he's also relentless; "Remember, when interviewing for his first job at Fidelity Investments, Ubben followed Peter Lynch into the bathroom to pitch a stock." He and ValueAct are longer-term holders if they like what they see, and that is usually confirmed with a board seat. I'd be more interested in KKR, if and when, ValueAct gets a board seat.
In the meantime, a tax cut thesis and LP to Inc. structure change could benefit the likes of CG - which trades at the cheapest major asset manager around. It also opens the doors for institutional investors that can't invest in LPs to own the company if it's a C-corp. structure. Still, it'd be nice to see a bigger commitment from Donald Trump in the tax reform before making such a bet, as right now, that's the only major catalyst.
Disclosure: I/we have no positions in any stocks mentioned, and no plans to initiate any positions within the next 72 hours.
I wrote this article myself, and it expresses my own opinions. I am not receiving compensation for it (other than from Seeking Alpha). I have no business relationship with any company whose stock is mentioned in this article.