In this article, I describe how I use credit ratings as one tool in portfolio design, and how I reacted to the recent credit downgrades of W.W. Grainger Inc (NYSE:GWW) and International Business Machines Corporation (NYSE:IBM).
Why pay attention to credit ratings?
During the past 16-18 months, I have put more emphasis on corporate credit ratings as an indicator of a company's financial strength. I'm a dividend investor and I'm concerned about dividend safety and dividend growth, but there's no automatic correlation between a relatively high Standard & Poor's credit rating and dividend safety. That's because the S&P credit ratings focus on a company's ability to pay its debts, and an overly generous dividend potentially hinders debt repayment and thus is viewed as a negative rather than a positive by ratings agencies. With that caveat, I agree with Lowell Miller's suggestion that investors are wise to stick to companies with credit ratings of at least BBB+, and preferably A- or better.
Another caveat: The use of credit ratings is not a substitute for thorough analysis and well-rounded due diligence. An investor cannot rely solely (or even mostly) on the opinion of others, even an agency with a long history like Standard & Poor's. The agency began downgrading Bear Stearns in 2007, but was slower to spot trouble at AIG and Lehman Brothers. "The Big Short" movie scene of a conversation with an S&P executive (with protective sunglasses as a not-so-subtle touch) prompted my wife to ask as we left the theater, "So why are we paying attention to credit ratings?"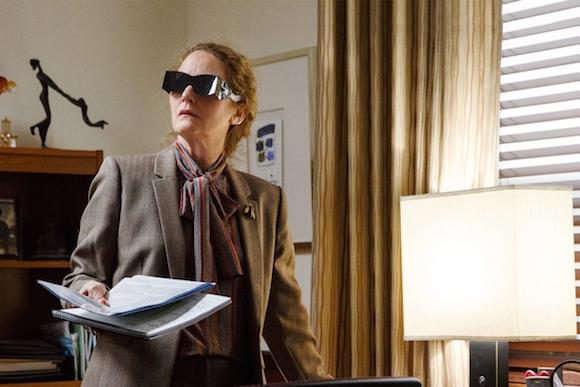 (Photo from The Intercept)
With those caveats, I pay attention to credit ratings (by S&P, Moody's and Fitch) because they provide one metric among many that I find useful in assessing a company's financial strength. I also benefit from the commentary that accompanies an agency's credit rating, particularly when there is an upgrade or downgrade.
Two S&P credit rating downgrades within ten days
Two portfolio companies with high credit ratings were downgraded within a span of ten days in late April-early May.
W.W. Grainger was lowered one notch from AA- to A+
On April 25, 2017, S&P Global Ratings lowered its corporate credit rating on GWW to A+ from AA-, with a stable outlook. Here are excerpts from S&P's explanation of the downgrade:
Our ratings downgrade reflects our view of increasing competitive pressure from the online channel, resulting in lower profitability due to the company's price reductions to defend market share. ... As customer preference shifts toward digital channels (more than 65% of the company's orders originate digitally), Grainger's pricing and margins are pressured ... as the ease of finding products and prices online enables greater comparison shopping and continued expansion of the online channel.

We expect Grainger to maintain relatively stable performance through business cycles given its solid operating track record. The company's strong servicing capabilities, well-developed market channels (including branches, e-commerce portals, and catalogs), and broad supplier base provide significant competitive advantages in a large and fragmented market. ... Although 74% of Grainger's sales are in the U.S. .... Expansion into Europe, Latin America, and China should contribute to increasing sales growth for the company.

With annual revenues of around $10 billion, Grainger is the premier distributor of MRO supplies and related services to North American commercial, industrial, contractor, and institutional markets. The company offers a broad product line to its diverse customer base through a multichannel approach that includes an integrated branch network, sales representatives, catalogs, direct marketing materials, and e-commerce.

The stable outlook reflects our view that despite a competitive pricing environment, Grainger's strong market position, ongoing cost-reduction efforts, and conservative financial policy should help provide fairly stable credit measures over the next 24 months.

I last reviewed GWW in a September, 2016 article, "Should W.W. Grainger Be On Your Watch List."
IBM was lowered one notch from AA- to A+
On May 5, 2017, S&P Global Ratings lowered IBM's corporate credit rating to A+ from AA-, with a stable outlook. Here are excerpts from S&P's explanation of the downgrade:
The downgrade reflects IBM's transformation with operating declines in recent years as it reinvests and repositions its business to achieve better performance and our expectation that the transition to operating stability will take longer than we had previously forecast.

We forecast less improvement to operating margins over the next two years compared with our previous expectations, with higher investment in the company's turnaround. ...

The stable outlook reflects our expectation that IBM's operating performance will remain flat to slightly down through 2018 ....

A downgrade is less likely over the coming year considering the company's large operating scale, leading market position as a provider of mission critical mainframe computing solutions, and moderate financial policy. ...

An upgrade is also less likely over the coming year considering the company's exposure to legacy businesses in secular decline and investments needed to improve its competitive positioning and operating performance.
I reviewed IBM briefly in a June 2015 article. I said in a December 2016 article that I was considering selling IBM to fund a purchase of Nestlé (OTCPK:NSRGY). And in a March 2017 article I used IBM as an example of the importance of objectivity in making investment decisions.
I entertained several actions--from buying more to closing one or both positions
Both GWW and IBM have seen significant declines in recent weeks.
An April 26 article about Grainger by Simply Safe Dividends points to a 24% decline since February. In GWW's Q1 2017 earnings call on April 18, the company lowered earnings expectations due to some strategic steps it is taking to put the company in a better position to sell its products in a changing marketplace.
After GWW's earnings call, but before the S&P downgrade, I made a small purchase of additional GWW shares on April 19 at $193.06. The GWW share price has continued to drift down, to a May 1 low of $188.35. I had planned to make another small purchase if the stock traded down to the mid- or low $180s. After the S&P downgrade on April 25, I decided not to make any additional purchases in the near future. I briefly considered closing the GWW position in light of the downgrade, but A+ is still an excellent credit rating and I believe GWW is making the right decisions to align their sales with market trends. So I decided to take no action.
Grainger's 52-week price range has been $185.80 to $262.71. I made an initial purchase in September, 2016 at $230.34. My current cost basis is $225.92.
IBM's 52-week price range has been $142.50 to $182.79. The high price was achieved on February 16. Since then, IBM shares have drifted down, reaching the high $150s in the first week of May. On May 4, Warren Buffett announced that Berkshire Hathaway (BRK.A and BRK.B) had sold one-third of its 81.2 million share stake when the stock reached the $180 range. Buffett's statement further depressed the stock, and IBM closed at $155.05 on May 5.
I made an initial purchase in March, 2015 at $160.02. My current cost basis is $140.44. My thinking about IBM was similar to my thinking about GWW. I decided I would add some shares if the stock reached the $150 range. Then, S&P downgraded IBM's credit rating on May 5. As with GWW, I briefly considered liquidating the position, noting that the price of Qualcomm (NASDAQ:QCOM) has become more attractively priced and S&P recently raised the credit rating of Disney (NYSE:DIS) from A to A+. I've looked in recent weeks at Toyota (NYSE:TM), which has an AA- credit rating and at Exxon (NYSE:XOM), which has a credit rating of AA+. All these factors were part of my consciousness. I quickly decided to take no action.
The market repriced these two stocks, thus making any action unnecessary
My typical reaction to a selloff is to add some incremental shares. I did this last week. On May 4, there was considerable weakness among many of the equity REIT shares. I almost bought some additional shares of Public Storage (NYSE:PSA), but something froze in cyberspace that wouldn't allow me to complete an incremental purchase. By the time I re-booted the computer, PSA was on its way up and Realty Income (NYSE:O) was showing further weakness. So I bought a few shares of O at $54.99.
I was not scared to buy more GWW because of their earnings call. I agree with their strategy. I decided not to buy more GWW when S&P issued the downgrade.
Likewise, I was not scared to buy more IBM because of Buffett's announcement. (Two thirds of 81.2 million is still a lot of shares!) I decided not to buy more IBM when S&P issued the downgrade.
I'm not "locked in" to the S&P credit ratings as the determining factor in my portfolio allocation, but it is clearly a major consideration. In fact, I would admit that it is the most important consideration. I cut the number of General Electric (NYSE:GE) shares by one-fourth when their credit rating dropped from AA+ to AA-.
But, as of May 5, I have a higher percentage of 3M (NYSE:MMM), which is rated AA-, than of Johnson & Johnson (NYSE:JNJ), which is rated AAA, and of Apple (NASDAQ:AAPL), which is rated AA+.
I tend to group the stocks roughly according to their credit rating, making adjustments along the way. My practice of grouping the stocks by credit ratings made it easy to decide to take no action regarding the S&P downgrade of GWW and IBM.
The market bumped these two down from 16th and 18th positions on March 30 (at 2.27% and 2.32% of the portfolio), to 18th and 19th positions on May 5 (at 2.05% each). That puts GWW and IBM more in proximity with other A+ rated companies Unilever (NYSE:UL) and Texas Instruments (NYSE:TXN).
Here's a snapshot of the portfolio as of May 5, 2017, with the S&P credit ratings where available and the percentage of the portfolio's market value represented by each holding:
| | | | | |
| --- | --- | --- | --- | --- |
| Rank | Holding | Tick | S&P | %Port |
| 1 | Microsoft | MSFT | AAA | 3.65% |
| 2 | 3M | MMM | AA- | 3.60% |
| 3 | Apple | AAPL | AA+ | 3.58% |
| 4 | Johnson & Johnson | JNJ | AAA | 3.57% |
| 5 | Wal-Mart | WMT | AA | 3.41% |
| 6 | Merck | MRK | AA | 3.31% |
| 7 | Pfizer | PFE | AA | 3.22% |
| 8 | Coca-Cola | KO | AA- | 3.15% |
| 9 | Procter & Gamble | PG | AA- | 3.12% |
| 10 | Automatic Data | ADP | AA | 2.99% |
| 11 | Cisco | CSCO | AA- | 2.48% |
| 12 | General Electric | GE | AA- | 2.46% |
| 13 | Nestlé | NSRGY | AA- | 2.44% |
| 14 | Royal Bank of Canada | RY | AA- | 2.31% |
| 15 | Toronto Dominion | TD | AA- | 2.26% |
| 16 | Colgate-Palmolive | CL | AA- | 2.25% |
| 17 | Genuine Parts | GPC | NR | 2.23% |
| 18 | W.W. Grainger | GWW | A+ | 2.05% |
| 19 | International Business Mach | IBM | A+ | 2.05% |
| 20 | Duke Energy | DUK | A- | 2.00% |
| 21 | Unilever | UL | A+ | 1.99% |
| 22 | VFC Corp | VFC | A | 1.97% |
| 23 | Brookfield Infrastructure | BIP | BBB+ | 1.93% |
| 24 | Texas Instruments | TXN | A+ | 1.92% |
| 25 | BCE Inc | BCE | A- | 1.92% |
| 26 | Avangrid | AGR | BBB+ | 1.86% |
| 27 | PPL Corporation | PPL | A- | 1.85% |
| 28 | Hannon Armstrong | HASI | NR | 1.85% |
| 29 | WEC Energy | WEC | A- | 1.85% |
| 30 | Pattern Energy | PEGI | NR | 1.84% |
| 31 | Southern Company | SO] | A- | 1.81% |
| 32 | Enterprise Products Prtnrs | EPD | BBB+ | 1.78% |
| 33 | Realty Income | O | BBB+ | 1.77% |
| 34 | Ventas | VTR | BBB+ | 1.76% |
| 35 | Public Storage | PSA | A | 1.75% |
| 36 | Brookfield Renewable | BEP | BBB | 1.71% |
| 37 | WP Carey | WPC | BBB | 1.65% |
| 38 | Apple Hospitality | APLE | NR | 1.61% |
| 39 | Boulder Growth & Income | BIF | NR | 1.59% |
| 40 | Monroe Capital | MRCC | NR | 1.51% |
| | Total | | | 92.06% |
Seven ETFs comprise an additional 7.43% of the portfolio. Cash is .50%. The portfolio yield is 3.61%. The portfolio gain year-to-date is 6.52%. The gain since 12/31/15 has been 21.42%.
I would like to add incrementally to several positions, such as moving TXN to the 18th or 19th position and moving PSA to the 22nd or 23rd position.
I last updated the portfolio in the May 1 article, "Is The Stock Market More Like A Casino Or A Savings Account?" The only purchase I've made since that article was published was the purchase of a few shares of Realty Income on May 4 (mentioned above).
Some questions for you
I'm always interested in an investor's process for designing a portfolio. Here are some questions for our conversation:
Do you give equal weight to all your stocks?
Do you rank your holdings (either formally on your spreadsheet or informally in your mind)?
Do you use a company's credit rating as a factor in whether to include it in your portfolio?
Does a company's credit rating affect the portfolio weighting you give to that company?
My goal is to produce about one article per week, usually about one of the holdings in my retirement portfolio. You can access a list of previous articles here.
To be notified of future articles on a real-time basis, just click "Follow" at the top of this article, then choose "Follow this author" and "Real-time alerts."
Your comments are an important part of my learning process. We are co-learners. I'm grateful for my SA colleagues and friends.
It's not my intent to advocate the purchase or sale of any security. I offer articles and blogs to provide ideas for stocks to study and to share a journal of my effort to design and build a retirement portfolio that puts a priority on relative safety, a history of dividend growth and solid future prospects. Your goals and risk tolerance may differ, so please do your own due diligence.
Disclosure: I am/we are long IBM, GWW, MSFT, MMM, AAPL, JNJ, WMT, MRK, PFE, KO, PG, ADP, CSCO, GE, NSRGY, RY, TD, CL, GPC, DUK, UL, VFC, BIP, TXN, BCE, AGR, PPL, HASI, WEC, PEGI, SO, EPD, O, VTR, PSA, BEP, WPC, APLE, BIF, MRCC.
I wrote this article myself, and it expresses my own opinions. I am not receiving compensation for it (other than from Seeking Alpha). I have no business relationship with any company whose stock is mentioned in this article.