The U.S. economy's GDP grew less than 1% during the first three months of 2017. Certain metrics support the idea of an economic slowdown. This was the worst GDP gain in three years and has become headline fodder for the Democrats that look for any weakness to attack President Trump. However, it does not matter if this was inherited from former President Obama but rather what investors do if an economic contraction is ahead.
The U.S. gross domestic product, GDP, grew at 0.7% for the first quarter. The U.S. Department of Labor reported April non-farm payrolls increased by 211,000, with an average of 174,000 added over the past three months. Wages have refused to accelerate at a meaningful rate with respect to a 4.4% unemployment rate.
The U.S. trade balance showed both exports and imports tend lower with softness in durable goods lagging for the first quarter and put to question the idea of further economic expansion. China and Britain are all signaling possible contraction. The GDP for the U.K. grew 0.3% due to modest inflation. Inflation drives prices for goods and services higher and, in turn, reduce the purchasing power of the given market's currency. If prices increase and real wages hold flat, consumers have less dollars to buy the same amount of goods which can drive GDP lower. Modest inflation may actually stimulate economic growth as the increase in prices stimulates private business investments.
U.S. factory orders increased 0.2% in March with durable goods, which include machinery and automobiles, adding to the thesis of peak levels and the possible contraction period. Durable goods trade cyclically and do a good job at indicating where an economy is in the business cycle. During expansionary periods, infrastructure building and high-cost projects are initiated and drive spending for said durable goods.
Unfortunately, demand for durable goods may have peaked as evidenced from the automobile industry, which reported 4.7% reduction in sales for the month of March. Ford (NYSE:F) vehicle sales fell north of 7% domestically, and further declines were seen in China.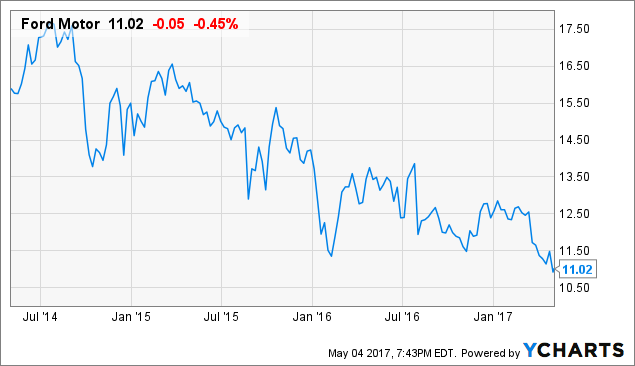 This slew of economic data seems to be playing out directly into the definition of market cycles. Growth stocks, as expected during market expansion, have been leading the way but saw difficulties in the most recent quarter. Apple (NASDAQ:AAPL), Facebook (NASDAQ:FB), and Tesla (NASDAQ:TSLA) all beat earnings estimates but didn't deliver strong enough guidance. Despite this, the market is showing signs of resilience.
Another tech player, Oclaro (NASDAQ:OCLR), cited its Chinese customer as reason behind slower-than-expected revenues in its forward-looking statement. Oclaro reported a 9% sequential drop in sales for China. In April, both of Oclaro's Chinese customers forecasted lower demand than originally anticipated. In the Q3 conference call, Oclaro's management reported that its largest Chinese customer decreased overall demand and was dealing with an internal inventory correction, both of which caused Oclaro to adjust revenue lower going forward.
If we are at a peak and a short-term correction is due, those investors can endure the downturn by shifting into defensive names. Value investors need to start making a shopping list of securities now because when the correction hits, it's difficult to separate emotion from wise decisions. Companies with high international exposure will weather the storm easier than non-diversified stocks. Companies that will benefit from the next growth period are those with technological advances, a healthy pipeline of products or services, and the ability to transition to meet the demands of consumers.
One example can be found in China, where the government has already outlined plans to implement 5G infrastructure. Another avenue for growth is in renewable energy. One long-term growth play is the commodity lithium and manufacturers of lithium products. Global X Lithium ETF (NYSEARCA:LIT) has exposure to Tesla, FMC (NYSE:FMC), Samsung (OTC:SSNLF), and some exposure to mining. LIT's regional diversity includes 43% North America; 41%, Greater China; and 15%, Latin America.
The thesis for a market peak is feasible. Shifting a portfolio's holdings to defensive will allow investors to become more risk-averse. Some investors may argue the bull rally will continue, but the data will need to be sustained a little longer to make that call. International growth will drive expansion over the long term, but the market may need to digest and regress before it can move forward. One way the market could bridge back from economic slowdown to its next expansion without running into a contraction would be from an economic stimulus or infrastructure plan. A subject for another time will be if a stimulus plan has any net value to the economy. However, certain companies will benefit from such plans. Finding companies with strong financials, good management, and future-looking products will be and always has been a formula for success.
Disclosure: I am/we are long LIT, APPLE, TESLA.
I wrote this article myself, and it expresses my own opinions. I am not receiving compensation for it (other than from Seeking Alpha). I have no business relationship with any company whose stock is mentioned in this article.