Snapchat's (NYSE:SNAP) price movement since its IPO has been fascinating and its volatility is likely a reflection of investor's struggle to accurately value the young company. Most analysis that I have read has focused on its projected MAU (monthly active users) and revenue growth, ability to sustain engagement and, though oft-dismissed, the future profitability of its flagship wearable camera, Spectacles. While these are all important ideas to consider, I do not believe they accurately reflect management's vision for the future of the company. Frankly, even with the rosiest projections for MAU growth (which has slowed considerably), continued presence in the premium ad space, and further ability to monetize the platform, Snap's medium-term business model is shaky at best, and flexibility appears to be the top priority. Snap, in my opinion, plans to use the platform as a financing engine and a captive audience for future projects. For better or for worse, Snap will be a very different company in five years.
Impressive MAUs and Gross Margin Blues
Snapchat's greatest claims to fame are its impressive, albeit slowing, MAU (Monthly Average Users) figures, consistently high user engagement, and lucrative advertising relationships, due largely to the application's exclusivity and sustained "coolness" relative to other social media platforms. However, as the marginal cost of revenue drops with greater advertising revenue per user (more effective monetization of the platform), there are some very concerning bottom line figures that you shouldn't expect to go away any time soon.
Snap's cost figures appear consistent with what one would expect from a young tech company. The company is obviously not currently profitable, and has increasing costs as it grows and attempts to appropriately scale its business ahead of future growth. Expenses are growing rapidly, largely driven by a 340% increase in marketing headcount, fit in with this narrative, as does a healthy investment in R&D. However, the marginal cost of MAU growth is quite concerning, and Snap does not seem focused on doing anything to address it.

As you can see in the charts above, Snap has achieved impressive results in monetizing its MAU figures. As Snap continues to develop its advertising model, revenue per MAU has increased dramatically, up from $0.31 to $1.05 in Q4, YoY. Revenue growth has comfortably outpaced cost growth, and has grown at a geometric average of 50% vs. 24% per quarter in 2016. With this growth, the marginal cost of revenue (COR/ COGS) predictably decreased, but COGS per MAU has increased drastically, up ~60% from $.60 to $0.97, which leaves SNAP with a gross margin of 8.04% in Q4 2016. Take into account bloated SG&A costs (largely driven by a 357% growth in marketing expense, from $27 to $124 million from 2015 to 2016), and one is left to wonder where Snap's bottom line is set to improve.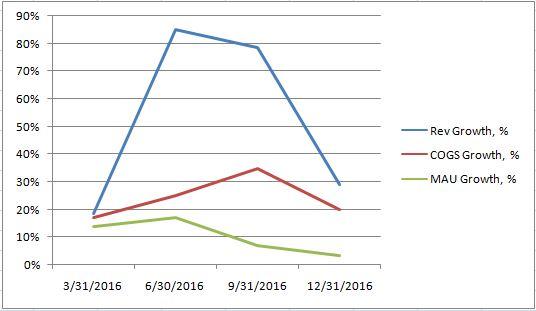 Considering how recently Snap actually monetized its platform, such a stellar revenue growth rate is unlikely to continue as the company matures (revenue growth was 29% in Q4 2016 vs. a COGS growth of 20%). Clearly, COGS, specifically the hosting cost component, consistently grows with MAU growth and engagement while recently, the pace of Snap's advertising revenue growth has slowed considerably. The concerning idea here is not necessarily the current income statement figures, but the fact that little should change in terms of gross margins in the years to come.
An Unequal Marriage to Google
Snap has, in no uncertain terms, rejected the notion of developing its own data hosting infrastructure that could help to control marginal costs in the long term. It has instead entered into a 5 year commitment with Google (NASDAQ:GOOG) to continue using the service for the majority of its data hosting, with an obligation to spend at least 400 million per year, a figure that increases with data usage and thus user engagement, on data hosting services over the 5-year period. As the S-1 states:
"We have committed to spend $2 billion with Google Cloud over the next five years and have built our software and computer systems to use computing, storage capabilities, bandwidth, and other services provided by Google, some of which do not have an alternative in the market."
Snap has entered a situation in which, over the next five years, costs of (advertising) revenue will grow basically in lock-step with any positive growth metrics, such as engagement, MAU, and revenue. Snap's justification is that "We currently have a capital-light business model because we work with third-party infrastructure partners, primarily Google Cloud, to run and scale our services rather than building our own infrastructure, which would require significant up-front capital and resources."
One would think that the purpose of an IPO, among other major investing activities, would be to invest in this sort of capital and reduce dependence on external partners, particularly in a monopolized sector such as data hosting and cloud computing, in which Google has a great deal of strategic leverage over dependent Snap. As the S-1 also states, "Any disruption of or interference with our use of the Google Cloud operation would negatively affect our operations and seriously harm our business". They are locked into this relationship for at least the next five years, and with every dollar of revenue generated by increased engagement, a significant portion will be extracted by Google.
Forecasting Snap's traditional revenue and MAU growth is tricky, but given the figures in its financial statements and decisions regarding hosting costs, I believe two statements are safe to make: a number close to 50% quarterly growth is not sustainable even in the near-term, and cost of revenue will continue to climb in pace with increased revenue, keeping gross margins thin and profitability a distant prospect.
Enter Spectacles, or Something not yet Seen
This leaves me with the impression that Snap's management is telling the truth when it introduces the company as a camera company, rather than a social media platform or some trendy euphemism thereof. Management is making counter-intuitive decisions regarding their bottom line because they intend to change their business structure, perhaps gradually, perhaps not, in the future.
Snap states several times in the S-1 the company's expectation to increase virtually all expense items in the future, take risks with new products and technologies, and maintain free capital to invest in new ideas. This is not a company with a fully fleshed-out business model, but one that is going through a "second startup" phase, where its risks, potential for returns, and flexibility are just as high as it continuously attempts to develop a new identity. The difference, of course, is its already well-developed platform, a means to produce significant revenue, and a huge captive audience, willing to passively supply the data needed to test out new ideas.
Spectacles is the ideal trial balloon for this sort of risk-taking, flexible approach to long-term strategy. The product is intrinsically linked to the Snapchat platform, and thus has a large built-in audience and potential market in the form of loyal Snapchat users. To yet again quote the horse, the S-1 states that:
"We expect to experience production and operating costs related to Spectacles that will exceed the related revenue in the near future. In 2017, we expect to continue to make substantial investments in inventory, marketing, distribution, and product innovation as we assess product demand. Additionally, we plan to significantly broaden the distribution of Spectacles, which will increase our costs and overall financial risk."
Regardless of the argument for capitalizing on Google's reliability and extant infrastructure, I imagine most stakeholders would prefer to see more investment go toward long-term management of COGS and the fattening of gross margins. It is telling that Snap is unwilling to commit to the purchase of fixed assets relating to data hosting and storage, virtually the only significant costs directly related to its current revenue, but is willing to invest "heavily" in various assets related to a product that hitherto has little to no proven marketability.
I believe this is indicative of what Snap's business strategy will look like well into the next five years. I use the length of its commitment with Google as a general guidepost and metaphor for its focus on flexibility over profitability. It will continue expanding its social media platform, racking up huge hosting costs in step with revenue, and making a concerted effort to expand its user base. It will use revenue and user engagement from its traditional business to float risky ventures, with the intention of entering a market so lucrative that it is able to reinvent itself as a new, more valuable company. This vision may or may not include Spectacles. If it becomes apparent that it does not, Snap will surely scrap the product and keep searching, and spending, for its new big idea.
It is no coincidence that "Snap" sounds like it could describe almost any product, especially any camera related product, while the name "Snapchat" seems more or less relegated to the social media space. While I am reluctant to forecast Snap's long term future (it's proven to be a perilous undertaking with many variables, little consensus, and plenty of people happy to chime in), buyer should beware that the company's financial situation today reveals little about what it will look like in 5 years, or its vision for the future, other than that it will likely change in a fundamental way. Just like the photos posted on its iconic application, Snap's Story intends to be ephemeral and metamorphic, and one should not expect it to be the same tomorrow.
Disclosure: I/we have no positions in any stocks mentioned, and no plans to initiate any positions within the next 72 hours.
I wrote this article myself, and it expresses my own opinions. I am not receiving compensation for it (other than from Seeking Alpha). I have no business relationship with any company whose stock is mentioned in this article.