Moving Laterally Before Anticipated Downturn
Now walking the line between its rise and its fall, Nvidia Corp. (NASDAQ:NVDA) is channel-bound, ranging laterally before an anticipated downturn begins with force. In the interim, share price may first rise back to the level of previous highs before falling markedly, thereby while near its highs giving the prospect of a short at reduced risk.
Competition and heavy profit-taking by portfolio managers and investors as price plateaus after hitting $120.92 have ended Nvidia's dramatic climb. Noting the profound post-announcement plummet suffered by Advanced Micro Devices Inc. (NASDAQ:AMD), even though earnings achieved consensus estimates, there is no doubt considerable apprehension is in the air at Nvidia as their own announcement date draws nigh.
Competition has increasingly impacted Nvidia's valuation, as disruptive innovation by Alphabet Inc. (NASDAQ:GOOG) (NASDAQ:GOOGL) threatens Nvidia in the form of their Tensor Processing Unit, 15 to 30 times faster than Nvidia's Tesla K80 GPU by virtue of employing domain-specific processing architecture.
Capital Outflows And A $30 Drop
AMD is gaining discrete GPU market share from Nvidia, as reported by John Peddie Research. Vega is anticipated in June 2017. Xilinx Inc. (NASDAQ:XLNX) may become a player as it develops its FPGA platform. Intel Corp. (NASDAQ:INTC) competes more aggressively in AI for the cloud server market and will soon introduce two AI processors.
Capital outflows from Nvidia have meant the stock has not made a new high since early February 2017, dropping as much as $30 off its highs. Compounding this fall-off, Nvidia has twice closed below its 50-day moving average, with the angle of inflection of that moving average now completely horizontal, while relative volume metrics have been weak.
The implications of closure below the 50-day moving average are great, considering the importance that metric plays in technical trading systems, and the fact that technical systems account for approximately 80% of all stock trades.
An Amplified Negative Divergence
Also of critical importance, Nvidia is exhibiting an amplified negative divergence, seen on the chart below, which strongly indicates a coming substantial downturn.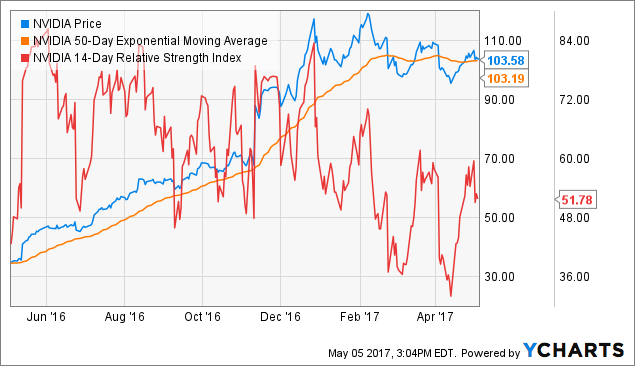 The width of the trading channel defined in a previous article on Seeking Alpha has been respected to the present time, as stock price consolidates after its more than three-year rise:
Appreciating the share price correlation Nvidia has to the price performance of the stock market as a whole and the semiconductor sector in particular is key. While corporations, their products, markets and ROI vary one from another, on a macro level there is nonetheless a high degree of correlation between markets in a global economy, creating much "genericism" in apparently differentiated sectors.
High Degree Of Correlation Across Markets
By way of illustration of the high degree of correlation being exemplified across markets, compare the share price chart for Nvidia shown above with the SPDR S&P500 ETF chart and the iShares PHLX Semiconductor Price ETF chart. Also for good measure and further comparison, the share price chart for AMD has been provided.
Each of these four markets has demonstrated a pronounced climb, followed by an amplified negative divergence and closure below their 50-day moving averages, clearly signaling a major downturn.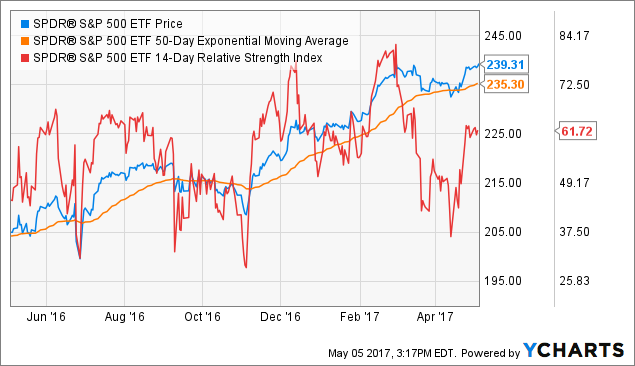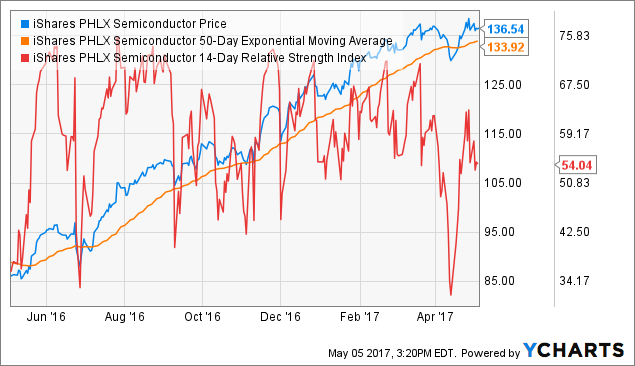 Nvidia's earnings report is due May 9, 2017. As with AMD's recent earnings, this may be a strong catalyst in changing share price, yet there is the distinct possibility that price may rise before ultimately falling.
AMD Dropped Precipitously
AMD on their announcement attained Q1 consensus estimates for revenue and profit and guided sales upward 14% to 20% for Q2. They reduced their net operating loss and overall net loss, and achieved an 18% increase in revenue. Yet still they fell an eye-watering 24.2% the following day after gapping down on open.
The explanation for this huge jolt is a correlation with both the structural weakness of the stock market and the semiconductor sector, which have already clearly signaled their negative inclinations.
Nvidia's financial metrics are good, but there remains the high probability that correlation to the semiconductor sector and the stock market as a whole will be the strongest force operating on share price, and these factors will militate in a downward direction.
The likelihood remains that Nvidia will rise somewhat before ultimately falling, and it is this approach to the upper level of its current lateral price channel that will provide traders the opportunity to enter a profitable short at reduced risk. See Seeking Alpha "Nvidia Teeters On The Edge" for the parameters of that lateral price channel in determining short entries.
Conclusions
Nvidia's coming earnings announcement may trigger an uptick to, or somewhat beyond, the upper level of the current trading range. However, ultimately the stock is a short because of the effects of high correlation with the stock market and semiconductor segment as a whole. Nvidia will fall very significantly from current levels.
The considerations which will weigh on Nvidia are not fully reflected in the present stock price and, when a short entry is well timed at or above the upper boundary of the current trading range, it will offer an attractive risk/reward ratio.
Elsewhere on Seeking Alpha by the same author:
Consider following this author. To receive immediate alerts upon publication of future articles by this author, please click on either of the "Follow" buttons at the top and bottom of this page, and then select "Real Time Alerts."
To improve mobile viewing, please select "Request Desktop Site" in your browser.
Disclosure: I/we have no positions in any stocks mentioned, and no plans to initiate any positions within the next 72 hours.
I wrote this article myself, and it expresses my own opinions. I am not receiving compensation for it (other than from Seeking Alpha). I have no business relationship with any company whose stock is mentioned in this article.