Published data for the semiconductor equipment market will usually list two data points. One is titled Wafer Level Manufacturing Equipment and the other is titled Wafer Fab Equipment. The latter is equipment used to manufacture a wafer, starting at the silicon substrate (front-end of the line - FEOL) and ending after the interconnects are deposited (back end of the line - BEOL). In numerous articles I've written in Seeking Alpha, when I discuss companies such as Applied Materials (NASDAQ:AMAT), ASML (NASDAQ:ASML), Lam Research (NASDAQ:LRCX), or KLA-Tencor (NASDAQ:KLAC), I'm referring to the Wafer Fab Equipment.
Wafer Level Manufacturing Equipment revenues are the larger of the two, and combine Wafer Fab Equipment and equipment used for advanced packaging of ICs. The difference between the two sectors is commonly referred to as "Wafer Level Packaging Process Tools." As an example, I wrote a June 1, 2016, Seeking Alpha article entitled "The Other Face Of Lithography - Ultratech And Rudolph Technologies," which discusses lithography equipment for advanced packaging.
According to a recent report from The Information Network entitled "Global Semiconductor Equipment: Markets, Market Shares, Market Forecasts," the Wafer Level Packaging Process Tool Market was valued at more than $2 billion in 2016. From the report, the chart below shows market shares for the Top 10 companies for 2016. Japan's Disco was the leader with a 17.2% share, followed by privately held EV Group at 16.4%, AMAT with an 11.4% share and Rudolph Technologies (NASDAQ:RTEC) at 9.5%.
Disco and privately held EV Group (Austria) make and sell semiconductor equipment only for Wafer Level Packaging while the other eight companies sell packaging equipment ranging from a few percent of total equipment revenues to nearly half.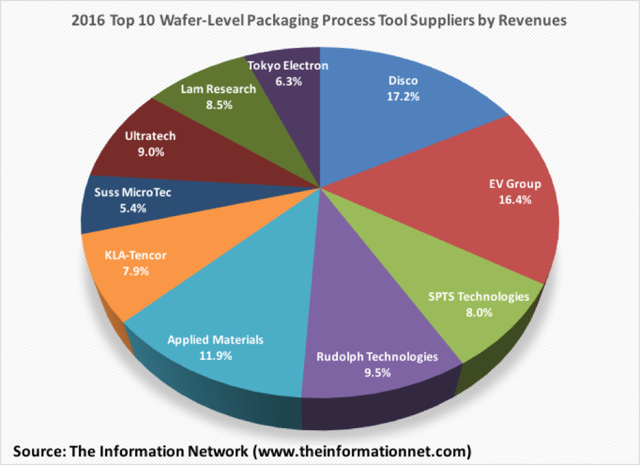 There are two U.S. micro cap ($50 million - $300 million) semiconductor companies in the Top 10: Ultratech (NASDAQ:UTEK) (2016 revenues $194 million) has a market cap of $831 million and RTEK (2016 revenues $233 million) has a market cap of $775 million.
In the chart below, I've manipulated the market shares of the Top 10 companies by dividing 2016 Wafer-Level Process Tool revenues by each company's market cap. Eliminating privately held EV Group and STPS Technologies from the chart, and noting that Disco, Camtek, Suiss MicroTec, and Tokyo Electron are foreign companies, we see that UTEK and RTEK have significantly greater ratios of revenue to market cap of any of the U.S. companies.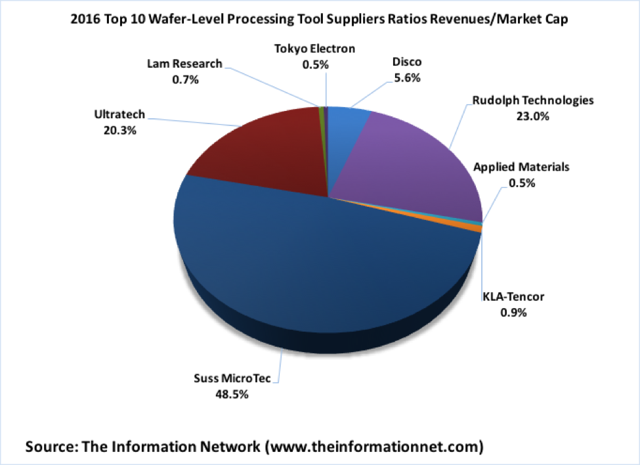 UTEK is in the process of being acquired by Veeco (NASDAQ:VECO) which I discussed in a February 6, 2017 Seeking Alpha article entitled "Veeco Is Reinventing Itself, But Why Purchase Ultratech?"
VECO has a market cap of $1.33. The combined VECO-UTEK would have a ratio of revenue to market cap of 4.4% if plotted in the chart below. This leaves RTEK as having the greatest ratio of revenue divided by market cap based on 2016 revenues and current market cap.
Investor Takeaway
Why is this important? The market for Wafer Level Packages (WLP) that uses manufacturing equipment from the supplier discussed is growing strongly. According to our report entitled "Flip Chip/WLP Manufacturing and Market Analysis," 20 billion ICs were manufactured and incorporated into these packages in 2014, which should more than double to 47 billion in 2020.
By way of illustration, the number of WLP in iPhones has increased over 20 times in the last decade. The original iPhone in 2007 incorporated two WLPs, while the iPhone 7 in 2016 incorporated 44 WLPs.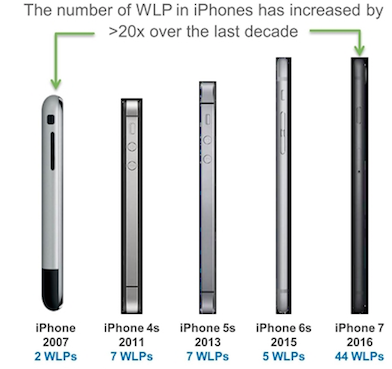 With a strong growth in demand for ICs in WLPs, the demand for equipment will be equally strong. RTEC is a unique micro-cap company with a high ratio of Wafer Level Processing tool revenue to market cap among publicly traded U.S. companies. I already discussed the company's lithography tool in the article I referenced earlier in this paper, and in my opinion is the most technologically advanced among its competitors. Its lithography business increased by 32% year-over-year in 2016 and at a greater than 25% compounded growth rate over the past four years.
Although micro-cap stocks are not for everyone, RTEC reported it has cash and marketable securities remain strong at $125.7 million after redemption of $60 million senior convertible notes and outstanding warrants.
Disclosure: I/we have no positions in any stocks mentioned, and no plans to initiate any positions within the next 72 hours.
I wrote this article myself, and it expresses my own opinions. I am not receiving compensation for it (other than from Seeking Alpha). I have no business relationship with any company whose stock is mentioned in this article.