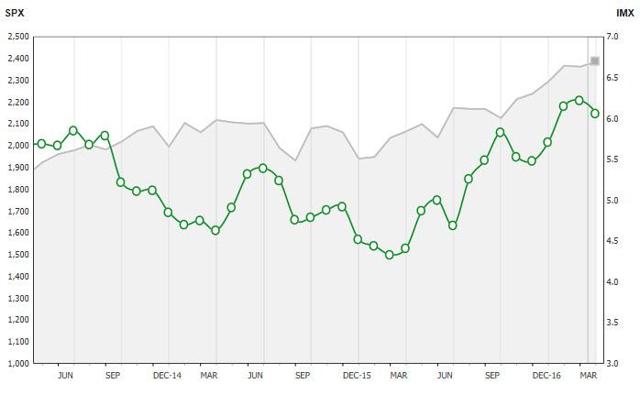 The Investor Movement Index, or IMX SM, retreated to 6.06 for April, down from March's all-time high of 6.22. Despite reducing their overall exposure to equities, TD Ameritrade retail clients remained net buyers in this IMX period. Looking at the major indexes, the NASDAQ (COMP) gained 2.3% during the month, but trading was a little choppier in the S&P 500 (SPX) and finished the month up 0.91%. Over the course of the period, there were several market-moving events that led to a mid-April spike in the VIX, which measures the implied volatility of the SPX, before retreating back to the same levels seen before the spike.
What Was Happening in the Markets?
At the beginning of the month, volatility increased as some widely-followed economic indicators missed expectations. The biggest concern was that first-quarter GDP came in at 0.7% annualized, below estimates for 1.1%, as consumer spending lagged. In addition, housing starts slowed down and the March jobs report showed the U.S. only created 98,000 jobs when 180,000 were expected.
Later in the period, equities reversed their initial declines on stronger-than-expected earnings and the French presidential election narrowing to Emmanuel Macron and Marine Le Pen. Uncertainty over other candidates' global policies appeared to add to concerns over the future of the eurozone as Britain began the process of leaving the EU.
Finally, towards the end of the month the Trump Administration announced additional details about its planned tax reform. The announcement barely budged markets, possibly an indication there wasn't really anything unexpected in the plan. Furthermore, it was just an initial proposal that'll take time and is likely to be revised before the administration tries to get it through Congress. In a recent interview, Treasury Secretary Steven Mnuchin told CNBC "the reason we didn't come out with more details is we want to work with the House and Senate and have a joint agreement so when we release this plan it's something that can pass Congress".
Moving on from the macro view, here are some highlights of what our retail clients were net buying and net selling last month.
Stocks with Net Buying in April
As the NASDAQ broke through the 6,000 mark, Amazon (NASDAQ:AMZN), Apple (NASDAQ:AAPL), and Facebook (NASDAQ:FB) were net buys. During the month, both AMZN and FB hit new all-time highs and AAPL reached a new 52-week high. Retail traders appeared more bullish with these big tech sector names heading into their earnings releases. AMZN reported earnings on April 28, the last day of the period, but the other two didn't report until the beginning of May. While some traders were buying into tech stocks close to highs, others might've been looking for value in underperforming sectors.
One area opportunistic traders might be trying to take advantage of is the telecom sector's weak performance as clients increased positions in Verizon Communications (NYSE:VZ) and AT&T (NYSE:T). After recent post-earnings price declines in the two stocks, their 5% dividend yields might've appeared attractive to income investors. That could also have contributed to net buying in automaker Ford (NYSE:F), another dividend payer with a yield above 5%. Persistently low interest rates appear to have led many investors to hunt for higher yields in equities.
There was a new small-cap stock that made the list of net buys this period. At the beginning of April, Plug Power Inc. (NASDAQ:PLUG) reached an agreement with AMZN to utilize PLUG's fuel cells and hydrogen technology in industrial equipment used in the ecommerce giant's fulfillment network, according to a company press release.
Stocks with Net Selling in April
On the selling front, there was a string of announcements that traders might have been looking to take profits on. Panera (NASDAQ:PNRA) was net sold as JAB holdings reached an agreement to acquire it for $315 per share. An additional net sell with acquisition news was Mobileye (NYSE:MBLY), which is set to be acquired by Intel (NASDAQ:INTC) in a $15.3 billion deal.
Whole Foods Market (WFM) was another net sell as activist investors Jana Partners took a 9% stake in the company. Another well-known consumer brand, Starbucks (NASDAQ:SBUX), was a net sell as it hit a 52-week high following an analyst upgrade. SBUX was in the headlines last month with the launch of its multicolored, flavor-changing Unicorn Frappuccino.
One more company with big news that was net sold was Sunoco Co. (NYSE:SUN). SUN stock surged earlier in April after selling its convenience stores to 7-Eleven in a $3.3 billion deal. Net selling also picked up in several energy companies as oil dropped back below $50.
For more information about which stocks TD Ameritrade retail clients were buying and selling during the month, check out the video below for my take on the April IMX reading.
Inclusion of specific security names in this commentary does not constitute a recommendation from TD Ameritrade to buy, sell, or hold.
Historical data should not be used alone when making investment decisions. Please consult other sources of information and consider your individual financial position and goals before making an independent investment decision.
*Earnings data/research is provided by unaffiliated third parties.
The IMX is not a tradable index. The IMX should not be used as an indicator or predictor of future client trading volume or financial performance for TD Ameritrade.
Past performance of a security, strategy or index is no guarantee of future results or investment success.
TD Ameritrade commentary for educational purposes only. Member SIPC.
Disclosure: I/we have no positions in any stocks mentioned, and no plans to initiate any positions within the next 72 hours.
I wrote this article myself, and it expresses my own opinions. I am not receiving compensation for it. I have no business relationship with any company whose stock is mentioned in this article.