Thesis
A normal market entails two sides: fear and greed. It's normal and has balance. This market has real risks but a clear lack of fear. Analysis of risks and why moral hazard could be a real issue for the Fed and investors.
Bull Market
As I have said in many previous articles, this is a bull market until proven otherwise. My goal is to make money as an investor. So I am not inclined to argue with the market. The goal of the investor is to understand the market.
Bullish Climate
One cannot ignore the impact of low interest rates on valuations. It's difficult to know exactly how much money has been attracted from the bond market into the stock market due to excessively low yields.
However, a healthy fear of rising rates seems normal. And we have seen a conspicuous lack of fear in the market for quite some time. In fact, this year, the ninth year of this bull market, we see historic lows in volatility (VIX) (NYSEARCA:VXX).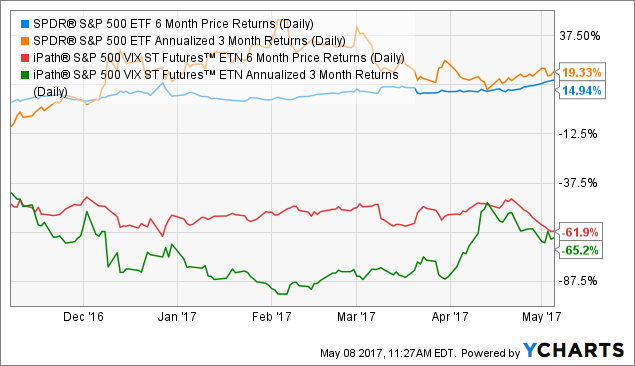 SPY 6 Month Price Returns (Daily) data by YCharts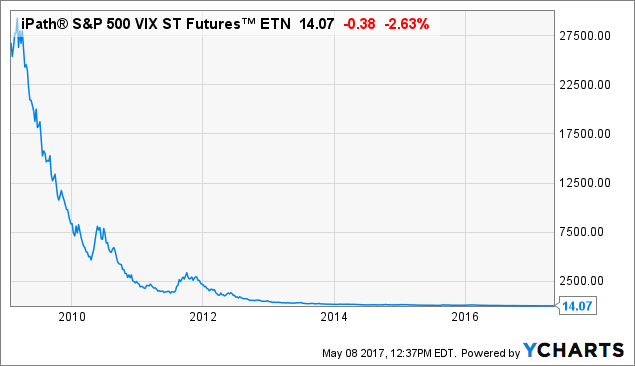 VXX data by YCharts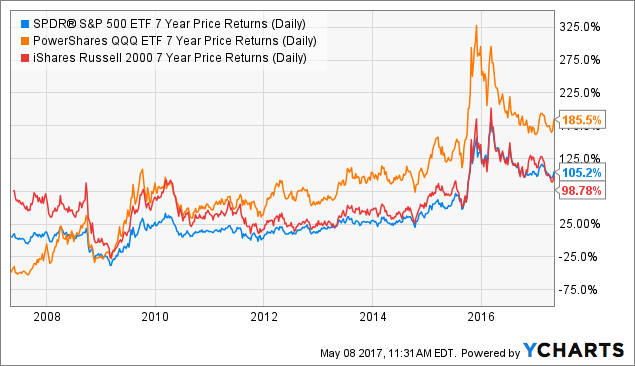 SPY 7 Year Price Returns (Daily) data by YCharts
Valuations
As we see in a larger, more historical context, valuations appear extended. It is possible to argue that there is no alternative to owning stocks. Purchasing overvalued stocks is never a preferred long-term strategy.
Valuations matter. Just because a strategy has been successful over the short term does not make it more valid. It simply gives the investor more confidence in a flawed strategy.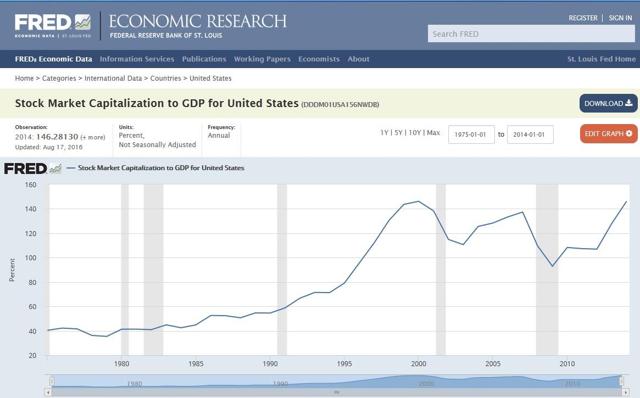 Moral Hazard
Lack of incentive to guard against risk where one is protected from its consequences, e.g., by insurance.
New Communication Policy
Nearly eight years ago, when I began my time as Chairman, one of my priorities was to make the Federal Reserve more transparent - and, in particular, to make monetary policy as transparent and open as reasonably possible.

Transparency in monetary policy enhances public understanding and confidence, promotes informed discussion of policy options, increases the accountability of monetary policymakers, makes policy more effective by tightening the linkage between monetary policy, financial conditions, and the real economy.

Ben S. Bernanke
Transparency and Volatility
The Fed now has numerous authorized speakers communicating on an almost daily basis. Does this enhanced level of communication affect the market and volatility?
It is reasonable to wonder if the investor could feel a new sense of security that this higher level of engagement by Fed officials means that they will somehow react faster in a correction or downturn. The market has benefited from so much quantitative easing and market intervention that it is easy to assume that these safeguards will continue.
Safeguards
There are no safeguards in investing. While we are encouraged by the long-term success of the market averages, there are no assurances that past performance is any guarantee of future returns. Corrections and recessions are normal and part of investing.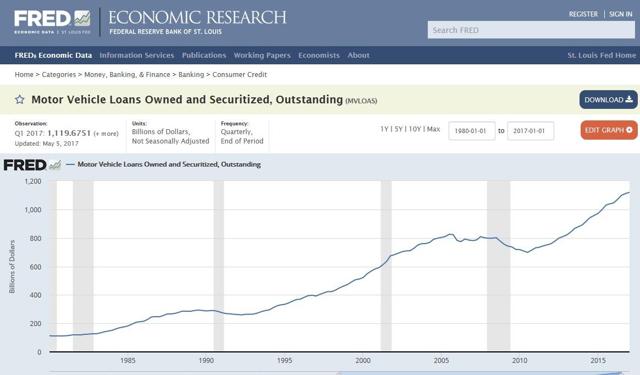 Risks
Lower interest rates have encouraged the consumer to spend, and the policy has enabled future spending to be pulled forward. This is a temporary benefit due to a financial crisis. The fact that the policy has continued while the crisis has abated should be a concern for investors.
The Risk: Changing Consumer behavior
The risk to the economy could be one that is rarely discussed. What if the consumer decides to focus on paying down debt i.e. frugality or minimalism.
It is a radical idea for a country where spending comprises two thirds of the economy. But it is a logical idea when we see such an abundance of debt: car loans, student debt, and consumer credit. The demographics of the country are constantly changing. Past consumer behavior is never guaranteed.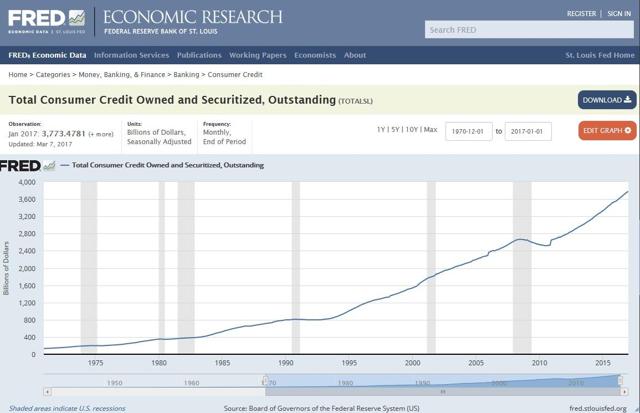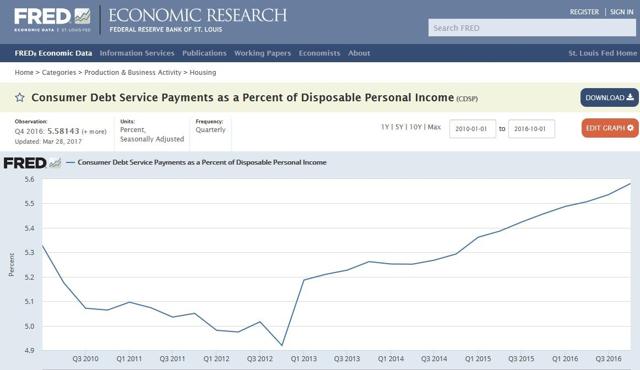 Minimalism and Millennials
Older generations called it frugality. Millennials have adopted the term minimalism. It is the same reaction to living with economic fear.
Millennials Go Minimal: The Lifestyle Trend That Is Taking Over
Millennials in particular are seeking out this minimalist lifestyle. Millennials - the 18-34 demographic make up more than a quarter of the U.S. population and the majority of the workforce. Millennials have a unique set of values around how they choose to spend their money. They grew up during the recession, entered a struggling job market and must now pay off record amounts of student debt.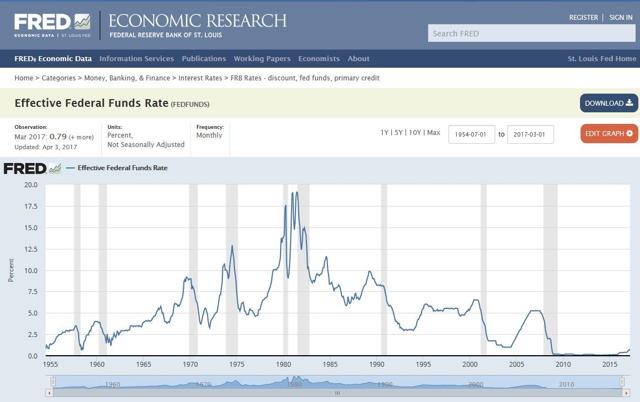 The Fed as Savior
Don't fight the Fed is one of the oldest sayings on Wall St. The fear of the Fed as the entity that takes away the punchbowl seems to be gone. The new view of the Fed is of the savior when markets go down. The lack of fear is an indication of that view. A smart investor realizes that the Fed will never protect investments made that are overvalued and have no margin of safety.
Conclusion
Changes in communication from the Fed could impact investors and create a false sense of security. Low levels of volatility reflect this complacency. However, risks to the economy and the market remain.
Follow for more ideas and analysis
Disclosure: I/we have no positions in any stocks mentioned, and no plans to initiate any positions within the next 72 hours.
I wrote this article myself, and it expresses my own opinions. I am not receiving compensation for it (other than from Seeking Alpha). I have no business relationship with any company whose stock is mentioned in this article.