When I use insider trading data to try and find a possible investment candidate, one of the main criteria I use is consensus and clustering (I wrote about this in my book) - I tend to skip over stocks that are seeing both insider buying and selling and focus on those stocks where multiple high-level insiders are all buying around the same time.
And that's the case for this week's Insider stock pick Black Diamond Inc. (NASDAQ:BDE) - it's a small cap stock with an interesting expansion story to tell in a hot sector (outdoor sports). Insiders, both officers of the company and directors on the board, have bought close to $10M in stock in the past month.
Methodology
My methodology uses insider trading data from Bluetrader. I monitor hundreds of weekly trades, looking for interesting stories that may slip between the cracks and publish these in my weekly (free) insider trading newsletter. When you subscribe, you can get a feel for the methodology I use by downloading a free ebook there, The Harvard Guide to Insider Trading.
Trigger Event
On February 24, 2012, 5 insiders of BDE, including the President of the firm, Peter Metcalf and the Chairman of the Board and Executive Vice Chairman (Warren Kanders and Robert Schiller - these guys are important to the story and I'll come back to them), bought almost $10 million in BDE stock on the open market.
Company Tearsheet
In May of 2010, Warren Kanders and Robert Schiller, two successful businessmen put together what today is known as Black Diamond. Black Diamond, as it appears today, is a funny-tasting sandwich of 3 different companies, combined in May of 2010.
Clarus Corporation: Used essentially as a public company shell, Schiller and Kanders used the firm, still with $81M in cash and $231M in Net Operating Losses (NOLs, used to offset taxable income) to essentially take public Black Diamond.
Black Diamond: This is the jewel in the BDE crown with a heritage dating back to 1957. Black Diamond is one of the most globally recognized brands for climbers, mountaineers, and aspirational outdoor enthusiasts. (Website)
Gregory: Premier technical backpacking and other products, founded in 1977. Kanders and Schiller bought this company in 2008. (Website)
What Does Armor Holdings Have To Do With BDE?
Well, a lot. Warren Kanders and Rob Schiller took Armor and completed in excess of 30 acquisitions over 12 years. In July 2007, AH was bought by BAE Systems for $3.1B.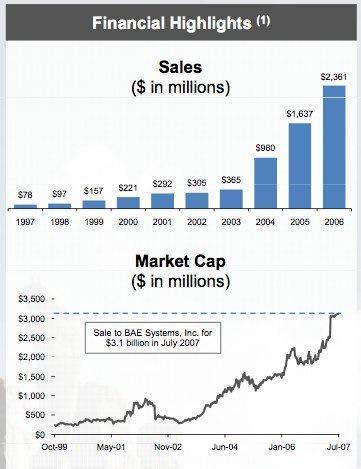 Armor Holding participated in an industry, after market security fittings for vehicles, that was highly fragmented and showing good secular trends, just like outdoor equipment. Schiller and Kanders have every intention of turning BDE (currently about $180M in market cap) into a multi-billion dollar brand in the outdoor equipment industry.
Snapshot Of Trends In Outdoor Equipment
There is definitely a growing trend, particularly among baby boomers, for travel and outdoor exploration, combined with an increased awareness in health/wellness and environmentalism.
Sales of outdoor products in the U.S. Reached $7.7 billion for the first nine months in 2011, up 6.3% from the same period in 2010.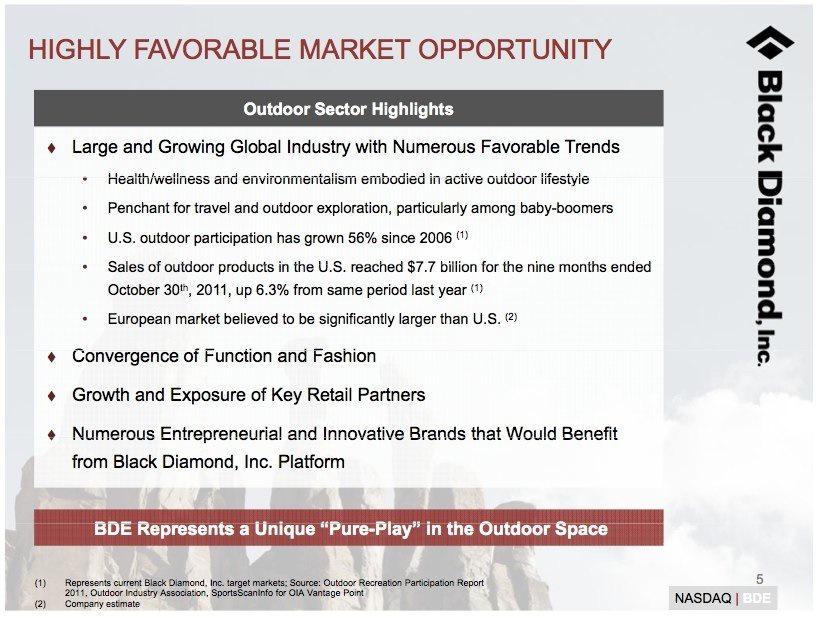 Black Diamond: The Core Business
Black Diamond has seen double digit top line growth since 1990. Its mission - to design high quality, high performance gear for climbers, mountaineers and skiers- has been driven by a passion and innovation that's driven the firm's financial performance.

The 5 Year Plan For BDE
Msrs Kanders and Schiller have high aspirations for BDE. Given their track record and history at Armor Holdings, investors should expect a mix of organic growth and acquisitions. Lots of them.
Retail expansion: First, the firm is embarking on a mission to increase its retail space at the largest specialty retailers (REI, the firm's largest customer). Using REI as an example, the retailer has increased its own store count by 60% over the past 5 years. So, BDE plans to grow alongside its retail partners to increase is sales floor presence and merchandising initiatives. Acquisitions are a core part of this strategy.
New products: BDE has made it clear that it wants to redefine the categories it enters and will seek out opportunities (like with Gregory backpacks) to create a pipeline of new products in multiple categories. This includes a launch into apparel (expected in Fall 2013). The firm's been gearing up for this push with new hires, experienced pros snatched from leading competitors.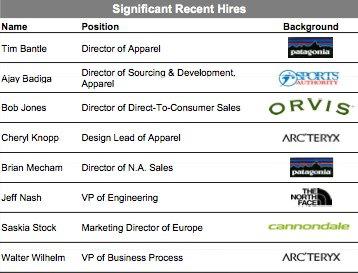 BDE believes there is a $250M long-term opportunity (meaning, by 2020) to create a brand presence in apparel with higher gross margins by using existing relationships with key outdoor retailers.
Go more global: Black Diamond's competitors sell a lot globally and BDE already has a significant chunk of its sales coming from the rest of world (50% outside of US) with rapid growth in Asia. The company plans to extend and broaden its distribution into high-demand markets like Asia.
Acquisition strategy/Building a $500M business: BDE is targeting firms with revenues between $25 and $50 million. Candidates should have similar characteristics to Black Diamond itself: technical products, protected intellectual property, iconic brands/heritages, and strong markets.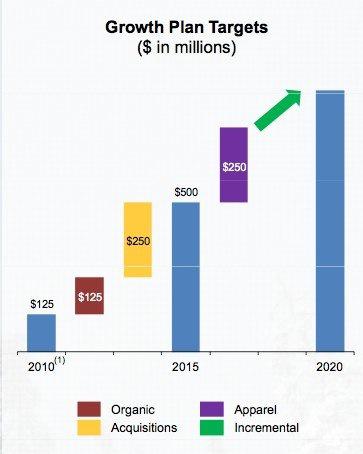 With its strategy, BDE believes it can generate over 50% growth organically and use acquisitions to contribute $250M in top line sales by 2015. Remember, Apparel alone is expected to do $250M by 2020, so this is a long-term growth story.
Who's Buying The Stock And Why?
Everyone is buying the stock here - as mentioned previously, the top 5 executives, including the key board members Kanders and Schiller, have bought almost $10M worth of BDE just last week. Schiller and Kanders appear to have about $8M of their own capital sunk into the company so far.
There is a lot of room for growth here - taking a $125M (current) niche retailer more mass market to a $500M+ powerhouse. I'm always wary of a firm that uses M&A so instrumentally to grow - it works for a while and then tends to become a financial mess. There's huge integration risk that these add-on acquisitions don't quite fit.
In fact, the company is on the road, trying to raise money to fund some future acquisitions. If you're going to get in, you might want to wait until that fundraising is over.
But I guess that's not Kanders and Schiller's plan. I think the deal is to sell this thing before then and let the large acquirer sort everything out.
They've done it before with Armor Holdings, can they do it again with Black Diamond? What do you think?
Disclosure: I have no positions in any stocks mentioned, and no plans to initiate any positions within the next 72 hours.
Additional disclosure: This should definitely not be construed as investment advice. I've tried my best to be as faithful to the story as I could, using sound resources to help describe the insider trading activity at leading companies. But you should definitely do your homework — don't base an investment decision off this information.