The winter of discontent, that's what we'll call this winter as our natural gas investments have proven disappointing. We recently trimmed about 20% of our natural gas investments because our winter thesis failed to prove out.
In 2016, we said that the supply/demand imbalance for natural gas would eventually increase prices. This continues to stay true as evidenced by the winter we've just had, but it's been gradual. If the past winter had turned out to be at historical norms, natural gas pries would have spiked. Instead this winter was one of the warmest ever, following last year's incredibly warm winter.
So for the past two years we've had record warmth, which leads us to ask, "what's the past tense of global warming?"
Going forward though, base demand is certainly increasing because of higher LNG demands, higher gas exports, and the shift from coal power plants to natural gas plants. So while inventories are slightly higher than the 5-year average, on a demand-adjusted basis, inventories are actually running quite low. Thus, we've still retained 80% of our natural gas positions.
Now that we've exited the withdrawal season (November 1 - March 31), were now into the injection season (April 1 - October 31) where supplies typically exceed demand. If natural gas prices don't continue increasing during the injection season (contrary to historical norms) to spur production, we'll enter this winter's withdrawal season (beginning November 1, 2017) with an undersupply of natural gas. Thus, natural gas prices must either rise now to incentivize production, or it spikes later this winter when inventory becomes low.
Where to From Here?
For now, let's look ahead to see how much inventory we'll have once we come out of the injection season. RBN Energy ran a few injection season scenarios using various demand and supply assumptions. The first assumes a 3 year low in US demand, and another two assumes a 3 year average. The last two scenarios are the most bullish as they assume a repeat of the record high 2016 demand.
1. 3 year low US demand
2. 3 year average US demand + 2016 production
3. 3 year average US demand + 2016 production + export growth
4. 2016 US demand
5. 2016 US demand + 2016 production + export growth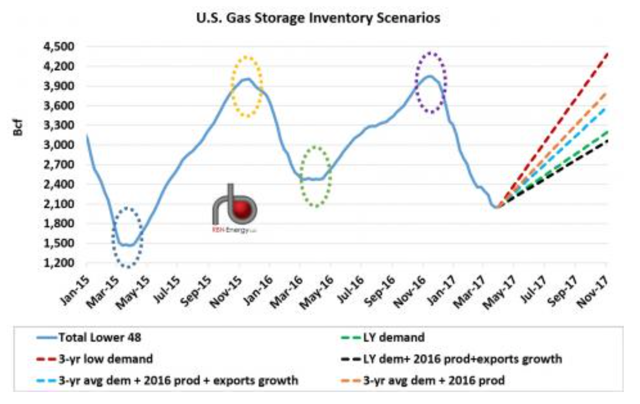 In almost all of RBN Energy's scenarios (with the exception of low demand), natural gas inventories end the injection season at less than 4,000 Bcf. The only one that does not is assuming demand checks in at a 3 year low. We believe that it's likely that the more bullish scenarios will come to fruition as base demand and export growth both continue their momentum. Just take a look at exports: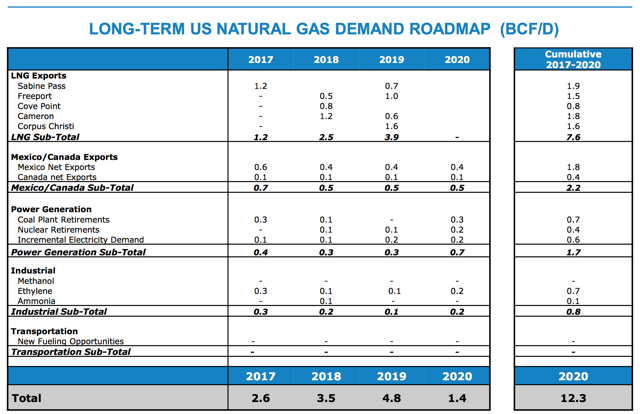 Two new Cheniere LNG trains have/will come online in 2017 and Mexico exports continues to ramp higher, so export demand alone is forecasted to increase by 2.6 bcf/d, demand which didn't exist last year. Coupled with the shift from coal power generation to natural gas, we believe it's fairly conservative to lean towards Scenario 3 (i.e., 3 year average US demand + export growth) for calculating demand.
Supply
From a supply standpoint, Scenario 3 may in fact prove to be overly aggressive. Supply for Scenario 3 assumes the same level of production in 2017 as 2016 (i.e., 73 bcf/d). As we kick-off the injection season, we're beginning to see production languish (slightly over 69 bcf/d). This is likely because of two factors: 1) accelerating decline rates for legacy wells and 2) natural gas drilling rigs falling precipitously from a monthly average of 174 in January 2016 to 86-88 rigs from May to September last year.
To illustrate, let's look at the Marcellus, which accounts for over 20% of the total US natural gas production. The most recent EIA Drilling Productivity Report (April 2017) indicates that new wells are only barely keeping production flat as the decline rates from legacy wells continue to drag on overall productivity.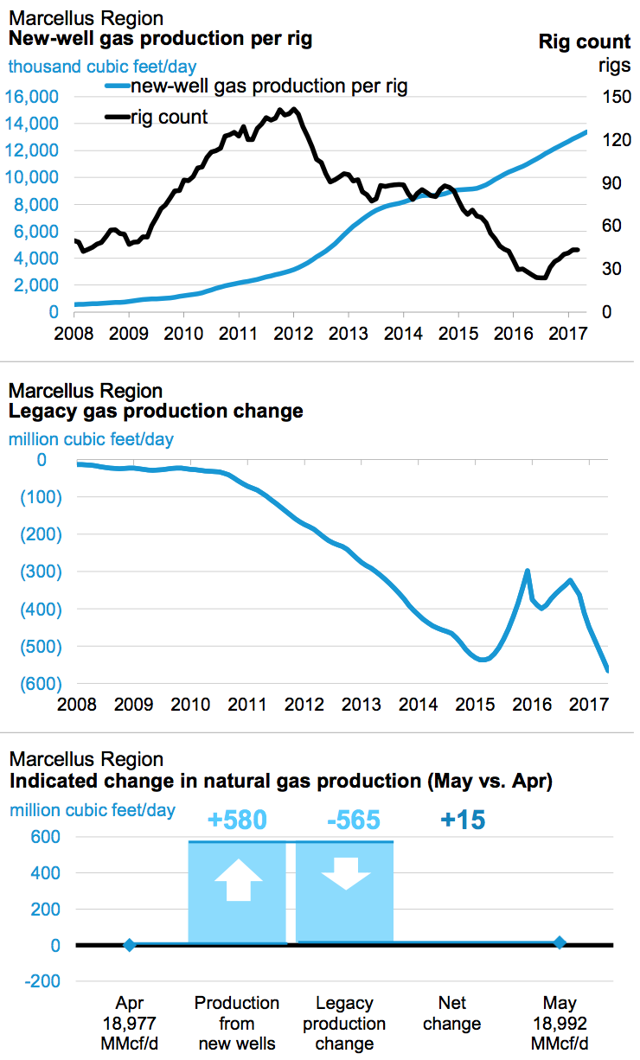 We think production overall will at best continue to stagnate, as the legacy wells drilled in the past few years approach exhaustion and the reduction in natural gas rig counts last year begin to bite. It takes 6-9 months before all the wells on a pad can be drilled, completed and equipped for production so a reduction in rig counts and the number of wells "not drilled" will be felt during this injection season.
So considering the factors above, we think it's likely we end the injection season with natural gas inventory below 3.5 Tcf. This explains in part why natural gas prices have stayed in the +$3.00 mcf range during the injection season. Even an average summer will leave natural gas inventories at multi-year lows, which means we could be "set-up" for another "run-up" of natural gas prices. We think the current low-$3.00/mcf price is just the beginning, and eventually if users want natural gas, they'll have to pay a much higher price for it.
As always, we welcome your comments. If you would like to read more of our articles, please be sure to hit the "Follow" button above.
Disclosure: I/we have no positions in any stocks mentioned, and no plans to initiate any positions within the next 72 hours.
I wrote this article myself, and it expresses my own opinions. I am not receiving compensation for it (other than from Seeking Alpha). I have no business relationship with any company whose stock is mentioned in this article.