What happened?
AT&T (NYSE: T) announced on April 10 th its plans to acquire Straight Path Communications (NYSE: STRP). Since, there have been two new superior offers made. The new bidders are quoted as being unknown, yet most speculate the mystery bidder is Verizon (NYSE: VZ). On May 3 rd a mystery "multi-national telecommunications company" is widely assumed to be Verizon, lifted an all-stock bid to $135.96 from $104.64.
Nevertheless, a new offer out Monday topped the previous one. The new offer is for $184 per share from a "multinational telecommunications company." According to CNBC's David Faber, this new offer is from Verizon. Who knows? The main take away is Straight Path is a key strategic piece of the spectrum puzzle.
AT&T has yet to post a new definitive deal from its $95.63 per share agreement. The new deals are "superior proposals." This allows AT&T up to five business days to respond with a new offer. The fierce battle for Straight Path has everything to do with the future. Straight Path is sitting on prized millimeter wave spectrum the telecoms companies will need accomplish their fifth generation aspirations. Let me explain.
It's all about the future and 5G
The Straight Path acquisition will be a spectrum-boosting positive for AT&T. Straight Path is one of the largest holders of 28 GHz and 39 GHz millimeter wave spectrum. The move will give AT&T, or the eventual winner of the bidding war, access to key infrastructure as part of their pursuit of 5G. This is an extremely important acquisition for AT&T. The move will keep AT&T on pace with Verizon in regards to the 5G race.
What is 5G?
5G is the next-generation telecommunications standard which will eventually succeed 4G. The new 5G standard will potentially provide Internet speeds as much as 40 times faster. The technology is still in its infancy. Global standards are still yet to be finalized. Moody's views the deal as a strategic positive for AT&T. Moody's states:
"We view these deals as strategic positives, but not material to the near term (0 to 3 years) financial performance. However, these small strategic asset purchases are essential to AT&T remaining competitive and perpetuating its market share."
So the acquisition is not about moving the needle any time soon, yet will benefit AT&T for years to come. A 5G network will be needed to fully exploit AT&T's plans to vertically integrate.
The Vision
One of the primary reasons I feel confident in my investment in AT&T is management's vision. AT&T's leadership team has excelled at assembling assets to support its core 4G wireless business and its 5G aspirations. The foundation of AT&T's future remains wireless services.
The millions of AT&T's wireless subscribers are the base upon which AT&T plans to build its vertically integrated ecosystem. The following slide depicts the company's quest to become a global Technology, Media, and Telecommunications leader in the future. This slide represents the company's assets after the Time Warner (NYSE:TWX) acquisition is completed: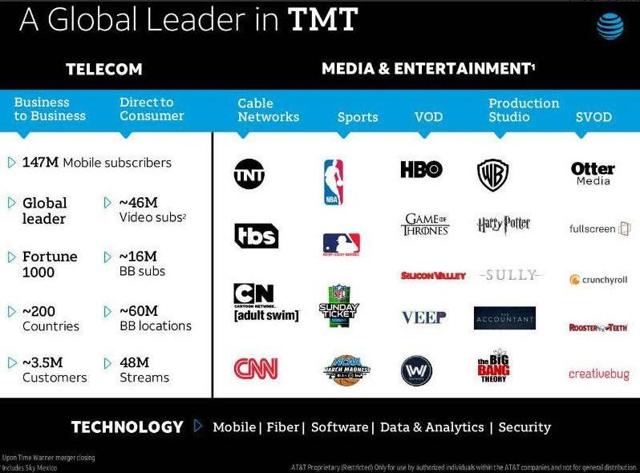 Source: Att.com
Nonetheless, it looks like things could get really ugly. The Straight Path acquisition surely has. I expect this won't be the first time we hear of a battle for assets between AT&T and Verizon. Let's take a look at the current technical status.
Technical Status
Current Chart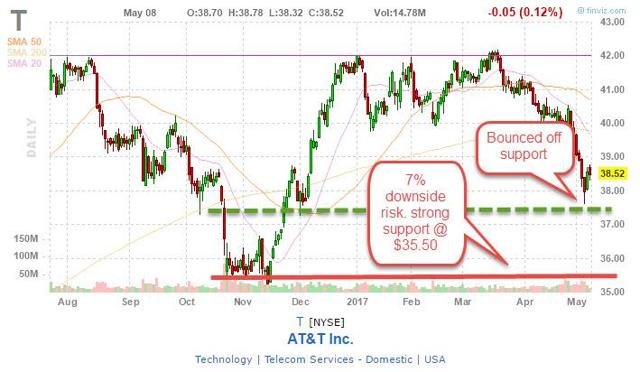 Source: finviz.com
The stock has bounced off support at just below the $38 level. This was a positive sign, yet by no means conforms the downside move is over. Nonetheless, strong support lies at the $35 level leaving 7% further downside risk. Even so, I wouldn't mind it if the stock got there. I have plenty of dry power ready to buy at the $35 price. Although, I highly doubt it gets there as that would mean a dividend yield of greater than 5.6%. Moreover, the stock is primarily held by income investors. This is an extremely stodgy cohort keeping the beta extremely low at 0.37. This makes the stock approximately three times less volatile than the market and an excellent safe haven play.
The Bottom Line
AT&T is seemingly in the fight of its life to acquire Straight Path Communications. Nonetheless, I credit management for having the foresight to make the first offer for the assets. I believe AT&T will match or slightly beat the best offer and acquire the assets. Although the price has shot up quite a bit in just the last few days, the $3.1 billion price tag amounts to a mere pittance for AT&T based on the company's ability to leverage the assets in the future. I say the stock is a buy at this level. Nonetheless, if you do decide to start a position, I would layer in to a full position over time to reduce risk. Those are my thoughts on the matter. I look forward to reading yours. Please use this information as a starting point for your own due diligence.
Your input is required!
The true value of my articles is provided by the prescient remarks from Seeking Alpha Members in the comments section below. Do you think AT&T represents a buying opportunity at the current share price? Will the Straight Path Communications acquisition eventually pay dividends? Thank you in advance for your participation.
Final note: If you enjoyed this article please click the follow button below. I would greatly appreciate it.
Disclosure: I am/we are long T.
I wrote this article myself, and it expresses my own opinions. I am not receiving compensation for it (other than from Seeking Alpha). I have no business relationship with any company whose stock is mentioned in this article.