FTSE 350 dividend growth hit double figures in the first three months of 2017. Most of the rise was driven by the weaker pound, which has boosted payouts declared in foreign currencies. But there are signs that this exchange rate sugar rush could soon wear off.
Without a pickup in profits growth - which is usually the main driver of dividend increases - a slowdown in dividend growth could be on the cards by as soon as the third quarter. So in the hunt for income stocks it's more important than ever to pay attention to whether eye-catching dividends are sustainable.
The latest dividend figures from Capita Asset Services show that UK payouts rose to £15.4bn in the first quarter. That was up by 9.5% on the same period in 2016. Stripping out the impact of special dividends, which fell to a six year low, dividend growth came in at a record 16.2%.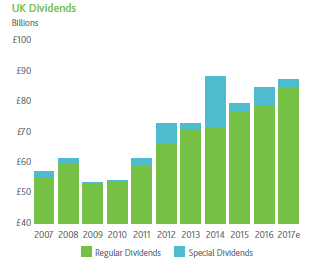 Source: Capita Asset Services
To understand how exchange rates affect dividends, it's worth exploring where the payouts come from. During the average year, a little over two-fifths of overall UK dividends are declared in foreign currencies. But in Q1, the weighting actually rises to three-fifths of the total payout. Given the devaluation of sterling since last year's EU referendum, these sorts of currency effects come into sharp focus.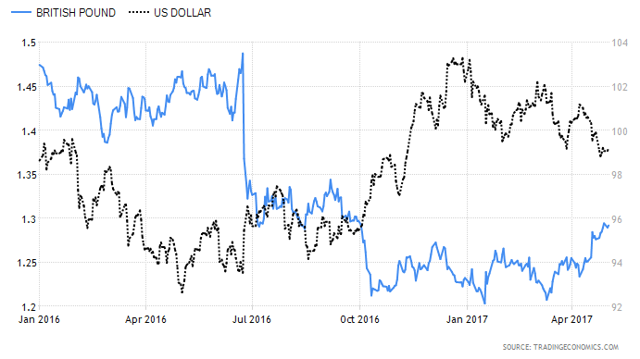 As a result, the impact of the lower pound added £1.7bn to the total payout in Q1 - or 12 percentage points on the headline growth rate. Most of the rest was down to a whacking rise in the dividend payout from the mining giant, BHP Billiton (NYSE:BBL). Without these two factors, underlying dividends would have actually fallen year-on-year.
In terms of sector performance, the best dividend growth was seen in oil, gas and energy, resources and commodities, consumer goods and housebuilding, and telecoms. But growth fell in retail and consumer services and healthcare and pharmaceuticals.
In the FTSE 100 - where around 70% of revenues come from overseas - dividend payouts increased by 16.8%. But nine-tenths of that was attributable to weaker sterling, suggesting that underlying growth was quite weak.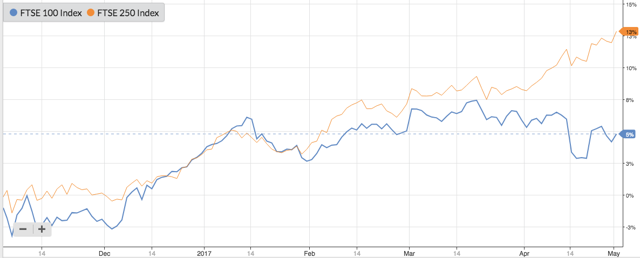 By contrast, in the FTSE 250 - where some 50% of revenues come from overseas - nine-tenths of payouts are declared in sterling. So according to Capita, the impact of exchange rates is fairly negligible. Here dividends rose by 11.1% on an underlying basis - suggesting that the mid-cap index is seeing better dividend growth on a constant currency basis.
Looking ahead, there are concerns that the impact of weaker sterling will wear off by the third quarter if exchange rates remains the same. On the upside, Capita reckons global growth ought to spur improvements in company earnings, which bodes well for larger companies further down the road. In the meantime, the main source of dividend excitement is in the mid-caps, which are expected to continue to outperform the large-caps on a constant currency basis.
A quality-focused dividend strategy
So what are the practical steps that can be taken from the latest dividend data? One answer could be to to take a closer look at the Quality Income screen, which has been one of the steadiest higher-yield performers in Stockopedia's Income Strategies over the past six months.
This strategy has been under pressure for over a year and was hit badly after last June's EU referendum. Those problems were caused largely by a lack of diversification and an over-reliance on certain mining stocks, as well as domestic-focused cyclical and industrials which suffered during the period. However, it has begun to claw its way back with an 11.2% return over the past six months (9.2% annualised, before dividends).
The appeal of Quality Income is that it's designed with caution in mind. It avoids the very highest (potentially risky) yields and instead prioritises financial quality. It looks for large, high quality firms in robust financial shape, which offer decent yields. It's modelled on dividend indices like Societe Generale's Quality Income index and the FTSE RAFI Equity Income index.
To pass the rules of the strategy, companies must pass at least seven of the nine checks in the Piotroski F-Score. This looks for improving trends in a company's profitability, debt, liquidity, share dilution and operating efficiency. It also checks for any risk that a company might go bust by using another accounting checklist called the Altman Z-Score. Financial stocks are excluded and the yields need to fall between 4% and 15%.
Diversification in the screen results is still fairly limited, but it does offer some indications about where reasonably high yields from higher quality companies can be found at the moment. FTSE 100 housebuilders like Taylor Wimpey (OTCPK:TWODF) (OTCPK:TWODY) and Persimmon (OTCPK:PSMMF) (OTCPK:PSMMY) offer forecast yields ranging from 5.3% to 7.1%. Meanwhile, Rio Tinto (NYSE:RIO) is the only blue chip miner to make the screen. From the FTSE 250 the results get other housebuilders like Galliford Try (OTC:GALLF) (OTC:GLLRY) and Berkeley (OTCPK:BKGFY), as well as 888 Holdings (OTCPK:EIHDF) and Telecom Plus (OTC:TLPLY).
| | | | | | | |
| --- | --- | --- | --- | --- | --- | --- |
| Name | Mkt Cap £m | Yield % Rolling 1y | Piotroski F-Score | Altman Z Score (1) | Sector | Index |
| Taylor Wimpey | 6,534 | 7.1 | 8 | 4.85 | Consumer Cyclicals | FTSE 100 |
| Galliford Try | 1,212 | 6.8 | 7 | 2.67 | Industrials | FTSE 250 |
| Rio Tinto | 55,034 | 6.0 | 8 | 2.07 | Basic Materials | FTSE 100 |
| Royal Mail (OTCPK:ROYMF) (OTCPK:ROYMY) | 4,090 | 5.8 | 7 | 2.76 | Industrials | FTSE 100 |
| Berkeley | 4,598 | 5.8 | 8 | 4.03 | Consumer Cyclicals | FTSE 250 |
| Persimmon | 7,375 | 5.3 | 8 | 6.19 | Consumer Cyclicals | FTSE 100 |
| 888 Holdings | 1,011 | 4.6 | 8 | 6.06 | Consumer Cyclicals | FTSE 250 |
| Anglo American (OTCQX:AAUKF) (OTCPK:AAUKY) | 15,130 | 4.6 | 8 | 1.97 | Basic Materials | FTSE 100 |
| Telecom Plus | 982 | 4.3 | 8 | 5.96 | Telecoms | FTSE 250 |
The fall in the value of sterling since last summer has been a welcome boost for dividends at a time when underlying figures suggest that payout growth may otherwise have been lacklustre. But if earnings falter, the sweetening effect of that currency boost could soon start to disappear. So in the search for sustainable dividends, a Quality Income approach could be worth considering. It's a strategy that suffered from limited diversification over the past 18 months, but it's beginning to bounce back and could offer ideas at a time when reliable dividends will be highly desirable to some investors.
Editor's Note: This article discusses one or more securities that do not trade on a major U.S. exchange. Please be aware of the risks associated with these stocks.