Note: This article was originally published April 22nd on Value Investor's Edge, a Seeking Alpha subscription service.
Overview
Dry bulk shippers specialize in transporting cargos, typically commodities, such as iron ore, coal, grain and other materials around the world.
Companies with exposure to dry bulk include Diana Shipping, Inc. (NYSE:DSX), Eagle Bulk (NASDAQ:EGLE), Genco Shipping (NYSE:GNK), Golden Ocean Group Ltd. (NASDAQ:GOGL), Navios Maritime Holdings, Inc. (NYSE:NM), Navios Maritime Partners L.P. (NYSE:NMM), Scorpio Bulkers (NYSE:SALT), Safe Bulkers, Inc. (NYSE:SB), Star Bulk Carriers Corp. (NASDAQ:SBLK) and Ship Finance International Limited (NYSE:SFL).
Background
It was February 17th when I released an article entitled Why Dry Bulk Shipping Could Look Very Different One Year From Now which was the first bullish piece on dry bulk that I had written in several years.
Since that time the Baltic Dry Index which is a composite of the Baltic Capesize, Supramax, Panamax, and Handysize indices, useful in determining the cost to move materials by sea has witnessed significant gains.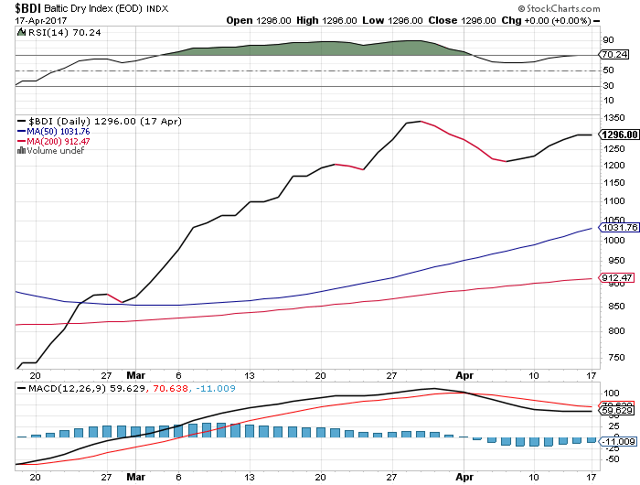 Source: stockcharts.com
For those familiar with my work this development didn't come as a surprise since much of my analysis looks several months, even years, into the future. This correction had been anticipated and the factors that contributed to it widely discussed prior to this specific article.
But now as an increasing amount of euphoria erupts in the dry bulk segment it is my duty to discuss two major factors that we must watch which could become headwinds in this burgeoning bull market.
It is important to note that I'm not predicting an end to the recovery, but simply laying out issues that I see as potentially having a bearish influence going forward and of which investors should stay abreast.
Newbuilds
With the prospect of a market recovery on the horizon owners are already positioning themselves to capitalize. The best way to take advantage of a high rate environment is to have as many vessels on the water as possible.
Over the past months we have seen the second-hand market heat up. As a result prices for used vessels have been increasing at a robust pace.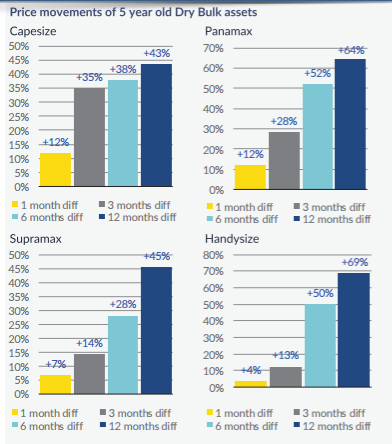 Source: Allied Shipping Research Week 15 Report
The strong second hand market won't last forever though as Michael Nagler, the head of Singapore based Nobel Chartering, pointed out when he told Splash 24/7 that we "expect to see newbuild orders in two to three months as we are running out of reasonably priced good quality second hand ships."
But it's not just a potential supply shortage in the second hand market which could spur newbuild ordering.
Let's take a look at how these percentage changes for used vessels have impacted the actual prices in the second-hand market.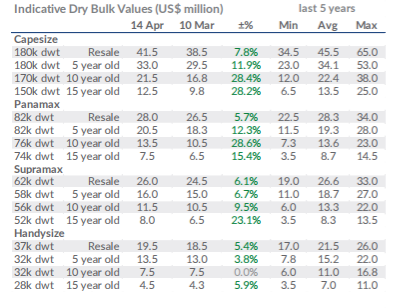 Source: Allied
Now, let's compare these to newbuild prices.

Source: Allied
Finally, let's take into account how newbuild prices have failed to rise to the same degree as second hand prices.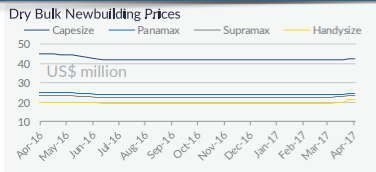 Source: Allied
Together these charts tell a story of steady newbuild prices and increasing second hand prices. This is important since a narrowing gap between second hand and newbuild prices may persuade owners to tap the shipyards for new tonnage instead of turning to used vessels.
Shipyards have noted the increasing prices for second hand vessels and attempted to join the party but it may be tough. There is still a significant overcapacity on that front and many yards will be seeking to strike deals as projects are finished.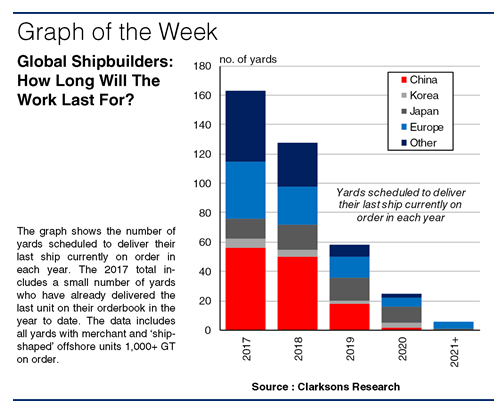 Source: Clarksons
In 2016, 117 yards delivered the final unit on their orderbook and 163 yards are scheduled to deliver their current orderbook by the end of 2017. This means that yards wishing to remain active will eagerly be attempting to strike deals making for a highly competitive environment and keeping newbuild prices fairly low.
In July of 2016 I wrote an article entitled Will Low Ship Prices Sink A Maritime Recovery? which predicted this exact scenario that is now unfolding. In that article I wrote "I believe the low (newbuild) prices will entice owners to order at the first significant sign of a rate upswing which would continue to maintain an oversupply and thus rate pressure."
Instead of offering my interpretation let's take a look at two quotes from industry insiders.
A Splash 24/7 article entitled Dry Bulk Recovery Set To Be Cut Short By Newbuild Splurge carried this quote:

Another Splash 24/7 article entitled Dry Bulk Recovery At Risk From New Flood Of Investor Money read:

Finally, I would like to close this section of the article with a quote from Intermodal's Week 13 Report: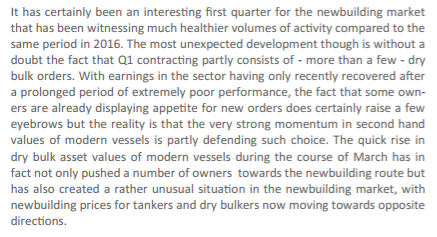 VLOC-Valemaxes
Valemax vessels and VLOC's (Very Large Ore Carriers) are the largest bulk carriers ever constructed. They were specifically designed to service the Brazil - China route carrying iron ore but port facility expansions in a few other nations have expanded their reach.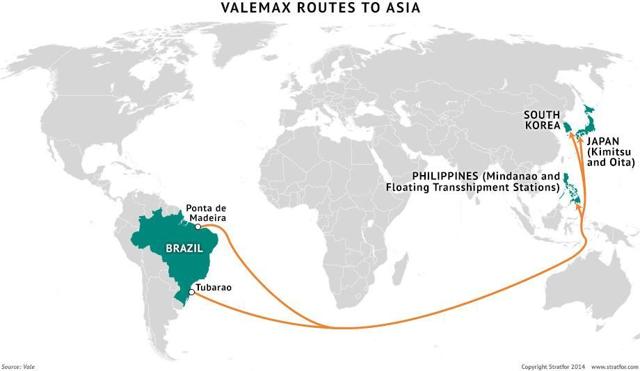 Source: Vale
The big fear regarding the growing number of Valemax vessels is that they could displace Capesize bulk carriers already servicing those long haul routes and force them to less profitable shorter routes.
According to Maritime Connector, 93% of all cargo for Capesize bulkers is comprised of iron ore and coal. They note that "at present, most Capesize bulkers are being used for ore transportation between Australia and China, and Brazil and China."
At last count there were 34 Valemax vessels set to hit the water in 2018 and 2019. This would provide approximately 13.6m dwt of additional capacity, the equivalent of approximately 76 Capesize vessels. Normally this sort of supply influx would be a major cause for alarm.
But a recent tragic event could force a rebalancing of the VLOC fleet which would mitigate some of this impact.
On March 31st, the Stellar Daisy, a 322 meter long, 266,141 dwt VLOC bulk carrier sank in the South Atlantic Ocean some 2000 miles off Montevideo, Uruguay. The Stellar Daisy had departed from Brasil bound for China on March 26, with 24 crew on board. Two crew members have been found alive but the rest appear to have been lost.
The Stellar Daisy, owned by Polaris Shipping, was originally a VLCC which hit the water in 1993 and was later converted to a VLOC in an effort to capitalize on China's increasing iron ore consumption.
Though the cause of the tragedy isn't known, some have theorized that structural failure is to blame. Just days after this sinking of the Stellar Daisy, another Polaris Shipping-owned VLOC, the Stellar Unicorn, has been held off South Africa due to hull cracks. The vessel was converted from a very large crude carrier in 2008 at the Shekou yard in China. It was originally built in 1993 at the Sasebo yard in Japan.
Lloyd's List states, "The latest incident calls into question the safety of VLCCs built in the 1990s and converted into VLOCs in the last decade."
There are around 47 such vessels which were converted into VLOCs in the current global fleet and according to Lloyd's List most of these vessels have already reached their demolition age of close to 27 years.
Seatrade Maritime News provided a snapshot of the challenges faced when undertaking this type of conversion:
Tankers are longitudinally framed, unlike bulkers, which are laterally configured. They have enormous longitudinal strength, but the cutting of huge holes in the weather deck for hatches will require substantial compensation. The new cargo will be carried in what had been the tanker's centre tanks, with the bottom and sides of these spaces massively reinforced for the piles of heavy ore that will be carried. What had been the tanker's wing tanks, typically five each side, will be left empty, providing plenty of buoyancy for the vessel when laden. It is a huge conversion, with literally miles of welding and several thousand tonnes of new steel to be incorporated in a structure which may have suffered during a decade or more in the oil trades. While corrosion can be seen and dealt with, any fatigue and stress damage will be harder to detect. It requires little imagination to see that the stresses upon that hull when originally configured for the carriage of oil will be very different to that experienced with the central holds carrying heavy ore.
Some analysts have theorized that the sinking of this 24 year old vessel may prompt owners of these conversions to take into greater consideration the age of a vessel with regard to more than just the operating cost, but others are not so optimistic about such altruistic motives.
Now let's turn to the orderbook and take a look at what we can expect with regard to the classes responsible for the majority of the iron ore transport.
Special thanks to my friend and colleague over at Value Investor's Edge, J. Mintzmyer, for his input on the orderbook.
Overall there are three classes of vessels that must be taken into account for this analysis, Valemax from 380,000-400,000 dwt, VLOC's between 180,000-380,000 dwt, and Capesize vessels which come in around 150,000-180,000 dwt.
As noted earlier there are 13.6m dwt ready to hit the water in the Valemax class in 2018 and 2019. We can expect another 8m dwt in the VLOC's, and an additional 18.1m dwt in the Capesize class over that same period.
Given likely demo candidates and taking into account expected slippage we can expect approximately 18-20m dwt net growth, but of course, that is speculation and open for debate. For instance, rate increases could slow demolition or vice versa. Also, as noted earlier projected VLOC demolitions could be accelerated due to this latest tragedy, which would further the potential negative fleet growth in that class.
So now the real question becomes will the market be able to accommodate this new tonnage?
Much of the answer can be found in projections for Chinese iron ore demand which composes approximately 2/3 of the overall iron ore market. Once again, this leads to some speculation. I have found estimates predicting everything from slightly negative growth to over 10% CAGR. But let's use recent history as a guide as well as Q1 for 2017.
In 2016 China imported more than 1bn tonnes of iron ore compared to around 928.7m tonnes in 2015 representing a growth rate of 7.7% year-on-year. Additionally, China's import of iron ore saw an accumulated growth rate of 9.5% during the first quarter compared to the same period of 2016. Much of that came from farther away contributing to an 8.5% growth in tonne-mile demand with Brazil exporting 12.1% more to China in 2016 compared to 2015.
So let's assume that the 1bn tons of iron ore imports from 2016 continues to grow at a fairly robust pace of 8% over the next couple years. This would bring 2017 to 1.08bn tons and 1.166 in 2018. Through 2018 we are looking at about 166m tons. Out of that 166m let's suppose that Brazil and Australia supply approximately 25% and 65% respectively.
With the voyage from Brazil to China the market would need approximately 10.3m dwt representing four round trips per year. Though Valemaxes could see more demand as the S11D mine reaches full output which would be ideal for the 13.6M dwt of Valemax vessels set to hit the water. Though as noted in the map above, the second and thrid largest importers of iron ore (Japan and South Korea) can handle these vessels. Of course, this will displace Capesize vessels already servicing this route and they must find employment elsewhere. This could lead to some overcrowding in other routes, leading to increased competition and potentially lower rates for these vessels in the short run as the market adjusts.
The voyage from Australia is shorter and could be accomplished about 8 times per year meaning about 13.5m dwt would be required. This is likely where new Capes and displaced Capes will find employment.
Notice the total exceeds the 20m of net dwt growth expected through 2018. All this comes without taking into consideration the requirements of other 10% of imports into China and growth from other iron ore import based markets (Japan, South Korea, etc.) which compose the other 1/3 of the global equation.
Therefore, while the influx of vessels does seem worrying on the surface if conditions are ideal the market may see minimal disruptions. But once again this is speculation which now leads to my main concern in this scenario.
If demolitions do not materialize as expected and net growth of the global fleet is greater than anticipated it could lead to a surplus of vessels. This condition could be exacerbated by a potential influx of orders which is becoming increasingly likely as we discussed above. Additionally, if demand for iron ore comes in below what is cited here it could free up vessel supply. Finally, the displaced Capes could disrupt market rates impacting the entire class and possibly beyond.
Conclusion
Going forward there are several things we need to watch as a potential recovery looms on the horizon.
On the supply side low ship prices, a closing gap between second hand and newbuild prices, as well as a potential scarcity of inexpensive high-quality second hand tonnage could all contribute to increasing newbuild orders as owners seek to capitalize on what is largely projected to be an improving market. Of course, the growth in the Valemax class will be displacing several long haul voyages typically done by Capesize vessels and if the demand side fails to live up to expectations these vessels could be confined to less profitable short haul routes.
On the demand side import growth in China will be key to absorbing this new capacity. But projections are mixed. Many analysts are citing low growth projections in the steel market, where 98% of iron ore is utilized, as a signal that iron ore demand will slow. Iron ore stockpiles remain high and some suggest the substitution from domestically mined lower quality iron ore to higher quality imported iron ore appears to be slowing. Additionally, some are also pointing to a potential slowdown in an overheated Chinese real estate market and infrastructure stimulus spending which could slow steel demand and therefore iron ore import growth. Together, these factors give us a lot to watch when taking into account iron ore demand in the most important market.
Thank you for reading and I welcome all questions/comments.
If you would like to stay up to date on my latest analysis, I invite you to follow me on Seeking Alpha (click the "Follow" button next to my profile picture at the top) as I continue to cover all aspects of maritime trade.
Value Investor's Edge
To celebrate our two-year anniversary, we are offering two week free trials until May 14th.
Value Investor's Edge is a top-rated Seeking Alpha research service which focuses primarily on the volatile, and therefore potentially very profitable, shipping industry. Members receive a two-week lead time on all reports by James Catlin, alongside exclusive content by J. Mintzmyer, a top-tier deep value analyst. This platform offers actionable trades and strategic income opportunities through Mr. Catlin's data-driven macro analysis, which often complements Mr. Mintzmyer's company-specific analysis. This winning team has developed a dedicated following of highly knowledgeable investors and industry professionals who also share their own thoughts and ideas on Value Investor's Edge.
Disclosure: I am/we are long SALT, NMM, GNK, GOGL.
I wrote this article myself, and it expresses my own opinions. I am not receiving compensation for it (other than from Seeking Alpha). I have no business relationship with any company whose stock is mentioned in this article.
Editor's Note: This article covers one or more stocks trading at less than $1 per share and/or with less than a $100 million market cap. Please be aware of the risks associated with these stocks.