By Gary Alexander
Last Friday, the S&P 500 closed at an all-time high of 2,399 - up 260% from its low of 666 in March, 2009. Here at Navellier, we have been net bullish on the overall market during this entire glorious run.
This week marks my 8th anniversary of editing MarketMail for Louis Navellier. Since 2009, both Louis and I have been bullish about this market, running against the grain of the Doomsday press and pundits. We fearlessly scaled the perennial "Wall of Worry" to see the positive long-term trends beyond that wall.
The current bull market started on March 9, 2009, but the recovery didn't seem real at first. In April 2009, I gave a talk to a generally bearish audience (and mostly bearish speakers) at the Atlanta Investment Conference. I said the recent market decline - the second worst in market history - implied an equally strong recovery. Specifically, the S&P fell 56.8% in exactly 17 months - from October 9, 2007 to March 9, 2009. That was second only to the 89% decline (in the Dow Industrials) from 1929 to 1932. But after that decline, the Dow surged 372% from 1932 to 1937 - a huge crash begetting an equally huge recovery.
Based on history, I wrote a piece for Navellier.com in May 2009 entitled, "The Worst Crash Since 1929 Implies the Best Recovery since 1932." My main point was that massive crashes usually lead to strong and rapid recoveries in a "reversion to the mean." I repeated that analysis in a compendium of speeches and interviews I conducted at the 2009 Atlanta Investment Conference, called "The Evergreen Portfolio."
In May 2009, my conclusion seemed controversial enough that it prompted USA Today financial reporter Matt Krantz to call me for an interview. "How can you be so sure?" he asked me. (The Dow was around 8,300 when he called me.) The bull market was still fragile, only two months old, but I laid out the record of earlier mega-crashes in 1929-32, 1974, 1987, and 2002. Each major historical crash gave birth to historically strong recoveries - a "reversion to the mean." Huge crashes imply equally huge recoveries.
From today's perspective, the crash of 2007-09 seems like a bump in the road, but it sure felt cataclysmic: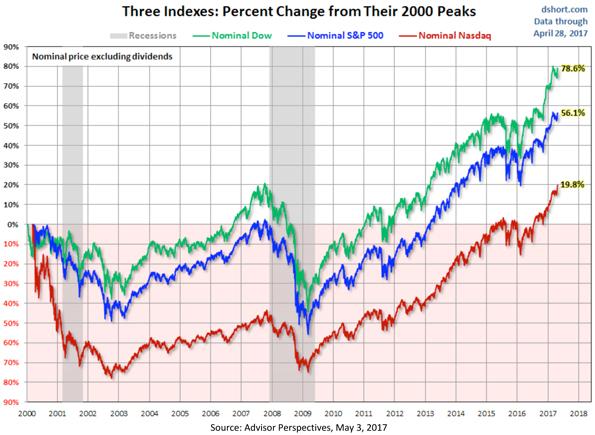 Graphs are for illustrative and discussion purposes only. Please read important disclosures at the end of this commentary.
In less than two years, this bull market made its first doubling. On February 18, 2011, the S&P 500 closed at 1343, doubling its 666 low. The Wall Street Journal called it "the fastest doubling since 1936." But it wasn't smooth sailing. There was a Flash Crash in May 2010, followed by a European debt crisis in June (Source: Money and Markets The Fastest Doubling of the S&P 500 Since the Great Depression!).
There was never smooth sailing in this bull market. I recall the particularly panic-prone summer of 2011, when there was a near-shutdown of the U.S. government, a U.S. sovereign debt downgrade, and several Euro-based panics in the PIGS nations - Portugal, Italy, Greece, and Spain. Then, at the end of 2012, fear of a "fiscal cliff" caused another 7.7% correction. Next came fears of sequestration and recession. Last year, we saw surprise votes for Brexit and Trump. They not only failed to generate panic but energized the bull market to higher highs. After Brexit, the market fell for just two days before soaring to new highs. After the Trump win, the market fell sharply overnight but then started surging the next morning.
The Fundamentals Support an Even Higher Market
This market still has room to grow, from a long-term perspective. Despite the 260% gain in the S&P 500 since 2009, that index is still just 56% above its 2000 peak (see chart, above). That's an average gain of under 2.7% per year, which is far below historical norms. NASDAQ is hot so far this year, but it is still up just 19.8% in the last 17 years. The Dow index, surprisingly, is up four times the rate of NASDAQ.
Earnings are up faster than the market so far this year, so stocks still have room to run. Last Wednesday (in "Seinfeld's Market," May 3), economist Ed Yardeni theorized that investors have been "prone to recurring panic attacks" due to the pain of 2008. "They feared that something bad was about to happen again, so they sold stocks. When their fears weren't realized, the selloffs were followed by relief rallies to new cyclical highs." Specifically, Yardeni identified four double-digit corrections in this bull market, plus two other corrections near 10% (at 9.8% and 9.9%, see chart below). He and his team identified a total of 57 panic attacks during the current bull market, with 2012 alone delivering 12 panic attacks.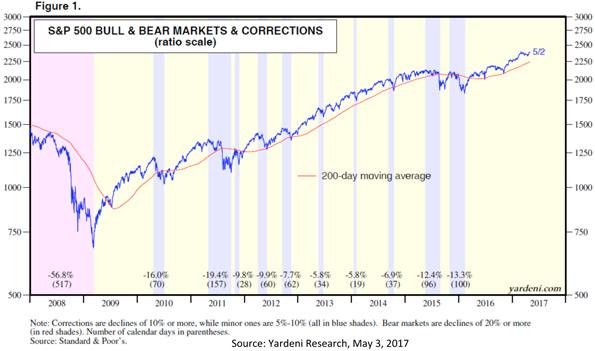 Graphs are for illustrative and discussion purposes only. Please read important disclosures at the end of this commentary.
Stocks seldom rise in a straight line but thanks to rising earnings and tax reform, future corrections should be as short and shallow as the 10 corrections identified in the chart above, ranging from 5.8% to 19.4%.
According to Ed Yardeni in his May 1 morning briefing (titled "Hot Money"), "Industry analysts are currently expecting S&P 500 operating profits to show a gain of 10.3% y/y during Q1, 11.0% during 2017, and 12.1% during 2018. As a result, analysts' forward earnings estimates for the S&P 500 have been rising sharply this year into record-high territory with a current reading of $135.90 per share.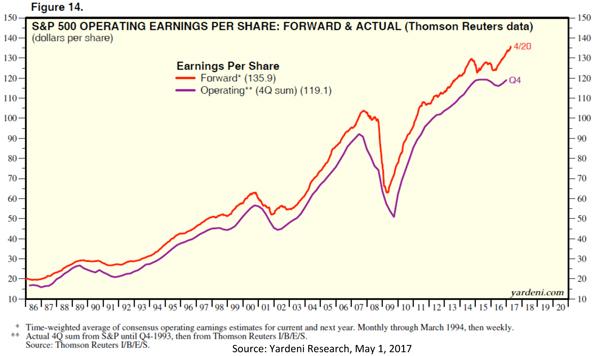 Graphs are for illustrative and discussion purposes only. Please read important disclosures at the end of this commentary.
Another bearish theory is that we are overdue for a recession, but GDP growth has been so slow since the last "Great Recession" that we could continue to eke out small but positive GDP numbers for years to come. Last Tuesday (in "Rolling Recessions & Recoveries"), Ed Yardeni wrote that "the U.S. economy may be in the midst of a very long economic expansion because it is experiencing rolling recessions now, which reduce the chances of an economy-wide recession in the foreseeable future." He defines a rolling recession as a "downturn that hits an industry or sector while the overall economy continues to grow."
For instance, the recent energy recession is an example of a rolling recession: The oil industry fell into a severe recession after oil prices dropped 76% from mid-2014 to early 2016. But low oil prices boosted the automobile industry, which is now suffering its own rolling recession, with sales down over 10% from its peak. Also, brick-and-mortar retail outlets are in recession while online sales outfits pick up the slack.
Barring trade wars or long-running shooting wars, we'll likely continue to see a panic-prone bull market.
Disclosure: *Navellier may hold securities in one or more investment strategies offered to its clients.
Disclaimer: Please click here for important disclosures located in the "About" section of the Navellier & Associates profile that accompany this article.