In the run up to this month's Federal Reserve FOMC meeting, incoming labor and inflation data steered analysts' expectations for future Fed tightening downward. However, when taken together, the FOMC statement and recent speeches by Fed Bank Presidents point to a gradual, but significant, reduction in accommodation. This normalization talk by FOMC members should be given revived credence, as the March meeting produced the first back to back quarterly rate hikes in memory.
Additionally, the normalization talk has highlighted a desire to maintain a gradual course of tightening despite any temporary economic or market wobbles. Because of the past unwillingness of the Fed to implement proposed tightening, the seriousness of current discussions are discounted in the market. A market acceptance of the trajectory of current rate raises and understanding of the pace and severity of balance sheet unwind should force long-bond prices back to 2013 taper tantrum lows. Unlike 2013, current actions actually reduce accommodation, as opposed to just reducing accommodation growth. If the Fed doesn't blink again, expectations of tightening in U.S. corporate financing conditions will cause this year's tightening tirade to engulf the equities markets as well.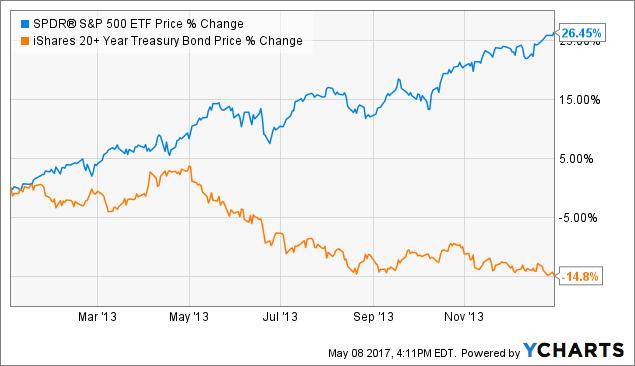 S&P 500 (NYSEARCA: SPY) data by YCharts
The Talk
This month's FOMC statement recognized some weakness in labor, GDP and inflation data but focused on countering the weakness in each instance, as exampled by the following:
…the labor market has continued to strengthen even as growth in economic activity slowed.

Household spending rose only modestly, but the fundamentals underpinning the continued growth of consumption remained solid.

Inflation measured on a 12-month basis recently has been running close to the Committee's 2 percent longer-run objective. Excluding energy and food, consumer prices declined in March and inflation continued to run somewhat below 2 percent.

Source: Personal Consumption Expenditures Excluding Food and Energy (Chain-Type Price Index)
In front of the statement, Kansas City Fed President and chief FOMC hawk Esther George was talking up the need to continue the balance sheet reduction once started.
Importantly, once the process begins, it should continue without reconsideration at each subsequent FOMC meeting. In other words, the process should be on autopilot and not necessarily vary with moderate movements in the economic data.
Though such thoughts from George are not unexpected, even the doves seem onboard with the messaging. And interestingly, at a speech in Florida near the end of March, New York Fed President William Dudley drove home three points:
Circumstances are set for continued policy tightening and include a sustained reduction in asset holdings.
Long-term rates will increase. However by tapering reinvestment of principle payments, rather than halting, the rise can be mitigated.
The introduction of balance sheet unwind may accompany a temporary pause in fed funds rate hikes.
To these points, he carefully added:
…it is also important not to overreact to every short-term wiggle in financial markets.
In summary, Dudley, like George, emphasized a gradual but sustained tightening.
Tightening Tirade
Individual members and the FOMC as a whole now appear ready to normalize rates and unwind a portion of the $4 trillion balance sheet. In 2013 Treasury investors panicked and sold after Bernanke's plans to taper QE bond purchases was announced. In fact, the iShares 20 Year Treasury Bond ETF (NYSEARCA: TLT) closed down over 3% the day after the announcement. Bernanke then pushed out the beginning of the taper to mollify investors. Members now seem keen not to repeat Bernanke's hesitance and are preparing the market for both the eventuality of higher rates and QE reversal. This preparation includes highlighting the Fed's resolve to maintain reductions even in the face of data or market weakness.

Source: Moody's Seasoned Baa Corporate Bond Yield

Source: Nonfinancial corporate business; debt securities; liability, Level

Source: Moody's Seasoned Baa Corporate Bond Yield Relative to Yield on 10-Year Treasury Constant Maturity
This year will see the reversal of the Fed's de facto "lower, longer" program. With corporate rates relatively low and the spread between corporates and Treasuries also compressed, market acceptance of a "tighter, sooner" Fed will quickly drive up financing costs. This pressures both out-year earnings and curtails current investment. Other than industrials and technology, most S&P sectors have grown leverage faster than earnings, and one should predict a stronger correlation between the S&P 500 and bond prices than occurred in 2013.
Disclosure: I/we have no positions in any stocks mentioned, and no plans to initiate any positions within the next 72 hours.
I wrote this article myself, and it expresses my own opinions. I am not receiving compensation for it (other than from Seeking Alpha). I have no business relationship with any company whose stock is mentioned in this article.