Despite an 18% move up from recent lows of $113 during the last couple of weeks, a valuation check suggests Alexion's (NASDAQ:ALXN) risk/reward proposition is still compelling.
Base Case
DCF analysis, with inputs slightly below analyst estimates, shows that Alexion is trading at an attractive valuation.
I used the Excel template offered by Bloomberg, but I adjusted consensus estimates to reflect a more conservative view on Alexion's Soliris.
As a reminder, Soliris is the most important franchise for Alexion, generating around $2.8B of sales or more than 90% of total sales of the company. There are two main threats which could affect the leadership of Alexion in paroxysmal nocturnal hemoglobinuria (PNH) and atypical hemolytic uremic syndrome (aHUS):
There are few potential competitors in development for these two orphan diseases. The most relevant threats could come from Achillion's (NASDAQ:ACHN) ACH-4471 and Roche's (OTCQX:RHHBY) RG6107. Alnylam (NASDAQ:ALNY) is also developing a new drug, called ALN-CC5, but it doesn't appear a threat for Soliris because it demonstrated an insufficient efficacy as monotherapy for PNH in a Phase I/II trial presented in late 2016. ACH-4471 is currently in Phase II for PNH while RG6107 is still in Phase I/II. Thus, despite it's important to track the clinical progress of these new compounds, it looks premature to be too worried about these assets given that there isn't sufficient evidence that the clinical profile of these assets will look at least comparable to Soliris.
Soliris' composition of matter patents expire in 2021 in U.S. and in 2020 in EU, thus Soliris could face biosimilar competition over the coming years. The most advanced biosimilar in development is Amgen's ABP-959, which is still in Phase I. I believe that biosimilar competition is the greatest threat for Alexion, because with one or two biosimilars in the PNH space, it's likely that the pricing environment in the market will deteriorate.
On the other hand, Alexion is also developing a next-gen compound for Soliris, called ALXN1210, which is a longer-acting version of Soliris (i.e. dosed every 8 weeks instead of every 2 weeks), currently in Phase III for PNH and aHUS. The data presented last year suggested that the clinical profile of this drug looks really compelling.
In summary, it's clear that Soliris could face some threats over the coming years, but Alexion is ahead of the potential competitors in developing a next-gen drug and if the Phase III trials for ALXN1210 will confirm the encouraging early clinical data, Alexion will continue to dominate the PNH and aHUS spaces.
A more comprehensive review of Alexion's business can be found in this interesting article published on Seeking Alpha.
Here are my key assumptions for the estimates of Sales, EBITDA Margin and FCF:

Source: Bloomberg & My Own Valuation Model
As you can see, these estimates are slightly below consensus, as a result of more conservative assumptions behind Soliris in PNH.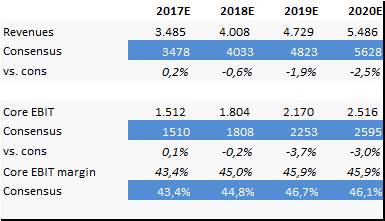 Source: Consensus Comparison vs. My Own Valuation Model
To generate a DCF Analysis, I used 2 different methodologies:
Perpetuity Groeth Method: I used reasonable assumptions about the perpetual growth rate and the WACC. In details, I used a perpetual growth rate of 2%, which is lower than the Bloomberg estimate (i.e. 3%) and I assumed a WACC of 8%, that is lower than the Bloomberg one (i.e. 9%).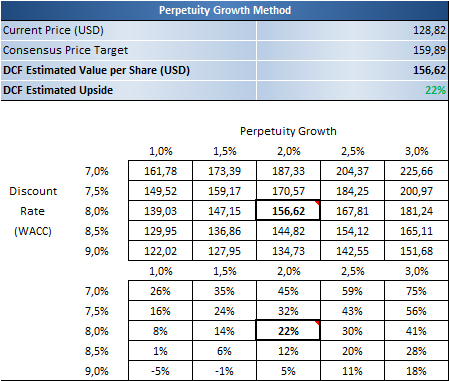 Source: Bloomberg
As can be seen in the table above, despite these conservative assumptions, Alexion is undervalued by about 22% based on the Perpetuity Growth Model. In addition to that, the sensitivity analysis shows further significant upside (i.e. 65%), assuming more aggressive estimates for WACC and perpetual growth rate.
EBITDA Multiple Method: this analysis reveals a similar result for Alexion's valuation, given that the company still looks undervalued by about 19%. I assumed an EBITDA exit multiple of 12.5x, which is a conservative assumptions because it's in line with the peers' multiple (i.e. 12EV/EVITDA 2017), as shown by the following tables, despite the superior growth profile of Alexion.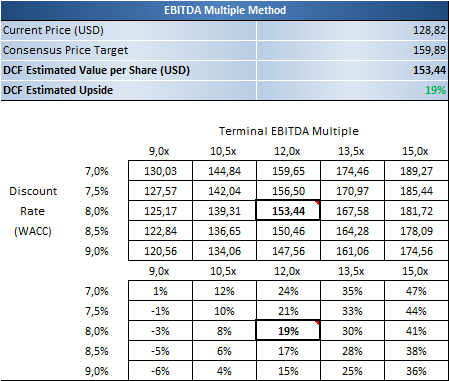 Source: Bloomberg
In terms of multiple valuation, it's worth noting that Alexion is trading below its 5-year average historical EV/EBITDA (absolute and relative valuation), as shown by the following analysis.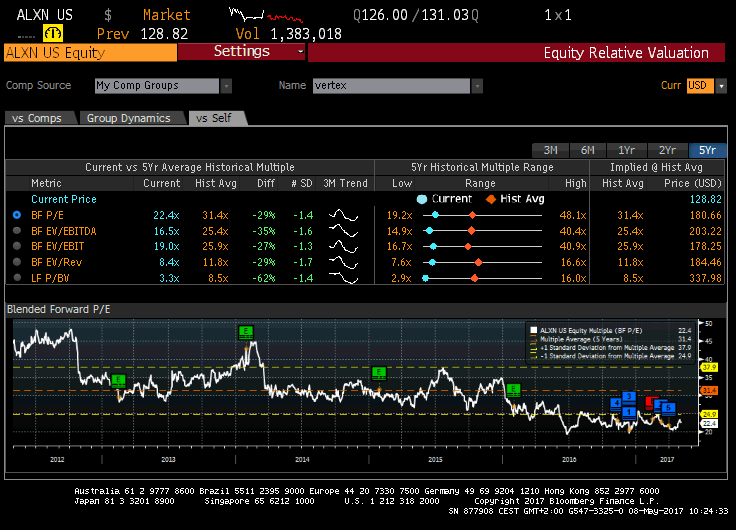 Source: Alexion's Current vs. 5-year average P/E (absolute analysis) - Bloomberg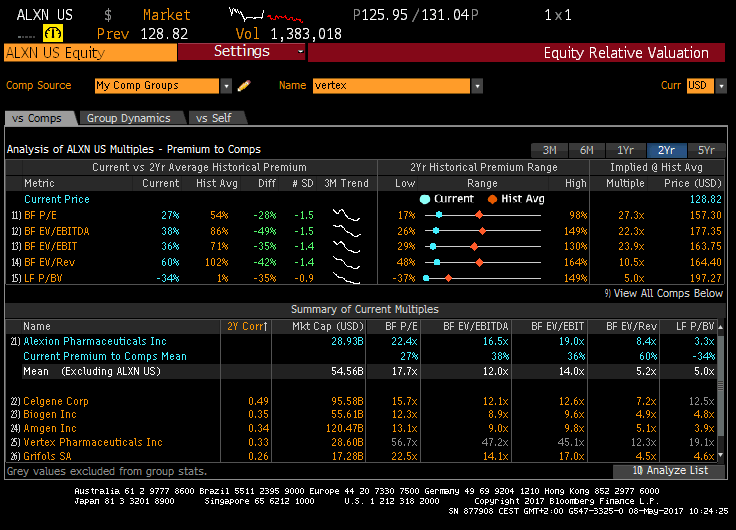 Source: Alexion's Current vs. 5 year average P/E (relative analysis vs. peers) - Bloomberg
Lastly, a sensitivity analysis on this EBITDA Multiple Method shows the implied perpetuity growth in my Alexion's valuation is only 1.8%, which I think is really conservative for a company with exposure to durable franchises, such as Soliris.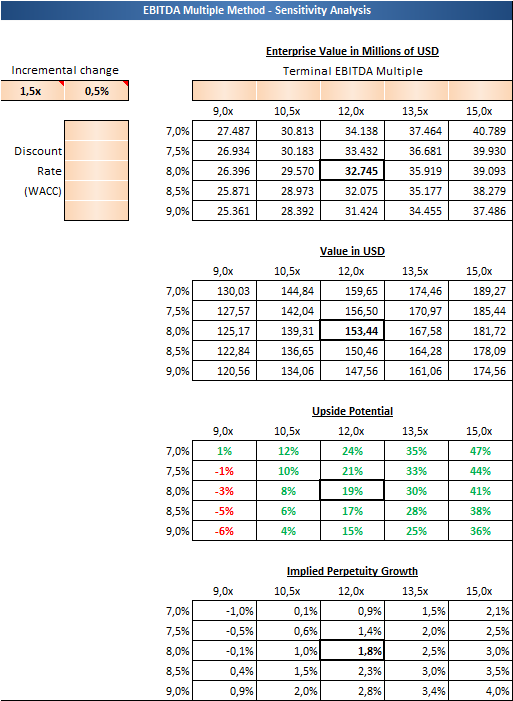 Source: Bloomberg
Bear Case
Lastly, I modeled also a downside scenario. The key differences in terms of assumptions are:
I assume revenue growth of about 0% in 2021-2022, which is below consensus. I assume a pricing war in the PNH space between Alexion and Amgen and that Alexion will show disappointing Phase III results for ALXN1210. There is no clinical data to assess how likely this picture is, but I think a bear case scenario should contemplate that assumption given that there are still many uncertainties behind these development programs.
I assume no improvement in the EBIT margin over 5 years, which is materially below consensus.
I assume a 0% perpetuity growth rate and 11x EBITDA exit multiple.
As a result of these assumptions, my estimate for 2021 revenue is 6% below consensus and my estimate for 2021 EBIT is 10.5% below consensus.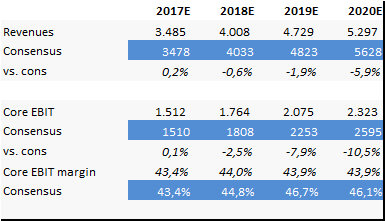 Source: Consensus Comparison vs. My Own Valuation Model
Under this worst-case scenario, Alexion is slightly overvalued by approximately 15% (Perpetuity Growth Method) and by approximately 12% (EBITDA Multiple Method), as shown by the following analysis: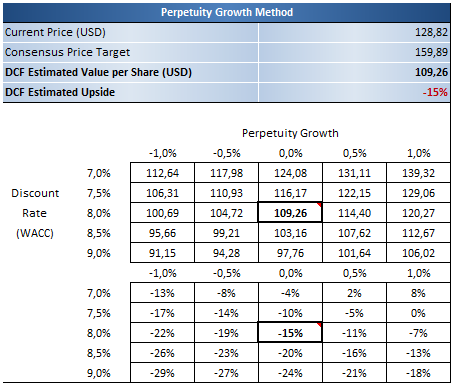 Source: Bloomberg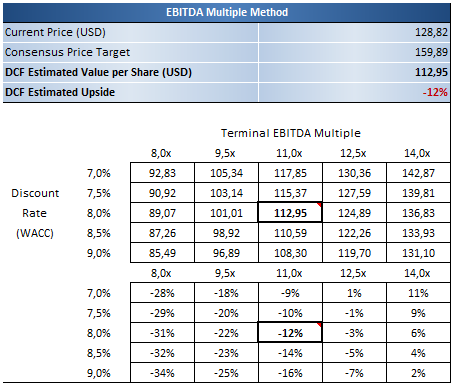 Source: Bloomberg
Conclusion
In summary, as shown by this quantitative analysis, Alexion is trading at an attractive risk/reward.
Assuming that the management will achieve results slightly below consensus for the next couple of years, there will be around 20% of upside for the stock.
In a worst-case scenario, with catastrophic assumptions for the outlook of Soliris, the downside risk should be around 12%, which looks really attractive compared to at least 20% of upside in the base case.
In conclusion, with the stock trading at discount to peers and to its historical absolute valuation, I believe that the current stock price offers a compelling entry point
Disclosure: I am/we are long SHPG.
I wrote this article myself, and it expresses my own opinions. I am not receiving compensation for it (other than from Seeking Alpha). I have no business relationship with any company whose stock is mentioned in this article.
Additional disclosure: Not investment advice