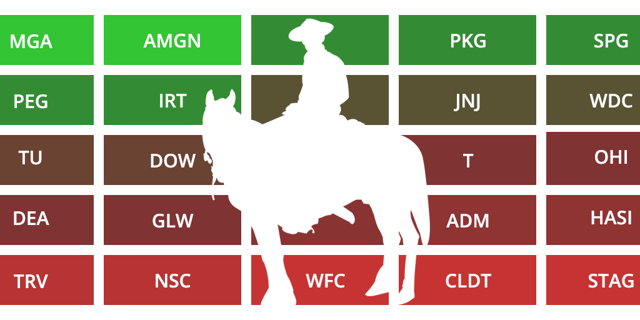 Credit: High Plains Investor
After a dip of almost 2% in April, my portfolio roared back to life in May with a monthly capital increase of 3%.
This article will outline the goals of my portfolio, its performance in April, overall performance to date, dividends received, acquisitions and dispositions, and what stocks I'm currently monitoring.
Portfolio Goals
For those who didn't read my introductory piece, the first group of stocks were purchased in the winter of 2015.
I used inherited funds upon my father's passing to buy an equal allocation of shares in 10 US companies, one in each sector.
The goals then (as now) were to find large companies with growing earnings, stable cash flows, consistent dividends and low debt at a reasonable valuation.
These were the initial positions:
As of May 2017, my holdings have expanded to a current total of 19: 12 companies and seven REITs.
Monthly Performance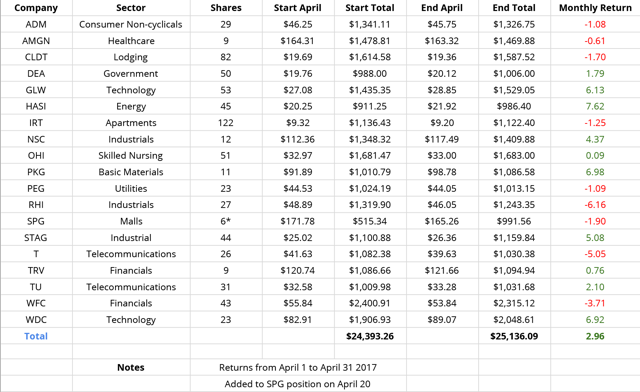 I'm was more than pleased with the returns last month as my holdings jumped by 2.96%.
My strongest performer was the green REIT Hannon Armstrong Sustainable Infrastructure (NYSE:HASI) which rose 7.6% over the period. HASI is a unique company that provides financing for renewable and energy efficiency projects. In this space, as per usual, your best source for information is Brad Thomas (here is his latest piece on HASI).
After hitting an all-time high of $24.71 in September 2016, Hannon sank almost 25% in the following months to a low of just over 18 bucks last February. It has recovered strongly since then and I am now at breakeven when dividends are counted.
May was also a good month for Packaging Corporation of America (NYSE:PKG), Western Digital (NYSE:WDC), Corning (NYSE:GLW), Stag Industrial (NYSE:STAG) and Norfolk Southern (NYSE:NSC) as they increased by 7%, 7%, 6%, 5% and 4.3% respectively.
My biggest losers were Robert Half International (NYSE:RHI), AT&T (NYSE:T) and Wells Fargo (NYSE:WFC). The global staffing firm dropped over 6% in April but has been very good to me over the long haul so I'm unconcerned.
Overall Performance

Thanks to some solid entry points, and of course luck, my portfolio is in good shape at the moment.
I'm particularly pleased with the performance of Western Digital which is nearing a 100% return (including dividends), a first for this young investor. After a strong Q1 earnings report and given its oligopolistic position in the memory storage market, I don't foresee a catastrophic collapse in the share price in the near future.
Containerboard manufacturer PKG also makes the boring look sexy. I somehow caught the 52-week bottom of the stock and it has risen almost 65% since. There are so many stocks that provide fabulous returns while receiving little to no coverage. I wonder if I can find more of them!
The chief laggards are Chatham Lodging Trust (NYSE:CLDT) and Simon Property Group (NYSE:SPG). Mr. Market currently has an unfriendly view of real estate operations in the lodging and retail spaces, but I think these are excellently managed firms with well covered dividends.
The total return of my portfolio at the end of April was 18.8%.
Dividends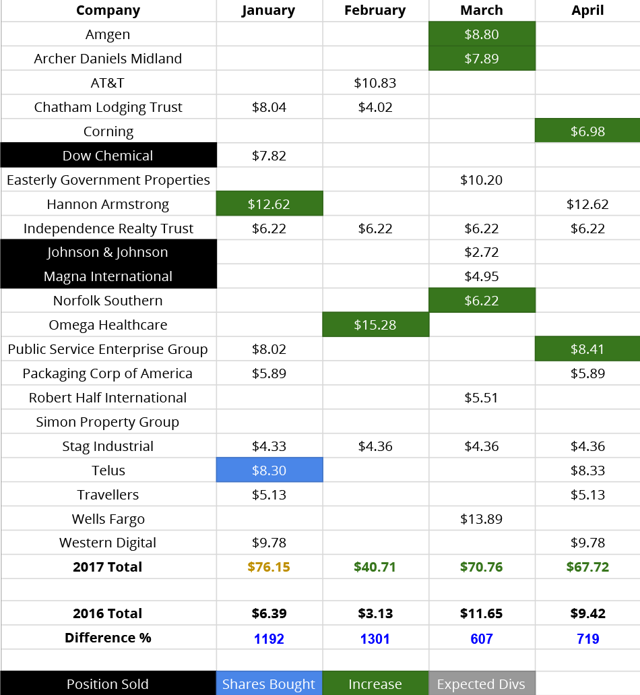 Corning and Public Service Enterprise Group (NYSE:PEG), a New Jersey utility, both raised their dividends last month. By April 30th, I received just shy of $68 from nine companies.
While that's chump change compared to many on Seeking Alpha, it's seven times the amount I received in April 2016. If I give it another 25 years it should accumulate, right?
Acquisitions & Dispositions
I sold my position in Dow Chemical (DOW) for ethical reasons during the month. I outlined my reasons in this article. If you're wondering, I exited DOW with a gross return of 23%.
Some of the funds from that sale were used to add to my position in Simon Property Group. The retail REITs have had a dreadful time of it lately, but I think SPG should be judged in isolation.
This A-class mall operation continues to increase funds from operations year-on-year, boasts an excellent credit rating, and maintains a very secure dividend with a payout ratio of around 62%.
Those reasons are more than good enough to take my dollars.
What I'm Looking At
Apart from adding to current positions, there are a few stocks that I keep an eye on.
Starbucks (NASDAQ:SBUX) and Lowe's (NYSE:LOW) interest me from a dividend growth perspective. They are both excellent companies with payout ratios below 40%. I also have a mission to one day hold some shares in Alphabet (NASDAQ:GOOGL). I'm waiting for a better entry point for each of those businesses.
As for REITs, I may take advantage of the pullback in Realty Income (NYSE:O). Digital Realty (NYSE:DLR) and CyrusOne (NASDAQ:CONE) are also on my real estate shortlist once they hit a better price point.
Disclosure: I am/we are long ADM, AMGN, CLDT, DEA, GLW, HASI, IRT, NSC, OHI, PKG, PEG, RHI, SPG, STAG, T, TRV, TU, WFC, WDC.
I wrote this article myself, and it expresses my own opinions. I am not receiving compensation for it (other than from Seeking Alpha). I have no business relationship with any company whose stock is mentioned in this article.