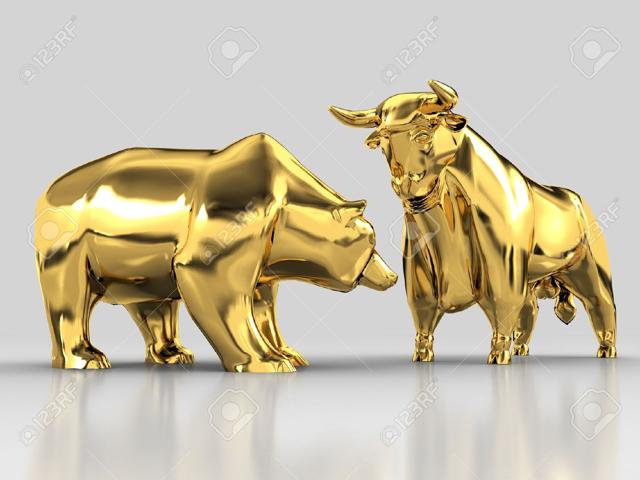 Bear & Bull
Investment Thesis
With TOP Ships' (NASDAQ:TOPS) business model closely aligning with DryShips (NASDAQ:DRYS), it's entirely reasonable to expect the same overall results - death spiral financing, shorting, warrant exercise, dilution (issuing of new shares), share price collapse, and reverse splits ad infinitum - rinse and repeat. I would like potential TOP Ships investors/traders to be aware of the risks associated with this stock. In the long run, a long bet on this stock will be a disaster.
Dilution, Stock Volatility & Reverse Split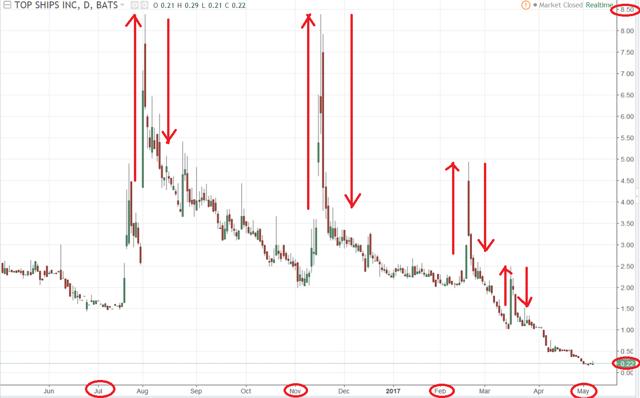 Source: Tradingview (notation was added by author)
As we can see from the above chart, the stock traded at a one year high of about $8.50 a share, and at a low of $0.22 (current price). Within this one year period, there have been no reverse splits from TOPS, while DryShips has performed about six reverse splits. The reason is that TOPS/Kalani deals have been relatively small (about $40 million), compared to deals between DRYS and Kalani (about $1 billion).
Kalani Deals: On February 02, 2017, TOPS entered into an agreement with Kalani to sell about $3 million in shares. Since then, TOPS has revised the agreement a few times, with the new agreement saying they will sell about $40.3 million in shares to Kalani over the next 21 months.
As of May 3, 2017, TOPS have sold $18.5 million in shares to Kalani (26,646,482 shares). They also issued about 1 million shares to Kalani as a commitment fee. Based on this, they still need to sell $21.8 million worth of shares to Kalani over the next 21 months. They may revise the agreement again to increase the limit.
TOPS had 35,702,716 common shares issued and outstanding as of May 3, 2017 and 5,689,141 shares as of December 31, 2016. The share count has increased by 528%. Up to 2,977,715 common shares are issuable upon exercise of a portion of the outstanding warrants (191,124 Warrants). The warrants expire on June 11, 2019.
Shares outstanding to be 38,680,431 if all of the 2,977,715 common shares are issued upon the exercise of approximately 191,124 warrants at their current exercise price.
Conclusion
Again, similar to DryShips, TOP Ships is a foreign company. I created a process flow of death spiral financing - see below:
Step 1: Death spiral financing (sell shares to private financiers at discounted prices and/or issue small share amounts to financiers as a commitment fee) and issue additional common shares from warrants conversion
Step 2 : Shorting and Naked Shorting would take place
Step 3 : Share price collapse
Step 4 : If required, voluntary reverse split to speed up the dilution
Step 5 : Nasdaq non-compliance
Step 6 : Reverse split
Step 7 : Go back to step 1
As per Security Attorney John E. Lux, a study of 32 death spiral loans found that in 22 of them, stock fell by 98% or more. With ongoing share dilution from warrants conversion and death spiral financing, stock is subjected to numerous reverse splits. I would give this stock a wide berth.
Author's note: Get my articles as soon as they are published by clicking the big orange " Follow" button at the top of this page.
Disclosure: I/we have no positions in any stocks mentioned, and no plans to initiate any positions within the next 72 hours.
I wrote this article myself, and it expresses my own opinions. I am not receiving compensation for it (other than from Seeking Alpha). I have no business relationship with any company whose stock is mentioned in this article.
Editor's Note: This article covers one or more stocks trading at less than $1 per share and/or with less than a $100 million market cap. Please be aware of the risks associated with these stocks.