CNBC: 9:00 EST
ES (NYSEARCA:SPY) bulls have taken over in a low-volume overnight session, posting lows at 2393, and likely looking to retake the 2400 milestone that participants failed to hold in Sunday's evening trading.
Gold (NYSEARCA:GLD) futures have continued their drive lower, off 0.25% after closing roughly flat in Monday's session. Crude oil (NYSEARCA:USO) futures for June delivery are just slightly lower during the Asian session, after gaining over 0.50% yesterday.
Meanwhile, spot VIX has continued the dive lower from yesterday, hitting fresh lows at 9.52 in the overnight market. Just before the opening bell, the VIX is lower by about 2%.

CNBC: Monday Close

Stocks (NYSEARCA:DIA) ultimately closed little changed yesterday after the Sunday evening news of an Emmanuel Macron victory made its way to all market participants. S&P energy (NYSEARCA:XLE) and technology (NYSEARCA:XLK) were the sectors to gain meaningfully on the day, up 0.71% and 0.44% respectively, leading to a flat close for the index. The materials sector (NYSEARCA:XLB) did its best to pull stocks lower, finishing the day off 0.80%.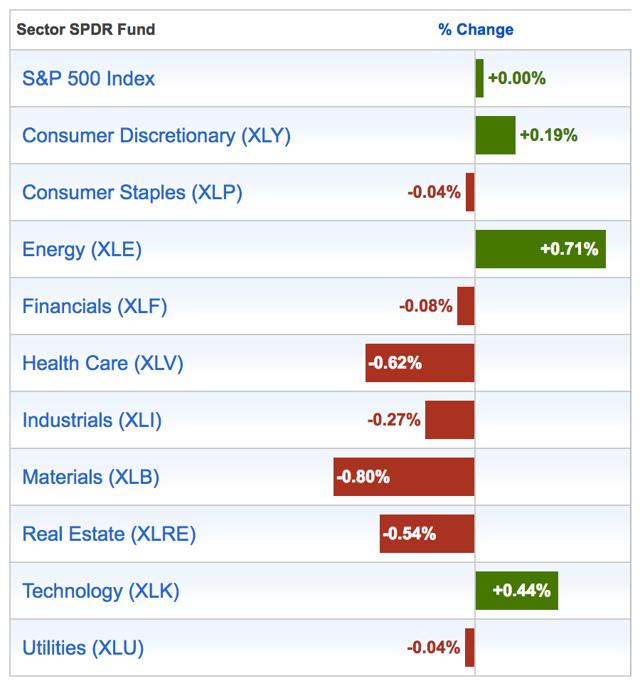 Source: SectorSPDRs
Shout-Out
Today we take a look at an earnings analysis piece by SA contributor David Trainer: The Earnings Recovery Is A Sham. In the Monday morning article, the author's main contention is that upon further investigation, footnotes in the 10-K filings of the 2,600 most traded companies reveal the recent end to the "earnings recession" as little more than accounting illusion.
Mr. Trainer points out that critically, quarterly earnings reports tend to leave out valuable information. In addition to being unaudited statements, these do not provide financial footnotes, nor do they provide management discussion and analysis (MD&A).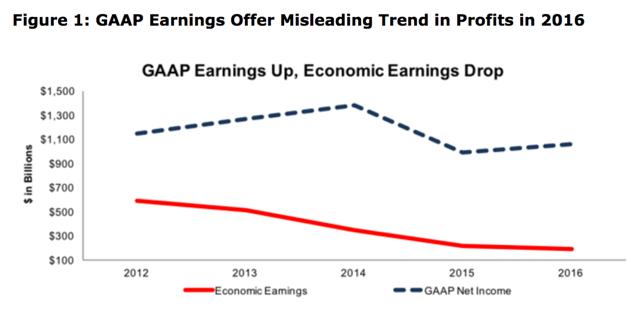 Source: New Constructs, LLC
The chart above shows the main discrepancy the author is concerned about. While GAAP earnings have risen by $72 billion, economic earnings fell by $26 billion. While certainty smaller than the $126 billion decline in 2015 earnings, those in 2016 show that there is no recovery in corporate profits.
From Mr. Trainer on the differences between economic and GAAP earnings:
The primary differences between economic and GAAP earnings is that economic earnings reverse accounting distortions and capture changes in balance sheets. The most important drivers of economic earnings are net operating profits after tax ("NOPAT") and invested capital, the measure of all capital invested in a business over its life regardless of financing form."
The chart below shows the nature of the discrepancy between economic and GAAP earnings, namely that they stem from invested capital growth that has resulted in no growth in NOPAT. Additionally, asset write-downs allow companies to delete assets and shareholder equity with ease. According to the author's research, these are found on company 10-K filings roughly 75% of the time.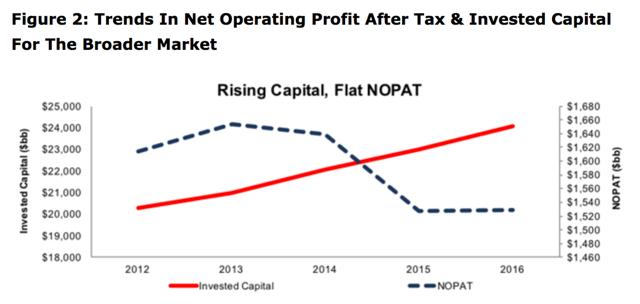 Source: New Constructs, LLC
In closing, Mr. Trainer states the following:
Unusually large write-downs in 2015 drove GAAP earnings artificially low comps, which set up good comps and allowed companies to report rising GAAP earnings in 2016 despite a lack of any real increase in operating profit and an economic earnings decline. The end of the earnings recession is an accounting mirage."
Thoughts on Volatility
After falling to multi-decade lows, the VIX has fallen even further in the overnight session, hitting levels as low as 9.62. Mentioned yesterday in a news piece by SA Editor Clark Schultz, the day's downward swing was likely kicked off by French election results, as well as a general complacency in investors stemming from generally sideways action in global markets.

Contango is not only back in the picture for the VIX futures term structure, but it's back on the rise as well. The F1-F3 (May-July) futures spread currently displays contango at a rate of approximately 20%, split evenly between F1-F2 and F2-F3.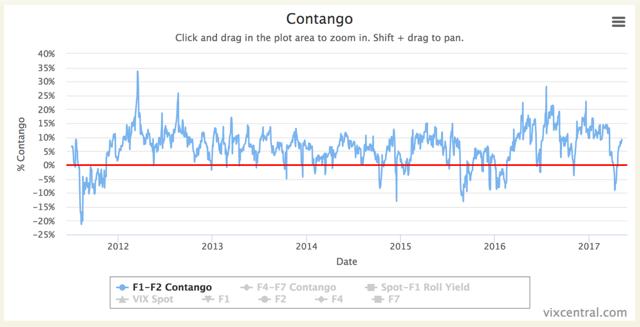 Shown above, recoveries in contango after hitting backwardated territory rarely come cleanly. They often revert into a backwardated state multiple times before ultimately recovering to months or years of a positive contango situation. Though we are currently seeing a flattening over the long end of the futures curve, that is to be expected. The far end (F4-F7) will typically stick to more historically held averages, as even in this historic lack of volatility, participants are unwilling to sell 6-month volatility for anything near these front-end levels.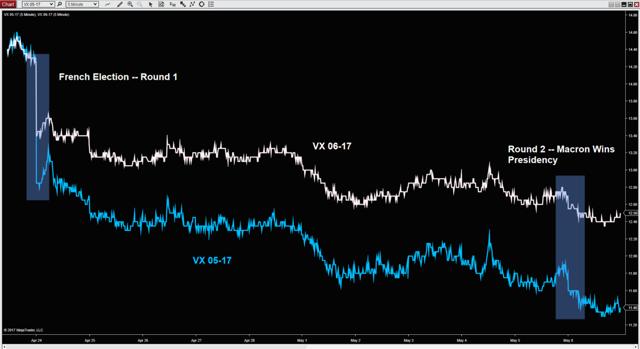 Source: The Balance of Trade
As we noted yesterday, F1-F2 VIX futures flirted with backwardation during the several week period before the first round of French Presidential elections. A first-round victory for Macron sent VIX spreads widening in a big way, moving things back into their more traditionally held contango state. Shown above, the round two results did produce a slight widening of the F1-F2 spread, but nowhere near that of a few weeks ago. Likely, the round two Macron victory was already priced into the markets, resulting in the "sell the news" reaction we saw from ES futures Sunday evening into Monday.
More interesting still on this front was the French stock exchange - the "CAC" - down about .9% in yesterday's trade. Perhaps traders had gotten an little overeager on what kind of upside remained in the trade.

In keeping with the floor coming out from under VIX, at-the-money ES options have experienced a similar moment of "serene dislocation".
All the expirations (weekly, monthly, and quarterly) were rolled today, and so "today vs. yesterday", is not quite comparable. Still, if anything the roll-overs make the more comparable relationships less drastic. For instance, June2, what we were using for yesterday's monthly contract, fell from 7.9 to 7.1 this morning!
As we have mentioned frequently, the largest range of values one sees is on the front end (weekly and below). This is where traders feel the most confident about "calling vol as they see it" - whether that be a vol of 2 on an option that will mature in a few hours, or a vol north of 20 on an important but uncertain outcome.
Unlike VIX, where you have a thirty-day expiry all the time, with ES options you can pick whichever set of expiries interest you. Here we find that across the entire at-the-money spectrum, from a few days to much further out, vol is just crushed.
Even the six-month at-the-money now trades for 11.6%; March2018 trades for a "lofty" 13.2.
We bring this to your attention because the devastation of vol is truly remarkable here. We can respect it at the short end, and we're not saying pull the trigger today. But we will say that it is simply breathtaking the low price traders are putting on optionality.
Tracking the Trade*(please read disclosures) - Trade Initiation:
This past weekend we wrapped up our last biweekly trade. The profit on the trade came to $6.05 on the spread, which included an opportunity for a quite large profit at the very end (didn't work out on that front).
Today we begin a new trade to track. Specifications as follows.

Strategy: Thesis (Set out on May 8 at trade initiation - read to see what our thoughts were on entry)
As we contemplate initiation, the S&P sits just a touch off its all-time highs. Vol is quite low; the trading range over the past couple weeks has been modest - 25 points wide.
While moves higher are certainly not out of the question, we'd like to entertain a move back into our larger trading range from the past couple months: 2325 to 2395. Preferably we find ourselves someplace in the middle.
We will opt for a "backspread" or a "one-by-two", where we buy one option and sell two further-from-the-money options. In this case, we will use puts.
Tactics:
To open, we will trade the following 1x2:
Buy the May 31 2385 put
Sell two of the May 31 2335 puts

Source: Interactive Brokers
Above is the payoff diagram on this spread.
A couple observations on this trade. One is that upside risk is quite limited. Without making any modifications, we could potentially lose a couple bucks on the upside.
The real risk to the trade is drastic downside. Given the movement of the last several months, we're not too concerned on this point. In future segments we can discuss how to alter this profile, or perhaps how one might manage it.
The spread takes advantage of very low vols at-the-money vs. higher vol for the out-of-the money strikes. This is called "skew" and can be seen below:

Buying the at-the-money means buying cheap vol; selling the OTM strikes twice finances most of the purchase, due largely to the higher vol they trade at.
Options sensitivities on the position at initiation are as follows:

"How's the trade look this morning?"
With ES at 2398, the mid rests at 3.40. This is up marginally from where we opened at 3.25. So is the ES though.
The trade was quite balanced here. It currently possesses a negative delta, but also a negative exposure to implied volatility (VEGA) and positive exposure to the passage of time (theta).
As it turns out, this particular blend of risks has balanced out pretty well since we initiated. The two puts at the 2335 line are getting fried. Even though ES has pretty much gone nowhere and there are still 24 days to expiry, the 2335s lost about $1 of their value since inception yesterday. That acted as the major offset to the lambasting we took on our long put - now down $1.50.
"Didn't you get a really strong comment from yesterday on this spread?"
We sure did, from Atom&Humber: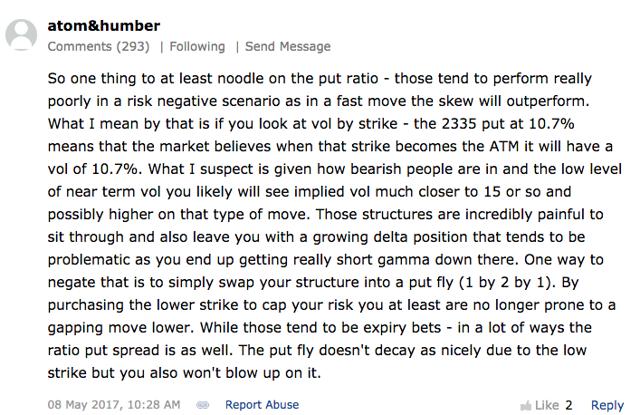 Great comment. The 1x2 we're trading here really does leave us vulnerable in the event that we quickly pull lower toward the bottom of our recent range. We also concur that, should this happen, vol would not be 10.4 anymore.
On the other hand, considering that current vol for the 2385 was 7.8, 10.4 would already reflect a 33% mark-up to at-the-money. While this is by no means a huge ramp higher, it may also be not entirely inappropriate.
The larger issue here, however, is one of immediacy. Our take on this spread is that if you want to play "the range" (ES 2325-2395), we're at the very top, and we should look at the price action of the last couple several weeks and months. We're getting negative exposure to delta, but in such a way where we're effectively saying 1) any drop is not soon in coming and 2) doesn't have legs.
For that particular thesis, we think the 1x2 a great way to at least enter. From there we can work with what the market gives us.
A&H's prescription for how to deal with this issue is pretty dead-on. Converting this to a butterfly would really modify the underlying Greeks, but would also limit our downside and give us more attractive scenarios to consider in the event of a plunge in ES and/or a spike in vol.
Thank you A&H for an awesome critique of the initial position!
Mechanics
There are no mechanics to discuss, as we are not trading today. We're going to hold out and see what comes in to us in the way of new opportunity, given how beaten down the vol-scape has gotten. Recall that, at least for now, our vega is negative and our theta is positive.
Closing Thoughts
Thank you for reading Market Volatility Bulletin, and we remind you that these trade ideas are really for educational purposes. They are not so much about making "sim money"; we seek to show you how trades can play out, and offer you the reader a framework for understanding how to work with options Greeks, spreads, and the like.
Just as importantly, Tracking-the-Trade shows you how to divide your ideas into Strategy, Tactics, and Mechanics. Investors spend way too much time in our opinion fixated on strategy, and not nearly enough on tactics or mechanics of how to carry out an idea. That in our mind is a valuable skill set that traders have and investors will need in the years ahead.
We'd love to hear your thoughts on the state of volatility, given the starkly low levels we're seeing. In particular, those who are short vol products such as XIV - do you have any plans to alter the normal strategy given how low spot is here?
Have any questions or suggestions? Let us know! We really enjoy reader comments, and post strong comments from our readers with regularity. We appreciate that.
Please consider following us.
Disclosure: I am/we are short SPY.
I wrote this article myself, and it expresses my own opinions. I am not receiving compensation for it (other than from Seeking Alpha). I have no business relationship with any company whose stock is mentioned in this article.
Additional disclosure: We actively trade the futures markets, potentially taking multiple positions on any given day, both long and short. It is our belief that the S&P 500 is meaningfully overvalued. As such, we typically carry a net short position using ES options and futures.