In my previous Seeking Alpha article, I recommended buying W.P. Carey (NYSE:WPC), a dividend-yielding diversified REIT with properties around the globe. The REIT has made my portfolio risk more stable, in addition to the increased portfolio dividend yield. In the 1st quarter, I also bought a few short-term bond ETFs as I had a lot of cash sitting in my portfolio.
Once again, I'm looking to reduce my portfolio risk and raise the portfolio dividend yield. For that reason, I'm buying a telecom company.
I have decided to buy Verizon (NYSE:NYSE:VZ) for portfolio optimization and exposure to a high-quality name in the telecom space.
Before I go further into why I like the company, allow me to go into the details of low correlation and beta.
I believe correlations are underrated. Considering the correlation metrics as part of the investment process, it has significantly helped me improve my portfolio. Verizon's correlation to the S&P 500 (NYSEARCA:SPY), on an annual return basis, is 0.69. T-Mobile's (NASDAQ:TMUS) correlation, however, is 0.38. So why not buy the low-correlation stock?
TMUS's annualized standard deviation is 43.92%, while VZ's is only 17.96%. Again, I do not want a higher risk. My goal is to reduce my portfolio risk, with the best companies in its respective sector.

Figure 1: Verizon vs. peers. Annual Correlation and Annualized Standard Deviation
Like utilities, telecoms tend to outperform during a recession. In this interesting article by Fidelity, they state that telecommunications services are frequent outperformers during the recession phase of the business cycle.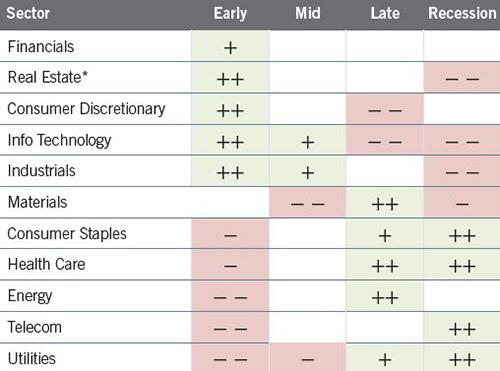 Figure 2: Equity sector relative performance has tended to be differentiated across business cycle phases. Source: Fidelity
I'm not forecasting there will be a recession. But I still want my portfolio to be balanced during rainy days.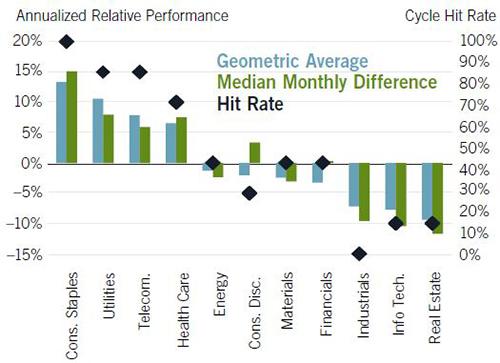 Figure 3: Defensive-oriented sectors (CNS, UTL, TEL, and HTH) have tended to outperform during the recession phase. Source: Fidelity
Verizon's beta stands at 0.59, while T-Mobile's beta is 0.21. However, T-Mobile does not offer a dividend.
Verizon's current dividend yield is 5.03% or $2.31, which has grown for ten years in a row. I, as an investor, care more about portfolio risk than individual stock risk (beta and volatility are two different things). I want my investment account to grow in a stable fashion with additional money coming in from dividends.
T-Mobile offers very low beta, but its volatility is too higher and offers no dividends. Less-risky Verizon is moderately correlated to the market with a moderate beta. But, why that company?
Verizon's share price plunged since the second half of last year. During the first quarter earnings announcement, investors found out Verizon lost 398,000 retail postpaid phone customers in the first half of the quarter. After going unlimited in mid-February, they started to gain back customers, ending at 289,000 loss of postpaid phone subscribers, 0.27% of total retail postpaid subscribers. It grew a mere 1.2% Y/Y.
95% of Americans own a cellphone of some kind, 77% of them own a smartphone. It's safe to assume there aren't many new customers left in the U.S. One of the ways the carriers poach customers from its peers is by engaging in costly price wars, pushing down margins.
LTM net income margin for Verizon is 9.92% higher than AT&T's (NYSE:T) at 7.77% and T-Mobile at 4.40%. S&P 500 Telecommunication Services sector's net income margin is 8.40%. Verizon's net income margin, along with EBITDA margin, is likely to come down further as Verizon tries to compete against the maturing boys such as Sprint (NYSE:S) and T-Mobile.
Verizon's churn rate for postpaid wireless was 1.15% last quarter, second to AT&T at 1.12. The 1.15% is higher than the average churn rate for the first-quarter in the previous three years (2016, 2015, 2014), at 1.02%. The increase in the churn rate is due to the situation in the first half of last quarter.

Figure 4: Churn Rates for Q1 2017 and average churn rate for Q1 2016/2015/2014
Verizon's churn rate is just below T-Mobile's. However, T-Mobile's churn rate has been declining over the past few quarters. After Verizon's and AT&T's recent moves, I believe T-Mobile's churn rate will not go lower.
If it's one thing T-Mobile had an advantage over other carriers, it was the price. Of the 10% of people who switched carriers last year, 77% cited price as the reason. Now the benefit for T-Mobile is gone, as AT&T and Verizon introduced its own "all-you-can-eat" plans. I believe T-Mobile's subscriber base won't grow as much as it did in the second half of 2016. With now-affordable prices, and known for its reliable and omnipresent network, Verizon will be able to grab more customers.
I have compared the unlimited plans from the big four carriers. Verizon and T-Mobile, in my view, were very close. Most would say the Un-carrier is better since it's little cheaper than Verizon and taxes/charges are included in the price. All plans include $5-per-month autopay discount. Plus, no activation fee with T-Mobile. But, I personally prefer Verizon for its availability and reliability of the connection.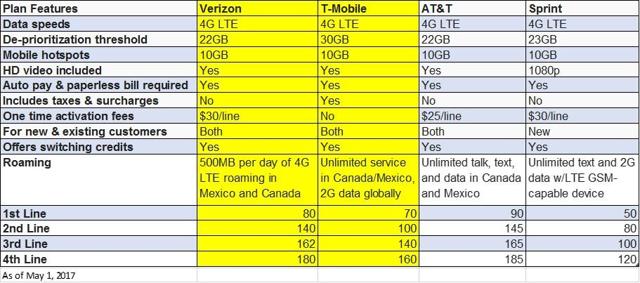 Figure 5: Unlimited Plans Comparison. Source: I manually entered all
These unlimited plans start throttling connection speeds after 22GB/30GB amount of data. It does not mean you don't get any data. It just means you get a slower speed in a congested area. An average individual uses about 3GB of data each month. The majority of people use less than 10GB each month.
Providers are increasingly moving away from long-term contracts. With no-contract plans, customers are free to switch their carriers. In 2016, 50% of people had long-term contracts. In 2015, 61%. In 2014, 65%. In 2013, 84%. The popularity of long-term contracts will continue to decline.
Why Verizon? More Americans use Verizon, and they are more satisfied with the availability of data connection and network speed than other carriers. I have heard some frustrations of slow speed from New Yorkers using T-Mobile.
Verizon customers are way more satisfied with its availability and reliability of connection than other carriers.

Figure 6: Availability and Reliability of connection. Source: 2016 Computerworld Mobile Data Service Survey
The most important reason people chose their mobile providers is coverage in the U.S., which Verizon excels on.
The second most important reason was price, which Verizon and AT&T recently decided to get on board with unlimited plans as T-Mobile and Sprint did last year.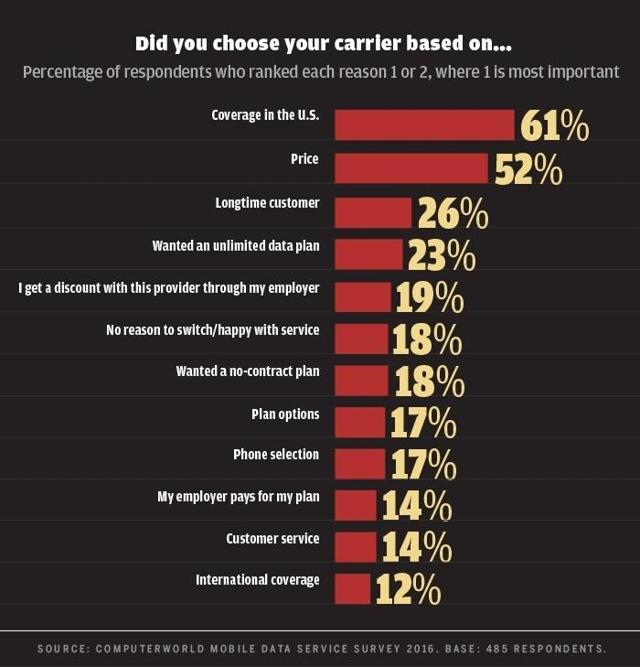 Figure 7: Why you chose your mobile provider. Source: 2016 Computerworld Mobile Data Service Survey
In the first quarter of this year, Verizon had 146 million subscribers while T-Mobile had half. T-Mobile did gain 7 million subscribers in a year while Verizon and AT&T each gained 5 million. I believe T-Mobile's growth may be hard to sustain this time as others have followed the same approach that helped them spur growth in the first place.
To sum up, I have bought VZ for portfolio optimization and exposure to a dividend-paying and recession-resistant sector. Out of all securities in utilities, telecom, and consumer staples, I chose Verizon because I believe its stock price has been hammered down unfairly. Now that Verizon and AT&T have joined the crowd, they will easily fit in, especially Verizon. Then, T-Mobile's subscriber base won't grow as much as it did before since some attention has been drifted to focus on the big dogs.
After buying VZ, my portfolio dividend yield has increased to 3.04% from 2.8%. The beta, however, rose to 0.46 from 0.37. While the beta increased, the volatility (standard deviations) of the portfolio has decreased.
I understand there might be a lot of disagreements with my argument and not addressing the financial operations of Verizon in-depth. But, I would be glad to answer your questions in the comments. I also welcome your views.