Overview:
The employment situation report released last Friday showed little change in trend from what I've been outlining for some time. Employment growth while sequentially improving this month, continued its downward trend as did real aggregate wages (in my opinion, the most important economic indicator).

(BLS)
Those who have been following my latest reports know I am less concerned with the month to month volatility of a data series but focus on the trending direction with the goal of identifying longer term macro-economic shifts. This sometimes comes at the expense of being very early but it is certainly quite clear that the latest report showed the trending direction for employment growth to be lower.
Also, real aggregate wages (aggregate wages - CPI) showed continued trending declines towards zero. Sequentially the growth improved but as the trend in real aggregate wages approaches zero, the probability of a recession increases dramatically.
The latest reading on real aggregate wages will be updated Friday with the CPI reading but here is the real aggregate wages picture using inflation from last month.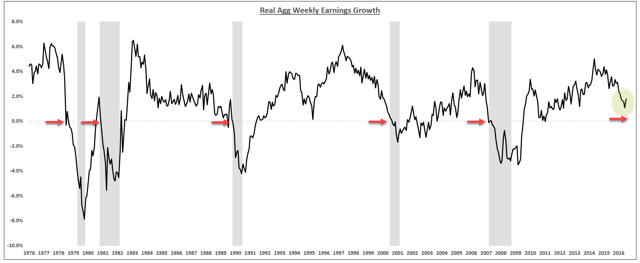 (BLS)
Before moving to real estate, I also like to look at real aggregate wages but instead of using headline CPI, instead I use shelter inflation which correlates more with dangerous times in the stock market. Shelter is the biggest expense consumers have so a headline CPI of 2% looks less damaging to the consumer than 4% shelter inflation.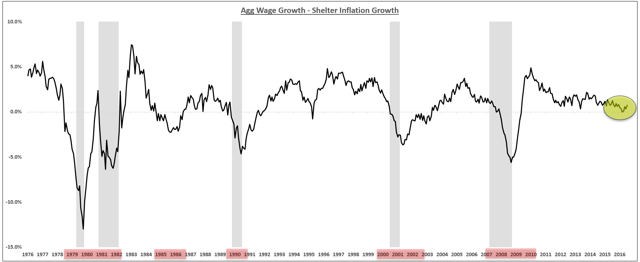 (BLS)
I roughly outlined the years in which this reading was negative which does a fairly good job of indicating market danger. It is not a magic formula but it does the best job I can find at the very least, indicating danger. Right now with this reading hovering just above the zero line, a yellow light is appropriate.
Jobs Report & Real Estate:
The jobs report has thousands of sub-components but most people tend to focus on the headline jobs added and average hourly wages (the most useless indicator in all of us macro: For more on why I have an article on that here).
Looking at employment in the construction industry can be a leading indicator for real estate. If construction industries are hiring less people, demand for new real estate construction must be decreasing.
The growth rate in construction employment is trending similarly to the overall labor market but is declining at a steeper pace.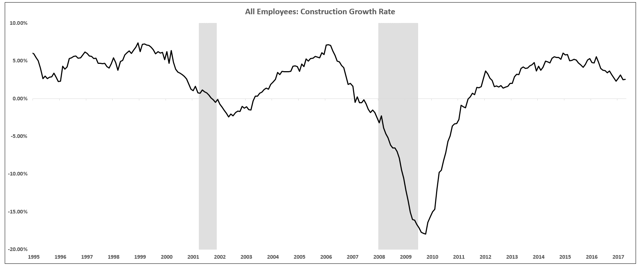 (BLS)
Below is the same chart of construction employment but included is the 12 month rate of change in construction employment growth.

(BLS)
The rate of change or slope in construction job growth is at its sharpest rate of deceleration since 2009 and at levels typically only seen during recessions. Not an outright recession call but another yellow light on the labor market and the real estate market.
Weakness in real estate related job markets can be seen in many places and I will quickly show a few charts without as much detail.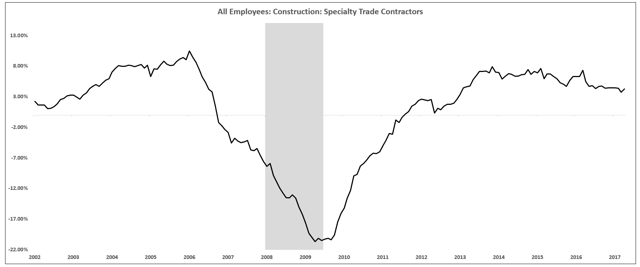 (BLS)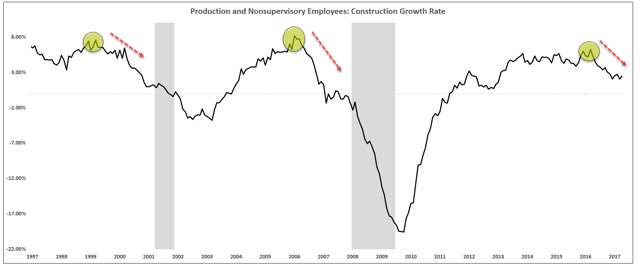 (BLS)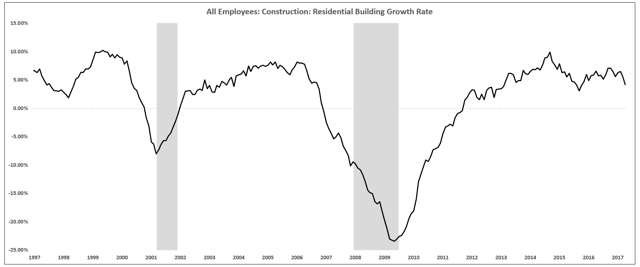 (BLS)
Above is the residential building construction employees growth rate, a closer proxy to ITB or the home building companies.
The employment and hard data is clearly and irrefutably showing slower demand for construction employees and thus indicates slowing demand in the real estate market. This is not sentiment but hard data. I've had people comment with about how the market "feels" to them.
This is hard data but for "feel" let's go to the Federal Reserve and Banks and see how they "feel" for those who don't agree with the slowing data above.
Federal Reserve Senior Loan Survey:
The Federal Reserve Senior Loan Survey is a survey to banks that gauges both the level of demand they are seeing across consumer industries as well as their propensity to tighten or loosen lending standards.
Before looking at the survey itself, one more hard data point is the loan growth by banks. Below is the total C&I loans by all banks on a weekly basis and banks are clearly pulling back lending at an alarming pace.
This is the picture of all loan growth. The most alarming part is not the slow roll over but the acceleration in the pull back of loan growth as evident by the steeper line (in purple).
Banks are also rolling back real estate loans:

(Federal Reserve)
That is the data, let's see what the banks are saying. This comes directly from banks and the Federal Reserve.
All below pictures are screen shots directly from the Federal Reserve Senior Loan Survey:

Banks reported lower demand across all most consumer categories.

We truly do not need the banks to tell us what is already clearly evident in the data but just to take the words from them, they are seeing lower demand for real estate loans and are more uncertain about prices and CRE in general. On balance they are saying there is weaker demand (something I've been outlining for some time).
Below are some charts that show demand and willingness to lend from banks (taken from Senior Loan Survey) (Yellow circles are added by me)
Demand for all loans:

Demand for Real Estate Loans: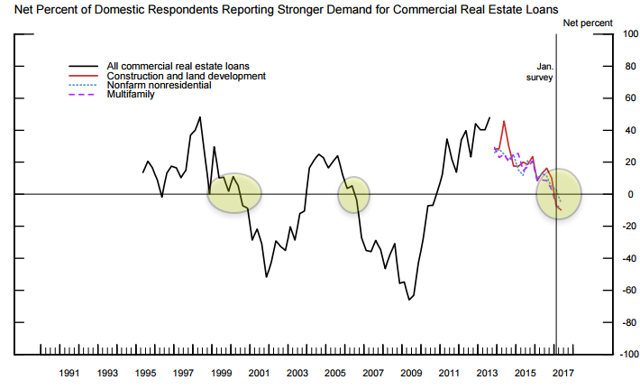 Banks tightening standards for Real Estate Loans: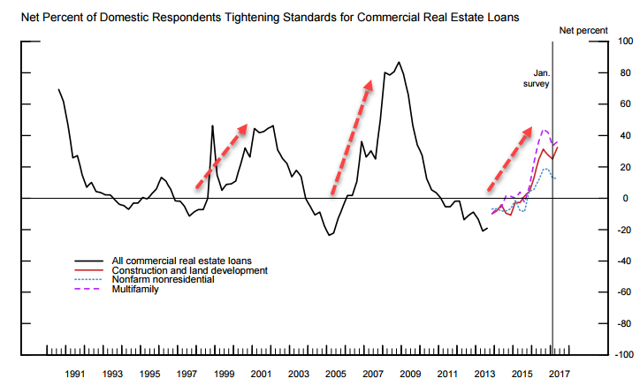 Takeaway:
It is empirically evident that real estate industries are slowing hiring growth and this is corroborated by banks who are outright saying they are experiencing lower demand for real estate loans and are tightening standards for loans due to increased uncertainty.
I started outlining my bearish case for real estate on March 20th and put out a short call on ITB to express this call.
This position is up 9 basis points (nearly exactly flat) since then (as of yesterday's close). The evidence in the hard data and now the words from the banks and the Fed strengthen this case and this continues to be position I think will be profitable over the next 12-18 months.
This position is separate from the portfolio I outlined for the average investor here: Portfolio.
Follow my SA page for continued updates on both this short ITB thesis and the average investor portfolio I feel is the best for the current macro environment.
Disclosure: I/we have no positions in any stocks mentioned, and no plans to initiate any positions within the next 72 hours.
I wrote this article myself, and it expresses my own opinions. I am not receiving compensation for it (other than from Seeking Alpha). I have no business relationship with any company whose stock is mentioned in this article.