It's been a long time coming, but Zynga's (NASDAQ:ZNGA) FY17 Q1 financials demonstrate the company is sustaining the turnaround started in mid-2016.
GAAP revenue was up quarter on quarter for the third successive period to $194 million. Similarly, bookings were up quarter on quarter for the third successive period to $207 million.
(The difference between the two is deferred revenues, which are bookings made during the quarter but accounted for over a longer time period.)
Granted the headline growth rate was modest - 2 percent for revenue and 3 percent for bookings. However, given that partly for seasonal reasons advertising revenue was down 20 percent quarter on quarter, direct sales from Zynga's mobile and Facebook (NASDAQ:FB) games were actually up 10 percent.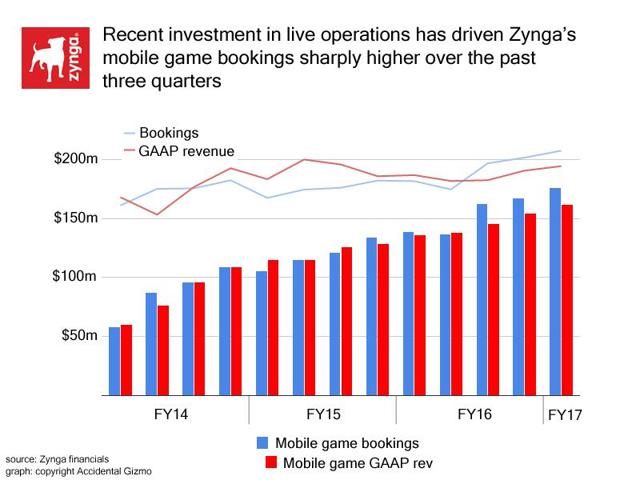 (Source: Author generated graph from company 10-Q figures)
Of course, Zynga being Zynga, it wasn't all good news. The company made a GAAP loss of $9.5 million, but this was down from $35 million last quarter and $26.5 million a year ago.
It also used $4.7 million of cash flow in operations, which compares to positive flows over the past three quarters, but again, this is typical for the January to March period in which advertising revenue is always down compared to the previous Holiday Season.
Even the bad news was trending better then. The result was Zynga shares popped 13 percent, hitting a three-year-high.
So, can the good news continue?
Out of a hole
Given it IPOed at $10 a share in December 2011 and has been underwater since Facebook IPOed the following May (for some early investors, Zynga was a pre-IPO Facebook substitute), Zynga has been a cautionary tale in how not to float and/or operate a computer game company.
Its logo is a dog and that's how many have viewed the company.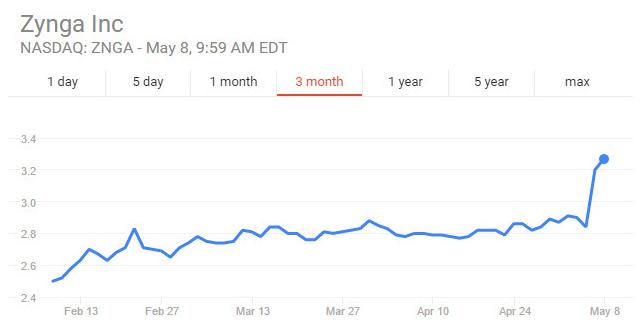 (Source: Google Finance)
Its executive hiring policy has been a revolving door of well-rewarded failure, it's overpaid for acquisitions, and gone through numerous restructuring rounds, all the while sitting on hundreds of millions of dollars of cash and a San Francisco office some consider its most valuable asset.
Throw in co-founder, several-time CEO, and now executive chairman of the board Mark Pincus' majority control of the voting rights, and you have a company investors love to hate.
Or should that be loved to hate?
For despite structural issues remaining such as Pincus' control (and now potentially messy divorce), the appointment of ex-CEO Frank Gibeau (previously a board member) in March 2016 has coincided with a revival in Zynga's fortunes.
Some of this has been happenstance. The two highly anticipated games from Zynga's 2014 acquisition of UK developer NaturalMotion were released during the second half of 2016, with one of them, CSR Racing 2, shaping up to be a top performer. Generating $18 million of bookings in FY16 H2, it did $21 million in FY17 Q1 alone and continues to look strong in the medium term.
Gibeau has benefited from a long-term decline in operational costs too as Zynga cut headcount. Yet there are a number of trends he can take credit for.
The most obvious is an internal reorganisation to focus on maintaining and improving Zynga's existing game portfolio (aka live operations).
This attempts to better engage and retain players with regular time-limited events as well as new features. The refreshing of the gaming experience in this way is especially important for legacy titles and Zynga has a particular example of such in the form of Zynga Poker, which will celebrate its 10th anniversary this year.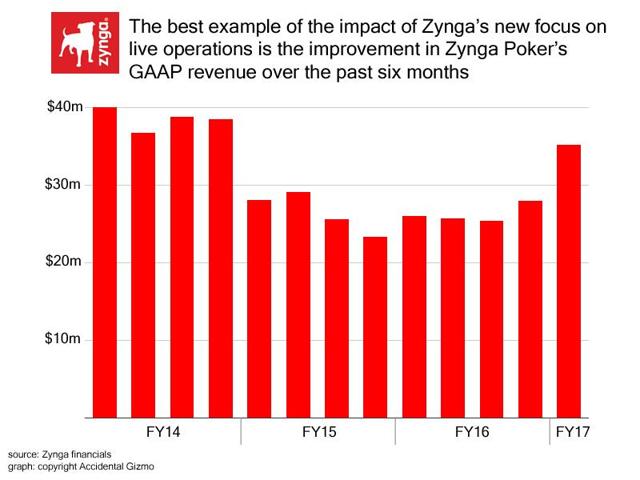 (Source: Author generated graph from company 10-Q figures)
In a mirror of Zynga's wider performance, the focus on live operations has seen Zynga Poker reverse its long-term decline.
Dropping to $23 million of quarterly bookings in FY15 Q4, it then plateaued before growing over the past two quarters. In FY17 Q1, it generated $35 million, a level not seen since FY14. Indeed, its mobile bookings were up 76 percent year on year, while the number of daily players was up sharply, 78 percent year on year.
Meanwhile Zynga has improved player-to-payer conversion rate across all its games from 1.7 percent to 2.3 percent over the past 12 months
Strong foundations
Aside from product performance, however, perhaps Gibeau's most significant focus has been repositioning Zynga as a company investors can trust, most notably by getting costs under control.
Thanks to a quarter-on-quarter reduction in research and development costs of $18.5 million, operational costs in FY17 Q1 dipped below $150 million for only the second time in Zynga's history.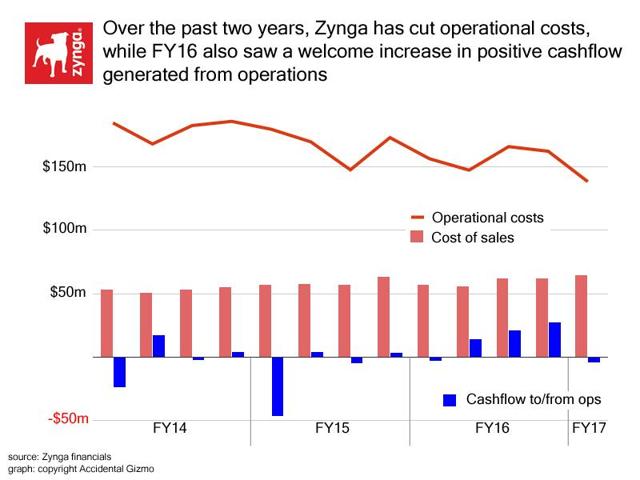 (Source: Author generated graph from company 10-Q figures)
This was primarily due to a reduction in stock-based expenses, although also helped by a reduction in third-party consulting expenses. Both elements will be welcomed by investors, as is the continued share buyback with $73 million of Zynga's planned $200 million buyback program still available.
Throw in the just-announced deal that will see Airbnb (Private:AIRB) leasing up to a third of Zynga's San Francisco office, possibly generally $15 million annually, and it's hard to see how market sentiment could be much higher.
Does it ad up?
But that's not to say Zynga's turnaround is a sure thing.
FY17 Q2 guidance is for a net loss of $6 million, with bookings marginally down to $205 million. Obviously, dragging Zynga into profit remains Gibeau's prime goal, with sustaining profitability the ultimate aim.
Whether the former can be achieved in Q3 or Q4 is open to debate, and certainly the latter will require continued attention on both costs and product performance.
For the quarter did highlight one potentially worrying trend. Despite its daily player base rising 4 percent sequentially, ad-funded social word game Words With Friends saw revenues decline 20 percent year on year as overall advertising revenues softened.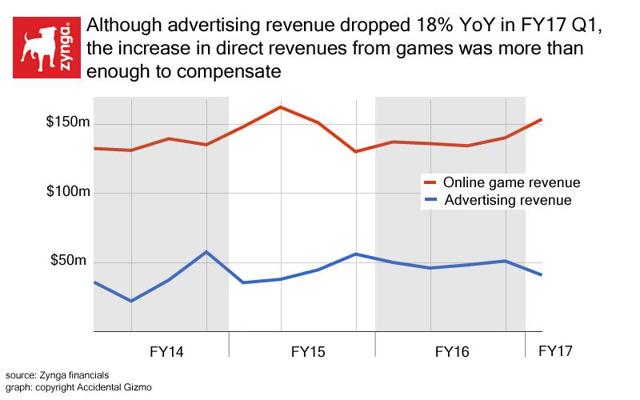 (Source: Author generated graph from company 10-Q figures)
Indeed, while Q1 is generally the weakest quarter for advertising, at $41 million, the category was sharply down, 25 percent quarter on quarter or 18 percent year on year.
Given advertising accounted for 27 percent of overall FY16 revenue, Zynga has just spent $42.5 million acquiring ad-funded game Solitaire, and has invested in launching several companion With Friends games (including Boggle and Crosswords), this predicted ongoing softness has to be a concern.
Yet, at this stage, there are clearly more upsides than down.
Zynga's slots portfolio remains solid. Despite its slow start, the company is committed to making Dawn of Titans (the other NaturalMotion release in 2016) a stronger performer, and it has promising titles including a new version of early iPhone hit Mafia Wars in testing.
And aside from all this, Zynga's $720 million in cash means Gibeau should have more than enough runway to get his turnaround off the ground. Then we'll see if he can keep Zynga airborne.
Disclosure: I/we have no positions in any stocks mentioned, but may initiate a long position in ZNGA over the next 72 hours.
I wrote this article myself, and it expresses my own opinions. I am not receiving compensation for it (other than from Seeking Alpha). I have no business relationship with any company whose stock is mentioned in this article.