Today's Job Openings and Labor Turnover report showed major weakness in the labor market, contrary to what many believed to be a strong previous employment report.

(Source: BLS)
Job openings growth is negative, something that has not happened since the end of the last business cycle.
Also, new hires growth is negative indicating there is far less hiring then a year ago.

New hires growth is a more volatile data series but this is the first series of two consecutive negative growth rates since the end of the last cycle as well.
Job openings in the south census region were notably weak while the northeast remains the strongest region:


Today, two Federal Reserve board members spoke out and expressed concern with the labor market reversing course. Both board members cited that the unemployment rate was lower than the Federal Reserve target rate and the probability of that reversing was increasing. This comment was followed by a call for caution by both board members when raising interest rates.
Fed member Eric Rosengren actually warned of a bubble in the commercial real estate market saying that he doesn't believe these prices are justified.
These comments come on the back of the latest Senior Loan survey which citing a fall in demand for consumer loans and real estate loans. (Graphs from Fed senior loan survey)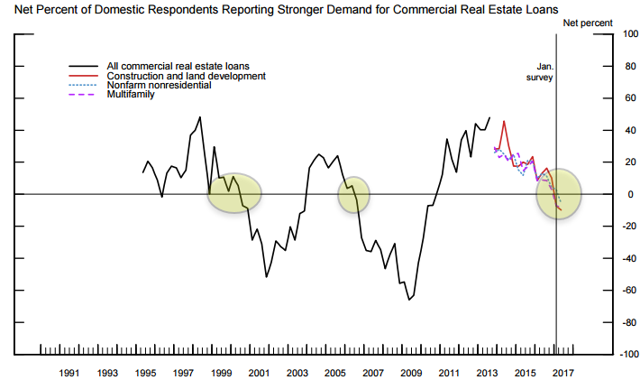 With this data in hand, one has to wonder if the Fed sees the weakness on the horizon and is beginning the process of talking back their aggressive rate rising forecast.
The Fed has stated multiple rate hikes and a reduction of the balance sheet are probable. The market has priced these scenarios in but claiming there may be a bubble is certainly not consistent with raising rates and reducing the balance sheet.
I believe the Fed is beginning to back off their rate hike stance and pivot slightly more dovish than they previous sounded.
Disclosure: I/we have no positions in any stocks mentioned, and no plans to initiate any positions within the next 72 hours.
I wrote this article myself, and it expresses my own opinions. I am not receiving compensation for it (other than from Seeking Alpha). I have no business relationship with any company whose stock is mentioned in this article.