There was nothing flashy about the 1st quarter Nautilus (NYSE:NLS) just reported. EPS was in-line with estimates of $.26 and revenue came in at a slight beat. Management provided guidance in February that Q1 would be the weakest quarter this year so expectations were low.
The stock rallied 11.7% following earnings - not because of Q1 results but because of the growth expected in the second half of the year due to new product launches, international growth, and the announcement of an expanded buyback program.
NLS is up 5.68% YTD or 2.32% more than the total return of the Russell 2000 . It has been a slow start to the year for small caps so even a 2-3% beat is good in my book.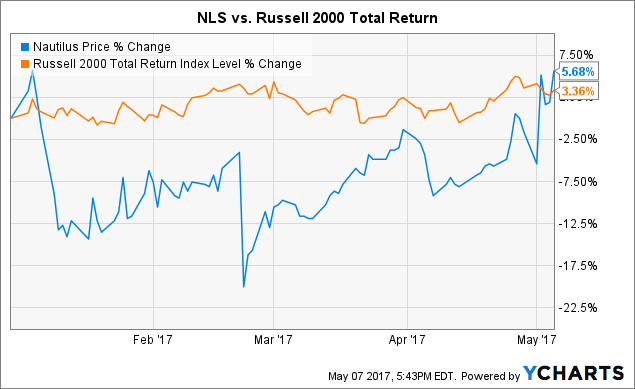 I began covering NLS in January when I rated it a buy and bought shares at $15.90. I bought more when the stock fell sharply in February and averaged my cost down to $15.38.
I'm looking at an unrealized gain of about 22.5% but I'm not selling yet. I will outline a few reasons why I still consider the stock a good value even after the post-earnings rally.
Management Guidance Helps Set Expectations
Management began providing guidance earlier this year when they announced Q4 2016 results. Although they are not providing quarterly guidance they did for Q1 because of the difficult comps they were facing against Q1 2016.
Q1 17 Management Guidance
We anticipate sales in the first quarter to be in the range of $110 million to $112 million. Similarly, operating income from continuing operations in Q1 of 2017 is expected to be in the range of $12.5 million to $14 million and reflecting the added investments and increased expenses related to securing and protecting our intellectual property globally.
Source: Q4 2016 Earnings Call
Total revenue came in at $113.3 million and operating income came in at $12.7 million. Both figures were notably in-line with their guidance but by the time they announced this guidance they were halfway through Q1 so it shouldn't have been tough to forecast.
The market overreacted to the lower growth and the stock fell 16.6% in February. It would have been much worse last week if they had surprised the market on Q1 earnings day rather than providing the guidance and giving the market a chance to digest it in advance. Guidance should help set market expectations and hopefully lead to lower volatility around earnings going forward.
As for guidance for the full year:
On a full-year basis for 2017, we are projecting revenue and operating income growth to be in the range of 5% to 7% over 2016. This reflects starting out the first-half of the year slower when compared to the same period while layering in the incremental investments, I just mentioned, which we have already begun to execute on.
Source: Q4 2016 Earnings Call
Management re-affirmed their guidance for 2017 on the earnings call last week for 5-7% revenue growth and operating income.
This rate of growth is much lower than the past several years of 20-25% but a growth rate that high can only be sustained for so long. We are still looking at U.S. economy growing at maybe 2%. Investing in companies that are growing at a higher rate than the overall economy is important to me.
The growth for the remainder of the year is expected to be driven mostly by new product launches but in the longer term international expansion will be an additional catalyst.
New Product Launches
Bowflex HVT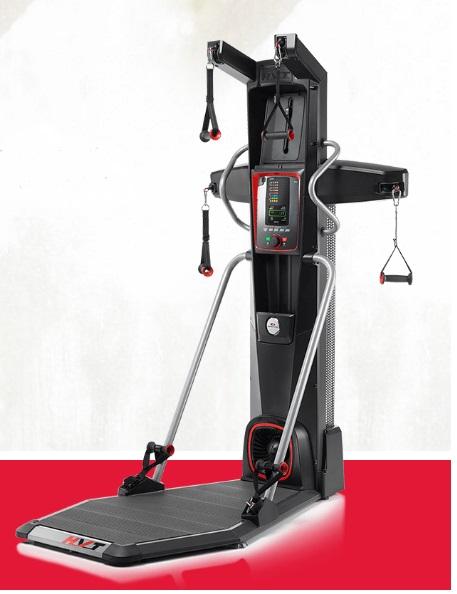 The company announced on the earnings call they would soon be launching the Bowflex HVT or Hybrid Velocity Trainer. As I was writing this the HVT became available for order. The company launched a new commercial and the website here.
The HVT is priced at $1,799 and is being marketed as combining strength and cardio into one machine and as a result saving space. Based on the commercial it looks to be a high intensity workout and COO William McMahon says an 18 minute workout is equivalent to the calorie burn of one and a half miles of running.
The average consumer following our custom workout will burn calories equivalent to one and a half miles of running while experiencing more than five times the muscle activation as compared to traditional strength training and they'll be able to accomplish this in as little as 18 minutes. - William McMahon COO
In addition to the HVT, there are new Bowflex treadmills and elliptical machines priced at $1,499 and $1,799 that are on the way. More cardio machine launches are expected from their Schwinn, Octane, and Nautilus brands. They also plan to offer three new core strengthening products through the Modern Movement brand.
This pipeline of new products is expected to drive growth in the second half of the year.
Expanded Buyback Program
The company also announced an expansion to their share buyback program. Net buybacks totaled $11.1 million in 2015 and $3 million in 2016.
In Q1 of this year, the company bought back $3.4 million at an average price of $15.68. Based on where the stock traded in the quarter, the timing of the share repurchases was excellent following the February 21st announcement of Q4 earnings. This small window was the only time the stock traded below $15.68.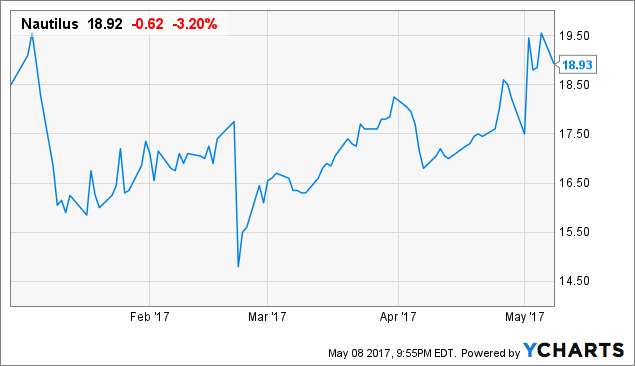 The company has $5.4 million remaining on their May 4, 2016 buyback authorization in addition to the new $15 million program they just announced. Since the company does not pay a dividend, buybacks are the primary means of returning capital to shareholders. The company generated over $40 million in cash from operations the past two years and has $89 million cash on hand to use as needed to fund buybacks. I like that they are using cash flow rather than issuing debt to fund buybacks like so many companies have done.
Relative Value
Nautilus is in direct competition with brands such as Life Fitness and Precor. These brands are owned by larger companies that produce other types of products in addition to their fitness product line. Life Fitness is owned by Brunswick Corp (NYSE:BC) and the majority of their sales come from boats and boat engines. Precor is owned by a Finnish company, Amer Sports (OTCPK:AGPDY). Other competitors include private companies such as Beach Body.
This makes it difficult to find public company comparisons for relative value purposes but I found a few health and fitness companies to use along with Amer Sports and Brunswick.
Nautilus looks particularly undervalued from an EV/EBITDA valuation multiple as well as on a forward P/E basis of 16.92x. Brunswick may also deserve a further look but again this is mostly a boating company.

The valuation is not as attractive now as it was in Q1, but the multiples are slightly below the average of the past year.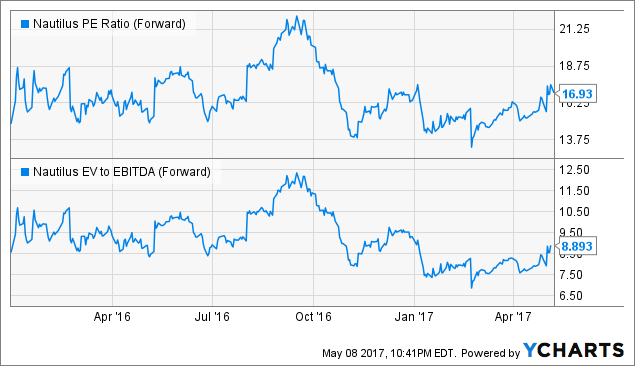 NLS PE Ratio (Forward) data by YCharts
For readers that may be familiar with the Magic Formula Investing Screener, Nautilus is currently listed as one of the 50 stocks when filtering by companies larger than $500 million market cap. I use this screen from time to time to generate stock ideas for further research. I did not discover Nautilus on this stock screen, but it is an added bonus to see the stock listed because I tend to look for profitable, growing small-caps at below average multiples.
Conclusion
As a small-cap company under $1b market cap, Nautilus remains underfollowed and undercovered. Although the valuation is not as attractive as earlier in the year, the stock still looks relatively cheap to similar companies. The expansion of the buyback program gives management flexibility to support the stock as needed and return excess capital to shareholders. New product launches should help drive growth and the stock higher in the second half of the year.
Disclosure: I am/we are long NLS.
I wrote this article myself, and it expresses my own opinions. I am not receiving compensation for it (other than from Seeking Alpha). I have no business relationship with any company whose stock is mentioned in this article.
Editor's Note: This article discusses one or more securities that do not trade on a major U.S. exchange. Please be aware of the risks associated with these stocks.