What is SFL's exposure to the offshore drilling market?
The company has certainly taken a very proactive stance towards mitigating losses and managing their financial risks associated with the downturn in the offshore drilling market.
When the offshore drilling market was at its heydays back in 2014, their 4th Quarter exposure was as follows:

This has been reduced considerably, as can be seen from their 4th Quarter 2016 report:

SFL drilling fleet update:
From SFL's press release last week, we received welcoming news that the company has managed to find employment for their idle rig "Soehanah."
"Ship Finance International Limited today announced that it has agreed to bareboat charter out the 2007-built drilling rig Soehanah to be employed under a drilling contract with a national oil company in Asia for a period of 12 months, with an option to extend the charter by an additional 12 months.

The rig was redelivered to us in April, following a full 10-year special survey paid for by the previous charterer, and with certificates valid until 2022. The net EBITDA is expected to be approximately $4m during the fixed period of the charter, and the rig is now being mobilized with expected startup of the drilling operations in the second quarter of 2017."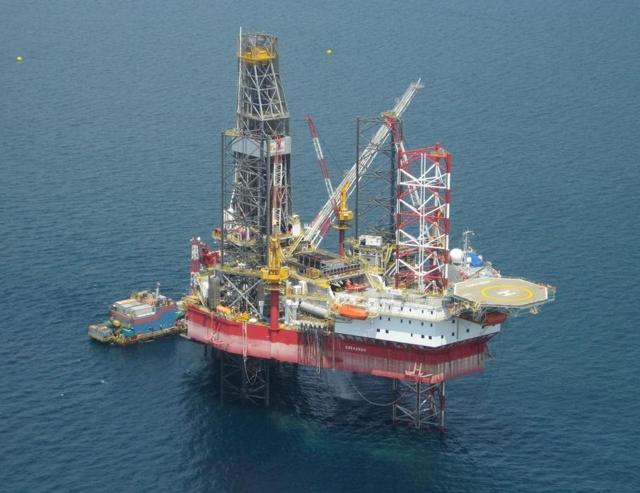 Source : P.T. Apexindo Pratama
From the transcript of 4th Quarter 2016, their CEO Ole Hjertaker said that:
"Apexindo who has chartered the rig since 2011 has covered all expenses relating to the rig until now including a full special survey of the rig which was completed recently. And the rig is debt free."
Bearing in mind that this charter is a bareboat charter, and the fact that the rig is free of any debt, the $4 Million EBITDA will only incur amortization and will therefore be a positive.
SFL - Drilling Fleet as of 4th Quarter 2016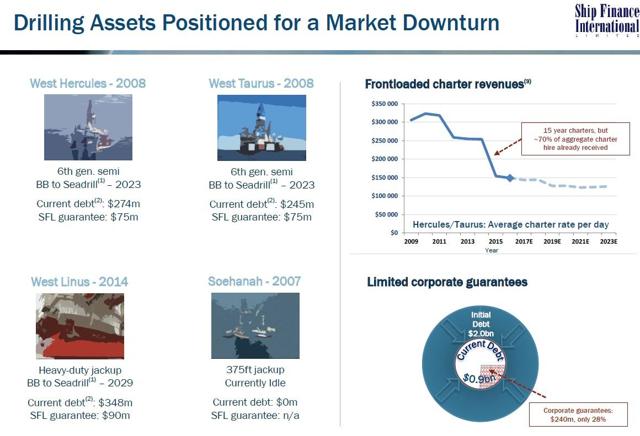 Two drilling rigs, the West Taurus and West Hercules which are idle, were acquired in 2008. The problem with these rigs, stems from what I have earlier described as a lack of independence between sellers and buyers, as they ultimately are the same people. These two rigs were bought from interrelated company Seadrill (NYSE:SDRL) at a whopping price of more than $850 million per rig. On top of that it was financed with $700 million in the bank market. The reason for the high price was based on the fact that the rigs came with high dayrate sub charters from major oil companies for a long period of time.
Obviously, if you look at a future cash generation, it certainly looks good on paper. But to do so assuming that the counterparty will not, under any circumstances, renegotiate the terms, and even in some instances cancel the contract, is naive thinking.
At first, all was well, and SFL moved to amortize more than 60% of the loans. The balance of the loans for the four rigs is now below $900 million. The average net payable charter rates for the two deepwater units is below $150,000 per day on average, which is only 40% of the initial charter rate.
SFL Fleet - Cash flow - 1 year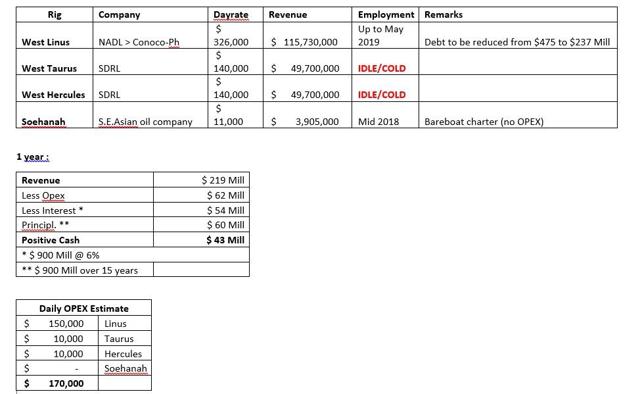 In addition to taking into account the imminent positive cash flow, we need to bear in mind that the cost of re-activating a semi-submersible rig like W. Taurus and W. Herculus is roughly $30 million per rig. These are costs which SFL can defer, but they will ultimately have to be paid before these two rigs can get back into the market.
My concern is that during the imminent restructuring of SDRL which is going to take place this summer, the banks may put pressure on SDRL to renegotiate even lower rates for W. Taurus and W. Hercules from SFL. They will look at these inter-related companies' ability to share some of the pain. SFL has stated that they intend to engage in a constructive dialog with Seadrill to find a sustainable path going forward.
Conclusion:
We need to see what action SDRL is going to take in the wake of the upcoming restructuring. This will give more clarity on how safe the revenue will be for the offshore segment of SFL.
Disclosure: I/we have no positions in any stocks mentioned, and no plans to initiate any positions within the next 72 hours.
I wrote this article myself, and it expresses my own opinions. I am not receiving compensation for it (other than from Seeking Alpha). I have no business relationship with any company whose stock is mentioned in this article.
Editor's Note: This article covers one or more stocks trading at less than $1 per share and/or with less than a $100 million market cap. Please be aware of the risks associated with these stocks.