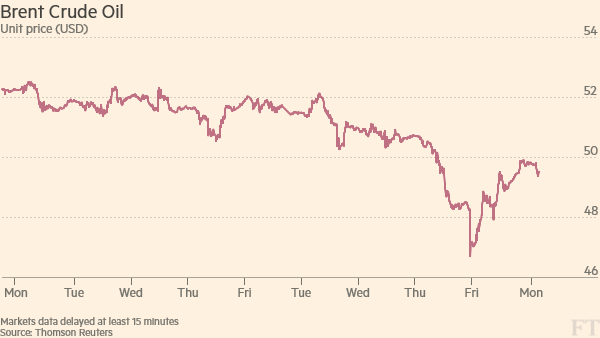 While equities markets on Wall Street are rallying to record levels, the price of crude oil is seeing red. WTI crude oil is currently trading at $46.50 per barrel on the NYMEX, while Brent crude oil is trading at $49.44 per barrel on the ICE. That crude oil prices have plunged more than 13% is deeply disturbing to commodities traders and to financial markets. Recall that crude oil is an integral component in the production process and it is largely responsible for driving up inflation. When crude oil was trading around $26 per barrel, the UK, US, and EU were finding it near impossible to hit their 2% inflation targets. OPEC and non-OPEC producers have been working hard to reduce output to drive up prices.
OPEC oil cuts assisting WTI crude oil producers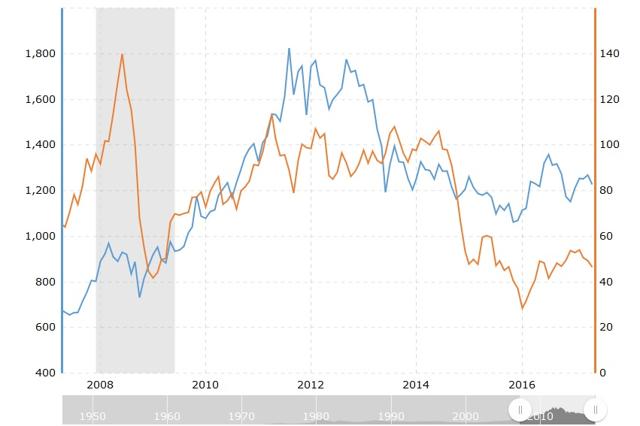 Gold and Oil Prices
Recall that the oil glut (excess inventory levels) has made it near impossible for the price to rise, given that supply outstrips demand by a long margin. Added to that is the intense competition between WTI crude oil producers in North America and the OPEC oil cartel. Back in November 2016, Russia and OPEC agreed to reduce production to try and stabilize the oil markets. This strategy worked to a degree, and oil prices quickly rose towards the $50-60 per barrel range. However, it appears to be a pyrrhic victory.
The intense rivalry between US producers and OPEC has not waned, and rising oil prices are simply enticing more US producers into the market. We are now seeing prices starting to plunge beneath the key $50 support level, and this is a worrying sign for commodities brokers, markets, and the oil industry. OPEC sees things differently and is fully prepared to extend production cuts beyond their current deadline. The Saudi Arabian energy minister, Khalid Al-Falih, is prepared to act on behalf of OPEC and the industry.
Hedge Against Uncertainty with Commodities
There is also an interesting correlation between crude oil and gold. As at May 8, 2017, the gold price was $1,226.20, for delivery in June 2017. It is worth pointing out that the gold price and the oil price have typically moved in unison with one another. This trend holds true most all the time. When gold prices rise, demand for crude oil rises too, and so do the prices of these commodities. In the aftermath of the 2008/9 global financial crisis, the demand for crude oil and gold spiked and then plunged after the economy stabilized by 2013. Gold peaked at $1,825 per ounce in August 2011 and has been on a relentless decline since then. Nonetheless, gold remains a viable proposition as a hedge against inflation, as seen in this new gold IRA. Whenever equities markets are booming, gold is taking a hit. Much the same is true of crude oil prices. Oil peaked at $139.96 per barrel in June 2008 and then plunged to $26 per barrel in early 2016.
Oil Futures Markets Heavily Bearish
Later this month, energy ministers from various OPEC countries will be meeting to discuss production cuts. They have multiple options available, including increasing production, or an extension of production cuts. The latter option appears to be doing nothing to assist OPEC in the long run. The shale oil producers in the US are buoyed by the rising oil prices and are only too happy to see OPEC cutting production.
OPEC tried to wage a war of attrition against US oil producers, but it has backfired because there are almost double as many oil rigs operating in the US now than there were a year ago. Commodities traders have seen a sharp increase in CFD Trading options on crude oil. Sentiment is bearish in the futures markets, and that's to be expected given the anxiety in OPEC's ranks. Provided the price remains $40 per barrel or more, WTI crude oil producers will be in business. Speculators are hedging their bets that OPEC will extend production cuts, and like it or not, OPEC is certainly not the force it once was in the oil industry.
Disclosure: I/we have no positions in any stocks mentioned, and no plans to initiate any positions within the next 72 hours.
I wrote this article myself, and it expresses my own opinions. I am not receiving compensation for it. I have no business relationship with any company whose stock is mentioned in this article.