General Electric's (NYSE: GE) stock looks technically broken.
Current Chart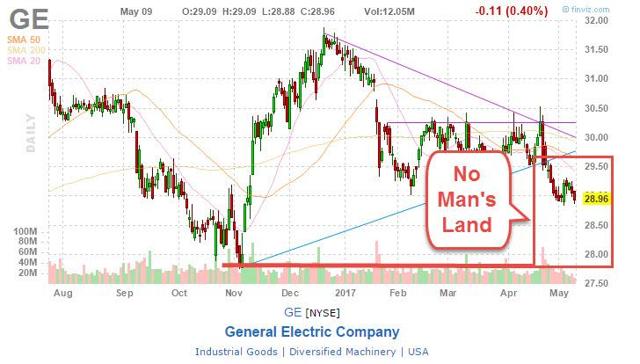 Source: finviz.com
The stock has given back nearly all the gains from the Trump bump. At present, I surmise the stock has technically entered no man's land so to speak. This means the stock is a "no touch" until we have further clarification the down side move is over. I say the stock has another 4% to fall. I would like to see the stock bounce off support at the $27.75 mark prior to adding to my position. Nonetheless, if the stock does not hold at the $27.75 level it could fall another 13% to the $24 level. This is the point at which the stock begins to yield 4%.
GE 5-Year Yield Vs. Price Chart

Source: dividend.com
Any time in the last five years the stock has touched the 4% yield mark it has been bought aggressively. I see $24 as major support for the stock. But what is the problem with the stock now anyway?
CEO Jeff Immelt
I say CEO Jeff Immelt needs to go. Immelt has made some interesting politically charged statements for a CEO of a company lately. He seems to have taken on a larger role in life than simply the CEO of General Electric. His latest foray into the political arena was in a speech at Georgetown University a few days ago. In the speech Immelt said U.S. companies and policymakers should "try harder" to compete in the global economy and win. According to the Reuters report:
"The Trump administration has taken steps toward increasing trade barriers around some industries, launching national security reviews that could restrict steel and aluminum imports. It also has pulled out of a 12-country Pacific Rim trade deal and vowed to renegotiate the 23-year-old North American Free Trade Agreement in order to help reduce the U.S. trade deficits with Mexico and Canada."
Immelt stated regarding these developments:
"If U.S. leaders think Americans want to live without the benefits of global economic integration, they're in for a rude awakening. We need to fight for new technologies, not old ones."
I appreciate Immelt's position on this subject. Nonetheless, I wish he would simply put his head down and get to work making General Electric great again. I don't want to hear him talk about anything but returning capital to shareholders and meeting guidance, which is extremely high I might add.
Fortunately, I see this as a win-win scenario. Either General Electric meets the raised expectations or Immelt gets the boot. It's that simple. I see the stock popping either way. The second problem is some believe General Electric's growth has peaked.
Has growth peaked?
General Electric was downgraded to Neutral from Buy with a $31 price target, cut from $35, at BofA Merrill Lynch (NYSE: BAC). BofA says investors should move to the sidelines until earnings expectations are brought down. The firm stated:
"2016 probably marked the peak of U.S. power gen capex, which will likely weigh on GE's growth in the power end market over the coming years."
BofA's forecast calls for a 5% capex decline in 2017 with another 3% decline in 2018. It is going to be fairly difficult for Immelt to leap over the high bar he set for himself if this proves to be the case. What's more, oil doesn't appear to be cooperating at present. This could mean more bad news for Immelt's latest foray into oil and gas.
Oil prices continue to decline
According to CNBC, oil prices fell on Tuesday.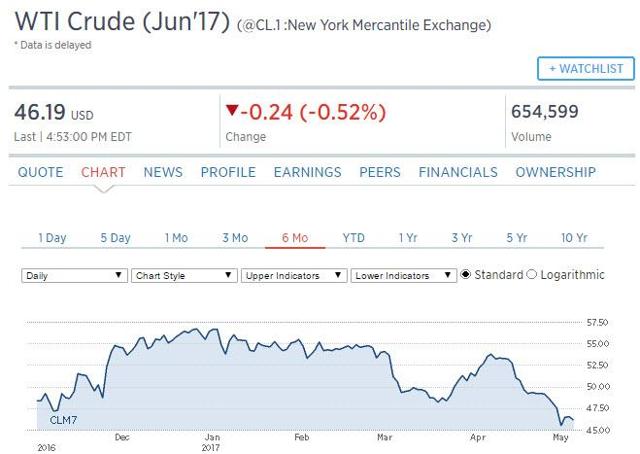 Source: cnbc.com
"Market participants seem rattled by concern over slowing demand, a rising U.S. dollar and increasing U.S. crude output that has shaken investors' faith in the ability of OPEC to rebalance the market."
Let me add to this the fact President Trump just opened up millions of acres of land for lease by oil and gas companies as well as opening up new deep sea areas for exploration. These developments should put a lid on oil's price for some time to come. This is not good for General Electric's bottom line.
The Bottom Line
General Electric's stock is firmly placed in no man's land at present. There are many questions left to be answered by Immelt and company. What's more, I don't want to hear another peep out of Immelt until he meets or beats expectations. If he doesn't, he needs to go immediately. No more excuses. It is time to put up or shut up. I think Immelt knows that.
If I was a dividend growth or income investor looking to start a position, I would wait for the dust to settle. The stock needs to either bounce off support or break through resistance for me to get excited at this point. I say it is a "no touch" at present.
A potential downside move of 17% to the $24 mark is completely within the realm of possibility. Yet, I submit this line in the sand will hold due to the 4 handle on the yield. Those are my thoughts on the matter. I look forward to reading yours. Please use this information as a starting point for your own due diligence.
Your input is required!
The true value of my articles is provided by the prescient remarks from Seeking Alpha Members in the comments section below. Do you think General Electric represents a buying opportunity at the current share price? Will Immelt be able to beat expectations? Thank you in advance for your participation.
Final note: If you enjoyed this article please click the follow button below. I would greatly appreciate it.
Disclosure: I am/we are long GE.
I wrote this article myself, and it expresses my own opinions. I am not receiving compensation for it (other than from Seeking Alpha). I have no business relationship with any company whose stock is mentioned in this article.