Overview
Every month we provide our readers with our updated forecast for WTI prices and an overview of the EIA STEO report. Our comprehensive analysis provides readers with the ability to gain insights on the global energy markets and understand the drivers behind our price forecasts.
WTI crude ended Q1 with an average price of ~$53/bbl and is estimated to end Q2 with an average price of ~$49/bbl. In our view, the crude market will continue to rebalance at a slower than expected pace. Overall rebalancing will remain bullish for crude prices and provide oil and gas investors with long-term upside.
EIA STEO
Crude
The May EIA STEO report was another bearish development for WTI crude as US production figures were hiked again. Since the beginning of 2017, US lower 48 production revisions have totaled +0.3 mmb/d and +0.7 mmb/d for 2017 and 2018 respectively. Currently, lower 48 production estimates are for 9.3 mmb/d and 10.0 mmb/d for 2017 and 2018. Included in the current STEO report was mention of Libyan production ramp, which has added to production risks in the current weeks. Increases to production estimates were said to have forced WTI price forecasts lower b $2/bbl in 2017 and 2018. The decline in production outages from 2016 to 2017 will likely continue in 2018 and put more pressure on OPEC to extend its output cuts.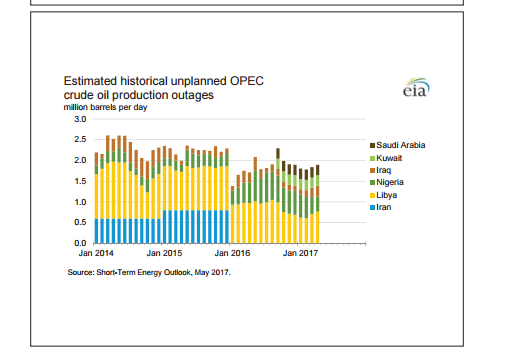 Source: EIA
The large US production ramp has followed higher rig counts, which continue to suggest that more production is on the way. Hyperelastic US shale oil has become a key driver in oil prices in the current years and is continuing to pressure inventories, which remain elevated despite efforts by OPEC to curtail production. To be sure, despite the highest refinery input volume on record (17.2 mmb/d), crude inventory draws remained in-line with the 5-year average. This suggests that the OPEC cut has yet to be felt in the US oil market. With the prospect of a 9-month cut extension and strong refinery input volumes, draws may further accelerate pushing prices higher in 2H 2017.
Petroleum Product Markets
The petroleum product markets continue to be a tale of two industries.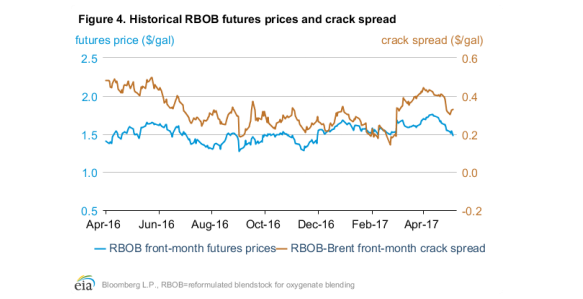 Source: EIA
Gasoline crack spreads are at the lowest levels since 2013 while distillate crack spreads remain elevated. The divergence is a direct result of bloated gasoline inventories stemming from larger refinery output and seasonality. Gasoline inventories rose 0.9 mmb/d vs. historical decline of 4.4 mmb/d average. The historical divergence pressured crude prices as market participants assumed rising inventories to be a sign of lower gasoline demand.
We would expect gasoline inventories to fall heading into June as refinery gasoline output falls and demand picks up. Tomorrow's EIA report will give greater clarity on gasoline demand.
Meanwhile, distillate demand looks strong following improvements in the industrial sector. Increased activity in the transportation sector have helped distillate consumption reach a 5-year high. Furthermore, healthy export demand, implied by the 1.4 mmb/d rise in distillate exports, indicates a strengthening global economy that will be beneficial to crude prices.
Forecast Updates
Our current forecasts for the crude market imply a gradual rise in prices through 2020.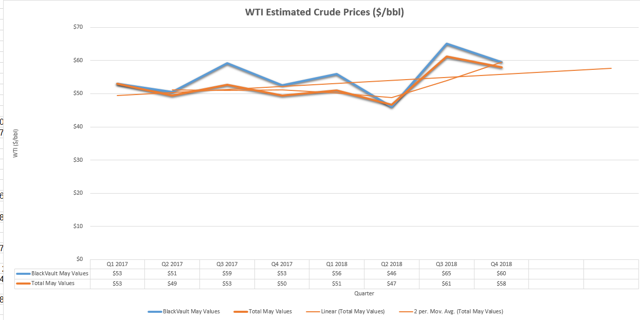 Source: BlackVault Investments Research
We revised our bullish demand scenario higher as base case demand growth rates remained at the upper-end of our forecasts. This was partially offset by continued oversupply in inventories and an emergence of Libyan production that weighed on estimates.

Source: BlackVault Investments Research
Production increases remain a source of concern for crude bulls as improving demand has yet to offset growing supply. The short-cycle nature of US shale will likely continue to contain WTI price rallies, although upside continues to be likely in 2H 2017 and 2018.
Disclosure
This article contains the opinions of BlackVault Investments and in no way is acting as an offering and/or solicitation of securities or investment advice.
If you have any questions, feel free to leave them in the comment section or message me directly. Thank you for reading and good luck to all.
Disclosure: I/we have no positions in any stocks mentioned, and no plans to initiate any positions within the next 72 hours.
I wrote this article myself, and it expresses my own opinions. I am not receiving compensation for it (other than from Seeking Alpha). I have no business relationship with any company whose stock is mentioned in this article.