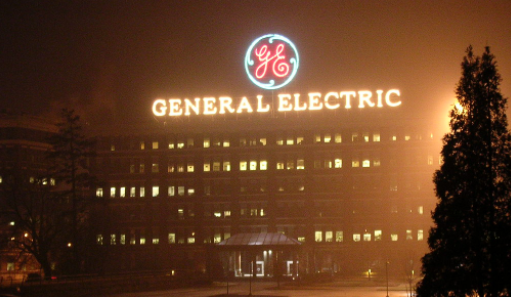 I've been very critical of General Electric (NYSE:GE) in the recent past as I've thought its strategy of remaking itself into a pure industrial has been executed poorly. I've said from the beginning that GE's push to sell off Capital in pieces and then attempt to buy back enough stock to replace the lost earnings couldn't work and it hasn't. The stock has been stuck around $30 for quite some time and at this point, I'm not sure what's going to get it moving. A big reason for that is because GE's operating margin expansion simply hasn't panned out the way it would have liked and in this article, I'll take a look at that problem and highlight why GE's plan isn't working.
I'll be using data from company filings for this exercise.
We'll begin by taking a look at GE's Industrial operating margins for the past five full years to get a sense of what GE has been able to do.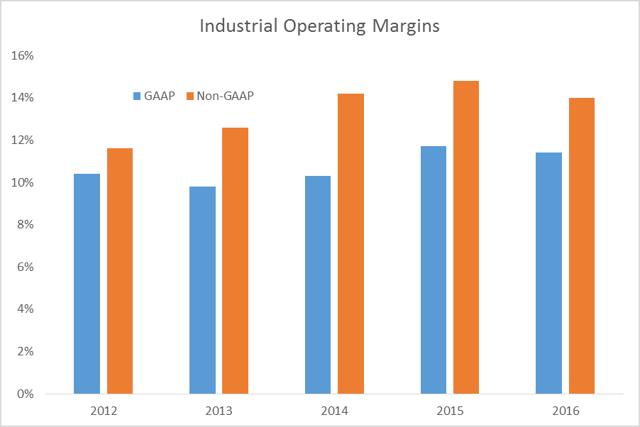 GE presents its operating margins in a few different ways but the most useful are GAAP and non-GAAP, both of which are depicted above. GAAP is exactly what it sounds like but non-GAAP adds back in things like restructuring costs, pension costs, etc. This is the better measure of GE's actual operating performance so while the GAAP number certainly matters - and is above for reference - we'll concentrate on the non-GAAP number here.
There has been a noticeable uptick in Industrial operating margins over time as GE has made some decisions to buy or sell businesses to boost its ability to squeeze profitability from its non-Capital segments. That's great and I have applauded GE's efforts over time to do this. The problem, as you can see from the chart above, is that these gains all accrued before the transformation into a pure industrial company began. That's the problem; it isn't that GE's margins are terrible, it is that it sold investors on the idea that higher industrial operating margins would help soften the blow as it got away from being half financial and half industrial but it just hasn't.
The Alstom acquisition was a terrible one that I criticized the moment it came public and that is a big reason why GE's Industrial margins are still languishing. Alstom's margin profile was extremely unfavorable against GE's then-existing business so it didn't take a Ph.D. to figure out that GE's margins were going to suffer. And as you can see above, suffer they have. Last year's non-GAAP Industrial operating margins were lower than 2014 and 2015, signifying that GE's transformation simply isn't working. To this day, I still can't work out why GE bought Alstom.
If you need further proof that GE's purchase of Alstom was a terrible one, it presents its Industrial operating margin numbers without (picture above) and with Alstom, which I've depicted below. This chart shows the same non-GAAP numbers as above and non-GAAP with Alstom removed.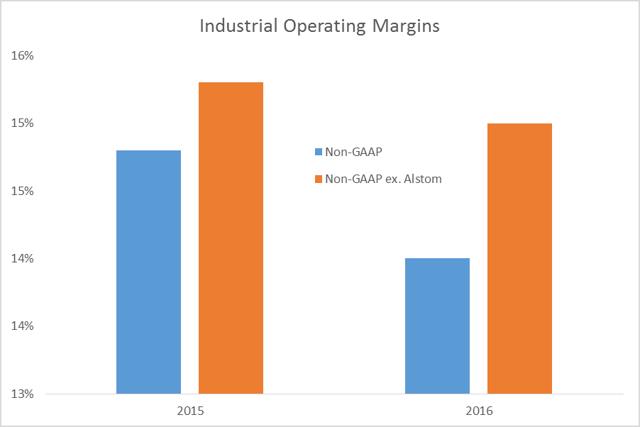 The first three years in our dataset are the same so I've removed them from the chart but 2015 and 2016 show some striking differences. Alstom removed 50bps of margin from 2015 and a full 100bps last year after GE had time to work out some synergies between the legacy and Alstom businesses. Indeed, it seems this is the norm for GE going forward and this is just further proof that the Alstom buy was a bad one. Indeed, the fact that GE is even showing us these numbers with and without Alstom this long after the purchase should raise a red flag to investors.
Given GE's operating margins are flat at best, the upside argument for the stock is extremely difficult to make. To its credit, it is constantly buying and selling industrial businesses to remake itself but the problem is that it simply isn't working. Remember that GE lost roughly half of its earnings when it divested most of its Capital holdings and while it was flush with cash as a result - and it did buy back a lot of stock - it wasn't anywhere close enough to make up the difference. With operating margins flat in the Industrial business, there's simply no way for GE to get back to even. And with Alstom operating as a significantly sized anchor against the rest of the company, GE looks to struggle further as we look into the future.
Despite all of this, analysts are exceedingly bullish on GE's prospects for 2018 and beyond. It's not that I think earnings are going to tank or that GE is going to forget how to make money. I'm simply pointing out that its ability to grow from here depends immensely upon its operating margins and its transformation simply hasn't worked out as advertised; there's just no debate about that. The Alstom buy was terrible at the time and it is terrible now and I'm not sure what GE can do to fix its operating margins. It can (and will) continue to divest and purchase businesses but so far, that same strategy hasn't yielded results that are all that inspiring. I used to like GE very much but put simply, the facts have changed. It is now just another industrial that is inferior - in my view - to Honeywell in terms of value and growth potential. GE's transformation isn't working out for shareholders and eventually, buyers will tire of waiting for growth that isn't coming.
Disclosure: I/we have no positions in any stocks mentioned, and no plans to initiate any positions within the next 72 hours.
I wrote this article myself, and it expresses my own opinions. I am not receiving compensation for it (other than from Seeking Alpha). I have no business relationship with any company whose stock is mentioned in this article.