The last few weeks were one of the harshest on oil prices (NYSEARCA:USO) and E&P companies with the former dropping 13% since mid-April. However, Murphy Oil (NYSE:MUR), our top E&P pick, is down 7.6% in that time frame. This takes us back to our previous thesis. Murphy Oil has so much value offered at a discount which makes any drop in oil prices a buying opportunity for the stock.
Fundamentals
Last week, Murphy Oil reported its Q1 results. The results were nearly in line with expectations in terms of daily production and revenue; however, there was a miss on the EPS front. Overall, the results added nothing new to our main thesis on MUR.
We believe that the undervaluation of Murphy Oil is centered at the company's proved reserves and its undervaluation with respect to the cash generated from these reserves. The company has 684 million BOE (as mentioned in the 2016 annual report) in proved reserves. At an enterprise value of $6.52 billion, the market is pricing these reserves at $9.5/BOE.
In addition, as of Q1 results, the company generated $84.2 in free cash flows (including capital leases in the calculation). With 164,000 daily BOE sold, this means that the company generated $5.72 in FCF from each BOE sold in Q1.
Now let's compare that to another producer, Hess Corp. (NYSE:HES). HES, as Murphy Oil, is a shale oil player with international operations. So it's healthy to assume that investors in these companies are facing similar risks.
HES has proved reserves of 1.109 billion BOE as of December 2016. At an enterprise value of $19.3 billion, the market is pricing these reserves at $17.4/BOE.
That is 3x Murphy's valuation. Well, that is not a problem as long as the cash generated from these reserves is significantly higher than Murphy's. Let's see.
As of Q1 results, Hess Corp. generated just $9 million in FCF at 296,000 barrels of oil equivalent sold per day, or $0.34/BOE (way less than MUR's FCF/BOE sold).
And that's not a one-quarter issue. In fact, over the last three years, Murphy Oil managed to generate cash from operations significantly higher than Hess Corp. taking the size of each company into account. For example, over the last three years, MUR generated $4.83 billion of cash from continuing operations, which is 57% of the average enterprise value recorded at the end of the last 3 years. On the other hand, Hess Corp. generated $7.3 billion in cash from continuing operations, which is just 32% of the average enterprise value recorded at the end of the last 3 years, which is half of Murphy's number.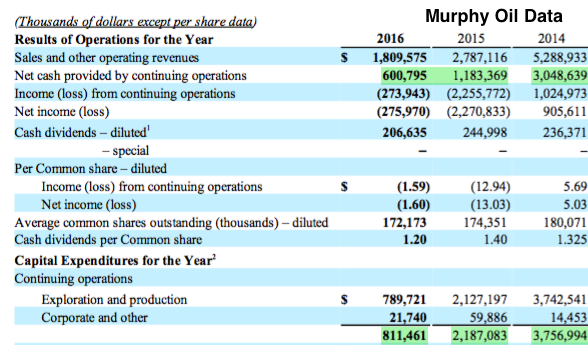 In addition, Murphy's DD&A (depreciation, depletion, and amortization) expense to capex has been significantly lower than Hess over the last three years, which means that the former is adding to its assets more than replacing its depreciated assets at a better rate than Hess (at least in theory). Here's a table that summarizes the difference (info sourced from the companies' 10-Ks).

Let's move to another point - book value.
Hess Corp. trades at 1.08x its book value. Murphy Oil on the other hand trades at just 1x book value while having higher equity-quality. 115% of Murphy's equity value is contributed by retained earnings while that rate is 70% for Hess (still great for sure).
Technicals
Last week on Thursday, Murphy recorded an intraday drop of 6%, which was a result of oil prices dropping 3% and the company missing earnings estimates by a wide margin while beating revenue estimates.
However, at the end of the day, the stock recovered almost all the losses on a huge volume. It also gained 3.3% the following day. Take a look.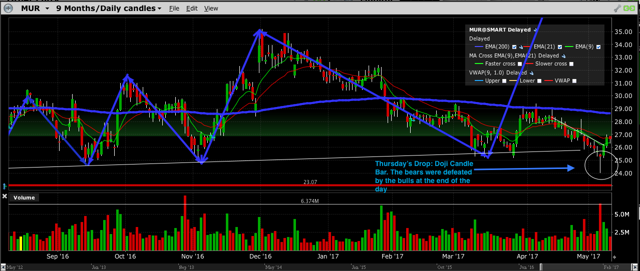 The screenshot below is a 2-hour candle chart for the price activity on Thursday. The bullish huge volume prevented the stock from closing below $25/share (the low of the previous wave) on the daily chart.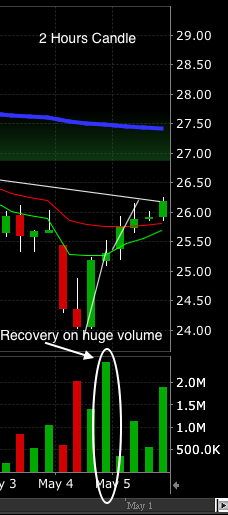 Oil prices on the other hand closed 3% down on Thursday while recovering 2% on Friday.
From a technical standpoint, by not closing below the previous lows of the preceding wave, the trend has respected the upward price pattern of the stock.

We believe that the $23/share (red line in the chart) level is very important for the stock; any close below this level will trigger a huge sell-off in the price. Thus, we recommend entering a stop-loss slightly below that level.
Conclusion
We strongly believe that MUR is one of the most undervalued oil companies in the US. The company has a great balance sheet with $1 billion in cash and cash equivalents. That's slightly less than 25% of the company's market cap. Also, the firm's cash from operations (calculated using CFO+ interest expense) is 7.8x interest expense, which shows great debt management. The bears' main argument is that a huge portion of the company's proved reserves are located offshore.
That may be partially true, but more than 50% of the company's reserves are already developed (developing a field is the biggest part in spending on offshore activity). This means that at the current rate of 169,000 production of BOE/day, the company has more than 5 years of production left before starting to tap any of the un-developed reserves. It's worth to note that there are 116 million BOE in the Eagle Ford area and more than 100 million BOE in Canada of proved reserves that are onshore and still undeveloped, which makes undeveloped-offshore reserves a minority.
Moreover, the company is 84.4% owned by institutions (The Vanguard Group and Fidelity Management owns 10% and 6.5% of the company). Last but not least, the company is trading at just 1x book value, which purely consists of retained earnings. This makes Murphy Oil one of the safest investments in the American oil sector. Last Thursday we added 50% to our position, and we were lucky to have a 3-day return of 6%. We rate MUR as a "strong buy" with a stop-loss of $22/share and a price target of $34/share, a 25% possible reward and an 18% possible loss.
Now Read: "Murphy Oil: One of the Safest Oil Picks"
Happy Investing to All.
Disclosure: I am/we are long MUR.
I wrote this article myself, and it expresses my own opinions. I am not receiving compensation for it (other than from Seeking Alpha). I have no business relationship with any company whose stock is mentioned in this article.