Nearly halfway into 2017, and we're still feeling the turbulence of the Trump administration. Coupled with a series of expected rate hikes and looming regulatory reform, the future direction of the markets is uncertain. Despite this uncertainty, there is one player who is well positioned to take advantage of rate hikes and potential changes to Dodd-Frank and corporate tax rates: Citi (NYSE:C). Along with promising macroeconomic factors for Citi, I will also elaborate on why I believe Citi's three primary divisions (Institutional Clients Group (NYSE:ICG), Global Consumer Banking (GCB), and Corporate/Other) are primed for growth moving onwards.
Catalysts
Rate Hikes
A lot of people are not thrilled with the upcoming Fed rate hikes, but banks (or at least their lending arms) are not one of them.

For those who may not know, the Fed agreed to keep rates at 0.75%-1.00% in their May meeting. Most market participants expect at least one more hike soon, and that is reflected in the 87% chance that rates will increase to 1.00%-1.25% in June. There is even a decent chance of another 25 basis point increase by 2018, but that is uncertain for now.
If you are reading this, you're probably well aware that rate hikes allow banks to capture higher profits via widening net interest margins. I will delve deeper into how Citi will benefit from wider interest rate spreads soon. For now, just be aware that rate hikes are promising for Citi, a bank with $139 billion in average retail banking loans.
Lower corporate tax rates and Dodd-Frank repeal
Another potential catalyst for Citi is a corporate tax cut from 35% to 25% or even 15%. With other bills such as the Financial Choice Act passing the House, the reality of lower corporate taxes appears more promising. Citi's effective tax rate is currently 30%. Below is a table showing the annual change in net income attributed to various new tax rates.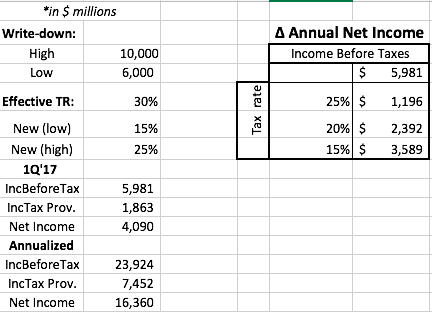 The table to the right illustrates how much net income would increase as a result of lower tax rates. Keeping in mind that a write-down under the 15% rate is expected to decrease deferred tax assets (DTA) by $10 billion, this loss would be paid off in approximately (10,000/3,589 ≈) 3 years. Likewise, a rate cut to 25% would lead to an expected payoff time of (6000/1,196 ≈) 5 years.
According to John McDonald-a bank analyst at Sanford C. Bernstein:
The hit to earnings would be a one-time event, though. The offset is that the banks are going to make more money for life.
While I am optimistic that increased earnings as a result of lower taxes will more than offset losses to deferred tax assets, I think John McDonald ought to consider political shifts in the future. Republicans and Democrats often swap control of the House and Senate every decade, so claiming that earnings would be improved for life is a stretch. However, I do believe that if the lower tax rates pass the Senate, the new rates will survive for long enough to fully offset DTA losses and increase earnings long-term.
Now let's take a look at Citi's tier 1 capital reserve ratio:
Citi is currently holding 12.8% of their risk-weighted assets in reserve. If Trump and friends get their way, then the new capital reserve ratio would decrease to 10%. A 2-3% decrease in the reserve ratio could free up $20-30 billion in loanable funds. Let's assume Citi lends out these funds at a conservative rate of 3% per year. That amounts to an increase of $400-600 million to Citi's annual revenue. With rising rates, those annual figures are likely to be higher.
Discussion of Citi's 3 Primary Segments
We have already established that future fiscal and monetary policy seems to be a boon for Citi's bottom line, but now we dive into Citi's individual performance.
Institutional Clients Group (ICG)
At latest quarterly revenue of over $9 billion, ICG is Citi's largest revenue generator. Compared to last year, overall revenue was up 16%, which is solid growth. One area of concern would be future IB revenue. Up 39% since last year, it is unlikely to witness M&A activity provide gains of that magnitude in the near future as expected rate hikes come to fruition. Regardless, I still expect annual revenue gains of around 10% despite an expected slowdown in M&A.
Looking at net income versus last year, Citi achieved a staggering 61% increase. This is largely a result of a lower cost of credit, which is due to improved net credit ratings of assets and stable commodity prices.
The ICG group appears stable for now, with Asia being the only segment experiencing flat growth (yoy). EMEA revenue surged 30% from last year, which I view as more than an offset for the slowdown in Asia. While it is tough to estimate exactly how long strong growth in EMEA can buoy ICG's revenues, I am sure Citi can rely on years worth of robust growth from the region.
Global Consumer Banking (GCB)
Behind the ICG group at $7.8 billion in latest quarterly revenue, GCB is a strong second in terms of Citi's revenue generators. Total revenue growth was only 1% (yoy), which is a concern. What's going on? Upon digging deeper to find why Latin America's revenue declined 5% (qoq), I took a look at the USD-MXN exchange rate history: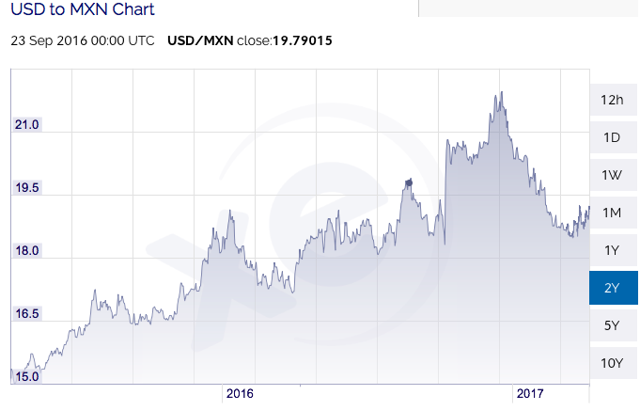 In early 2017, one dollar was nearly 22 pesos. Fast forward to the end of March, and one dollar was worth less than 19 pesos. The weakening of the dollar against the peso was largely due to the loss of confidence in Trump after the "Trump Rally." Thus, in constant dollars, Latin American segment revenue actually grew 4% (qoq).
Some of you may be curious as to why (yoy) revenue was down in Latin America, since exchange rates didn't have much of an impact upon that 6% decrease. The answer to that is previously thinner yield spreads. In early 2016, the Mexican overnight rate was between 3-4%. With current rates at 6.5%, GCB is reaping the benefits of wider net interest margins in Latin America.
Glancing at the 22% (yoy) increase in cost of credit, the change doesn't corroborate with revenue growth. Well, Citi's acquisition of the Costco (NASDAQ:COST) portfolio is largely to blame for this increase. The acquisition forced them to raise net loan loss reserves in the wake of larger net credit losses due to larger volume. I would not worry about this long term, especially as the Costco portfolio begins to bring in higher revenue, which already increased 33% (yoy).
As promised earlier, I will now discuss how I expect rate hikes to propel Citi for the coming years. With 5% growth to $55 billion in average retail loans alone, a 0.25%-0.50% increase in rates within the next twelve months would add tens to hundreds of millions of dollars to Citi's annual net interest revenue. Another benefit is that increases to deposit rates tend to lag behind increases to loan rates. Thus, Citi will be reaping the benefits of higher net interest margin-especially in the next few years. Also, it is worth noting that increases to interest revenue are not linear due to the inverse nature of interest rates and loan originations, but it is safe to conclude that the pros outweigh the cons in this scenario.
Corporate/Other
Finally, we arrive at the Corporate/Other segment. This is Citi's dead horse, consisting of the pre-financial crisis mortgages that Citi has been trying to get rid of. Revenue down 40% (yoy), divestiture and legacy asset runoffs have tanked this segment. In other words, the cost of servicing the loans outpaced the intrinsic value of the portfolio, which is why Citi decided to sell their mortgage servicing rights (MSR). The sale of their MSR helped keep net income positive for this quarter, and as time goes on, this segment will play a minimal role in Citi's future as they stop the hemorrhaging of their mortgage portfolio.
The choice for Citi to sell their MSR was difficult. On one hand, they benefited from mortgage write-downs in the form of DTAs. However, the MSR expenses still punished Citi's bottom line, and continue to do so. Thus, I believe Citi's decision to phase out their MSR assets is a good decision in the long-run, considering the potential for decreased value of DTAs if lower corporate tax rates are introduced.
Summary and Conclusions
Recent outlook for the banking industry has never been better, especially in the lending segment. With robust growth in the ICG due to M&A activity, solid growth potential for the GCB division due to improved deposit spreads via expected rate hikes and possible capital reserve ratio decreases, and Citi's shedding of its pre-financial crisis mortgage portfolio, Citi looks well positioned to comfortably add to their bottom line.
Supporting Documents
Disclosure: I/we have no positions in any stocks mentioned, and no plans to initiate any positions within the next 72 hours.
I wrote this article myself, and it expresses my own opinions. I am not receiving compensation for it (other than from Seeking Alpha). I have no business relationship with any company whose stock is mentioned in this article.