If I were actively against technical analysis – or even just oblivious toward the science – I would find myself making considerably fewer fundamental trades. I'd miss all of those "technical alerts" that point out excellent entry points to possible fundamental trades and thus not even engage in the fundamental research that would determine whether the technical entry point had any meaning or value. Traders who put themselves too much in one camp or the other miss out on some of the best trades the market has to offer.
But also, a technical "warning" can offer investors already long on a particular equity the opportunity to step back and re-evaluate their position. All your dollar-cost averaging schedules, daily portfolio checkups, and urges to spontaneously reconsider that lot of stock you bought last month can be replaced by technical signals that act as signals for long or short opportunities. This is my introduction to a re-evaluation of my position on Advanced Micro Devices (AMD); without the recent technical movements, I would probably be looking at something much more boring, like a gold miner ETF.
It was the May earnings report that led to the green-red down gap. AMD immediately joined my watchlist of potential gap plays. Over the night, AMD's stochastics crossed, implying a buying opportunity: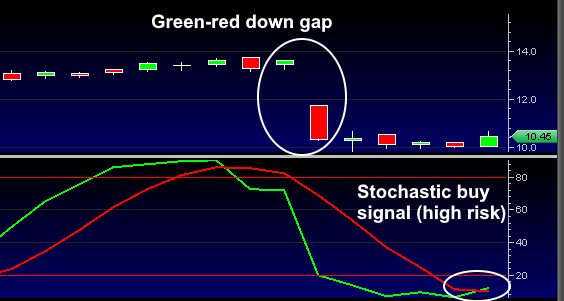 If the terms are not immediately obvious, a green-red down gap is a gap that moves a stock to a lower trading region and occurs between a bullish day and a bearish day; a high-risk stochastics buying signal occurs when the fast (green) line crosses above the slow (red) line under the 20 line. For the latter, the fundamental concept is that the stock is oversold and should soon be bouncing back; this is the earliest possible buying signal, which is why I call it "high risk."
For the former, the fundamental concept is that an event of significance has redefined the valuation of the stock at a time of fast-changing opinions (green to red for the candlesticks), and now our job is to determine whether the new value is an underreaction to the news, implying a breakaway gap, or an overreaction to the news, implying an area gap. Both of these technical signals lead to questions that must be answered with the fundamentals.
Implied Price Movements
It is generally well-played to begin with a look at how a stock reacts to news. If the market prices in predicted news moves, we can backtest the stock's actual moves against those predictions to arrive at an answer as to whether it's a news overreactor or underreactor. Luckily, the market (the options market, specifically) does price in expected moves via implied volatility premiums in options, allowing us to arrive at that answer. (If you want to make the calculation yourself of the expected movement over t days, divide t by 365, take the square root of that, multiply it by the annual implied volatility, and then multiply it by the current stock price.)
If you run this type of backtest on AMD, you'd find that it's an overreactor. An immediate strategy that comes to mind regarding the current state of AMD is to claim the gap to be an area gap because the gap represents investors' overreaction to the news. Investors wondering whether the recent chunk of bad news from the earnings report and call will continue to drag the stock down should have at least a temporary answer: It was an overreaction.
As for why news moves a stock: It's novel information. We have objective novel information in the form of an EPS and revenue match of expectations, and we also have subjective novel information in the earnings call. Rest assured that like most stocks, AMD reacts more strongly to the subjective information than the objective information.
Interpreting Earnings Calls
Research into earnings calls has discovered that critical information can be found from these earnings calls. For most of this month, I have been writing new software to help me remove the need to read the earnings call. When complete, the software should display the most important aspects of the earnings call so that investors can grab that critical information – information that is not always obvious.
My software is roughly halfway complete, and at this point, I can at least give you the output on the most recent earnings call with AMD. I believe the output is superior to my response had I read through the entire earnings call, as the response would be a subjective interpretation of subjective statements.
AMD met this quarter's expectations; keep this in mind when we contrast it with last quarter's slight beat. AMD rallied last quarter but sold off this quarter. As the difference is not adequately explained by the difference in EPS, it must be explained via management's statements.
Both this quarter and last quarter's earnings calls showed positivity on the part of AMD's management. The sentiment score, which my software calculates from the content of the call, was 13% lower this quarter, which helps explain the thus far unexplained difference between the stock price reactions this quarter and last. Still, the tone of the call was overall positive, at a rate slightly above that of the average tone for the average stock's earnings call. This supports the idea that the reaction was an overreaction and that the positive sentiment in the earnings call was neglected to an extent.
Important Statements in AMD's Earnings Call
Select influential sentences (good and bad) pulled by my software include:
"We had a good start to 2017, as we expanded gross margin, increased revenue 18% year over year to $984 million, and reduced losses year over year."
-A chunk of tangible improvements.
"In early April, we launched our enthusiast-class Ryzen 5 processors and received overwhelmingly positive reviews that demonstrate our multi-threaded leadership and unmatched value proposition."
-Tangible actions met with upbeat reactions, showing confidence in their own products.
"Computing and Graphics segment revenue increased 29% year over year, driven by the launch of our high-performance Ryzen desktop processors and our strengthened GPU product portfolio."
-Tangible growth and implications that both products and portfolios have been enhanced.
"Operating loss was $6 million in the first quarter of 2017, a significant improvement from a $55 million loss a year ago."
-Reduction of negative factors.
"I know just near term there have been some concerns about excess GPU inventory in China."
-Investor concerns for a possible negative inventory trend.
Leveraging AMD's Overreaction Characteristic
As a gap trader, I see the stock holding and am inclined to think that the gap will fill, and the above support for the earnings selloff being an overreaction gives me confidence that this is, in fact, an area gap. The news overreaction characteristic of AMD is likely to carry the stock upward again, as the financial analyst day set on May 16 is likely to bring news. Remember, knowing that AMD overreacts to news (good and bad) helps us both predict movements on events and after events.
Analyst days allow new information to be released to the public and priced into the stock. However, unlike earnings, a stock has more control over the released information. The positive information often leads to analyst revisions upward and more institutional ownership.
Factor in AMD's characteristic of overreacting to news, and we have a positive catalyst for the stock, albeit a short-term one. Overall, my view on AMD for post-earnings May is bullish: The stock will mean revert after the negative earnings overreaction; analyst day will give the stock a lift, the stochastic oversold signal will dissipate with dip-buying, and seasonality is on our side: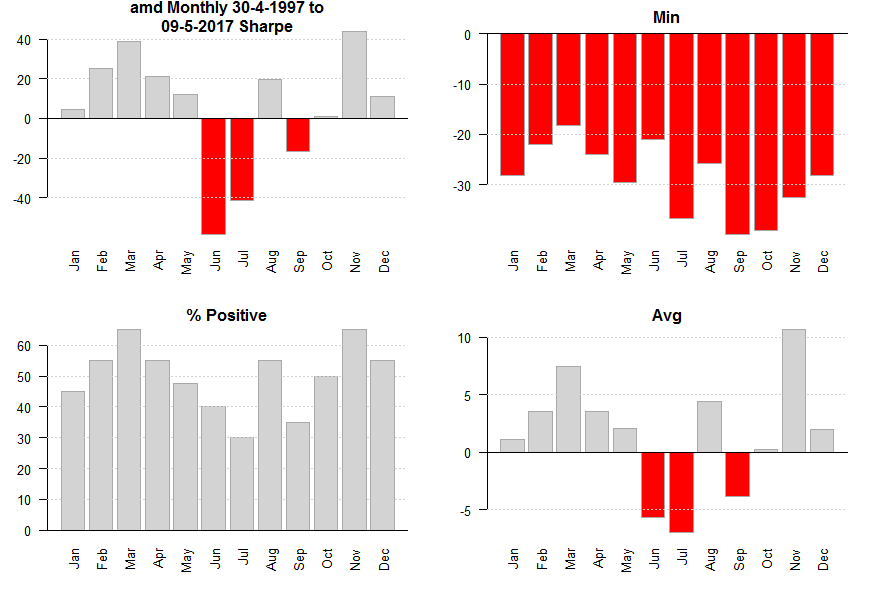 Because the market seems to be ignoring the good news and exacerbating the bad, this is our chance to swoop in and take the contrarian position. I won't criticize you for selling AMD after Ryzen less than living up to its hype, but I think that waiting will pay off for those who are looking to sell. Everybody interested in AMD can at least integrate my fundamental/technical hybrid thesis into her own. Hopefully, I have convinced some AMD holders to not join the group of post-earnings overreactors – this is not the time to overreact if you want to recover any losses.
Earnings Predictions Track Record:
April's Brier Score:
| | | | | |
| --- | --- | --- | --- | --- |
| Ticker | Probability | Direction | Result (1=correct) | Brier Score |
| | 0.68 | Long | 1 | 0.1024 |
| | 0.65 | Long | 1 | 0.1225 |
| | 0.68 | Long | 1 | 0.1024 |
| | 0.59 | Short | 0 | 0.3481 |
| | 0.65 | Short | 1 | 0.1225 |
| | 0.72 | Long | 1 | 0.0784 |
| | | | Average Brier Score (0 to 1; 0 = always right): | 0.14605 |
| | | | Brier Skill Score (-1 to 1; 1 = perfect foresight) | 0.778712121 |
Upcoming Earnings Trades: BABA, NKTR, ILG, PCLN, ULTA, NTES, CACC, HD
Get my earnings trades: Exposing Earnings.
Have questions about Exposing Earnings? Contact me.
Notes:
Note: Get my articles as soon as they are published by clicking the big orange "follow" button at the top of this page. Make sure you choose "real-time alerts." Trade alerts sent through "Copy My Trades."
Note: All unlabeled figures were created by me. I used R to pull data directly from Yahoo and ADVN. Charts with blue backgrounds are from Etrade Pro. Fundamental charts from a paid subscription at simplywall.st.
Disclosure: I/we have no positions in any stocks mentioned, and no plans to initiate any positions within the next 72 hours.
I wrote this article myself, and it expresses my own opinions. I am not receiving compensation for it (other than from Seeking Alpha). I have no business relationship with any company whose stock is mentioned in this article.