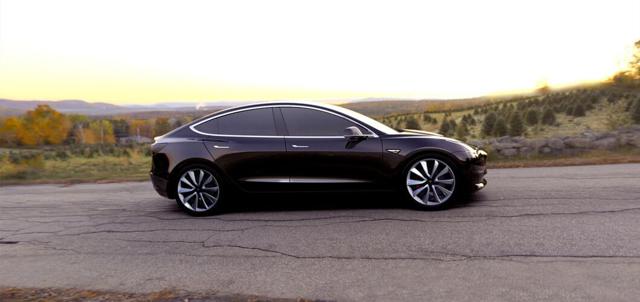 Source : Tesla
It is fascinating how quickly a revolution can take shape. Here I argue that the battery electric vehicle (BEV) has reached take off and that this is going to transform not only the car industry but also the oil industry. The implications for your energy and transport investments are becoming more obvious.
Battery electric cars in 2017
While the release of the GM (NYSE:GM) Bolt has been perhaps less dramatic than some had hoped, the momentum is building for the release of the Tesla (NASDAQ:TSLA) Model 3. Indeed there is so much hype about the Model 3, that Tesla has an anti-marketing campaign (no test drives or advertising for 6-9 months) to calm demand, which shows signs of being very hot.
Meanwhile China continues to set the scene and all of the signs are that it is showing "tough love" to make the industry stronger with fewer manufacturers. Big companies like BYD (OTCPK:BYDDY), BAIC (OTC:BCCMY) and Geely (OTCPK:GELYY) will most likely thrive, but many of the 200 electric vehicle manufacturers in China will struggle. By cutting subsidies, the number of BEVs and plug-in hybrid cars sold in Q1 2017 in China is down 5% over last year, but the plan is to grow production from ~400,000 BEVs in 2016 to 2 million in 2020, and for clean cars to be 20% of sales in 2025.
India has even more dramatic plans to have 100% of cars sold in 2030 to be electric.
There is news of transformational changes planned all around the world. For example a recent report indicates plans to start from scratch a new company to build a Gigafactory for automotive electric batteries and to mass manufacture BEVs in Australia by 2020. By 2020!
Hydrogen fuel cell cars
In January 13 leading energy and transport industry companies launched a global initiative, the "Hydrogen Council," to foster a long-term vision for hydrogen powered vehicles. This included six car companies: Daimler (OTCPK:DDAIY), BMW Group (OTCPK:BMWYY), Honda (NYSE:HMC), Hyundai (OTC:HYMLF), Kawasaki (OTCPK:KWHIY) and Toyota (NYSE:TM).
Daimler: Less than six months later, Daimler has announced that hydrogen vehicles are no longer central to their long-term car plans. CEO Dieter Zetsche stated at an automotive Congress in March that the edge that hydrogen technology had over full battery technology (BEV) is dwindling. The key edge concerned driving range and minimal refueling times. CEO Zetsche acknowledged that battery costs were rapidly declining while hydrogen fuel technology remains expensive. The company plans to release its hydrogen GLC SUV either at the end of this year or early next year for fleet operators, but the problem for commercial viability revolves around manufacture cost and availability of hydrogen produced through renewable technology rather than the existing source through natural gas.
Honda: A significant feature of a Honda Clarity sale is up to $15,000 of free fuel (for a 3-year period). In the US, it is available only in California.
BMW: BMW continues a dual BEV (BMW i3) and hydrogen vehicle (based on BMW 5Series GT) strategy with both BEV and hydrogen vehicles showcased at the 2017 Hannover Messe in late April as its "NewEnergy-4-Mobility2050" zero-emission initiative. This display involved a partnership with Shell (NYSE:RDS.A)(NYSE:RDS.B) concerning a hydrogen fuelling pump dispenser.
Hyundai: Hyundai is the first auto maker to mass produce fuel cell vehicles and recently it extended its hydrogen push to include a Fuel Cell SUV concept car at the Geneva Auto Show.
Kawasaki: Kawasaki talks a good story concerning hydrogen vehicles.
Toyota: While Toyota has embarked on a BEV program, it continues its Mirai hydrogen fuel cell car sales. Sales of Mirai in the US were 72 in 2015, 1034 in 2016, and 417 in January-April 2017. In Japan, there are 1700 Mirai vehicles on the roads. These sales are based on very limited distribution networks and special 3-year deals on the hydrogen fuel. No one is paying for fuel at the moment.
In summary, major manufacturer Daimler already has effectively given up its hydrogen car program, while the other five manufacturers continue with very small numbers of vehicles focused on local hydrogen outlets.
Is there hope for fuel cell vehicles?
The "Hydrogen Council" which was established in Davos earlier this year, understood that there could be no hydrogen fuel cell car future without major government investment. Very recently five entities, Japan, Norway, South Korea, California US and Australian state South Australia, have shown signs of increased commitment to building hydrogen refueling networks. Indeed there is a big push in Japan to showcase hydrogen transport at the 2020 Olympic Games. This will be a major challenge as by 2020 I suspect that BEVs will be well entrenched.
Conclusion
I've made clear in several articles that I think BEVs are going to win this race because the momentum is increasing at an astonishing rate, especially in China and India. I think this means that the companies that continue with hydrogen vehicle programs will have to, like Daimler, eventually (and possibly quite soon) give up their hydrogen vehicle ambitions.
The bigger issue is what 20% of new car sales in China being BEVs in 2025 and India having 100% new car sales as BEVs by 2030 will mean for the oil industry. It begins to look like the BEV projections of the oil and gas majors, which were substantially increased between 2016 and 2017, will have to be completely rethought. This has major implications for your oil and gas company investments. Pay attention.
I am not a financial advisor. I seek to understand dramatic change and get a sense of its timing to help investors think about their investments in transport and fossil fuels. If my commentary is helpful in planning your investments, please consider following me.
Disclosure: I/we have no positions in any stocks mentioned, and no plans to initiate any positions within the next 72 hours.
I wrote this article myself, and it expresses my own opinions. I am not receiving compensation for it (other than from Seeking Alpha). I have no business relationship with any company whose stock is mentioned in this article.
Editor's Note: This article discusses one or more securities that do not trade on a major U.S. exchange. Please be aware of the risks associated with these stocks.