Contributing Authors: Fred McClimans, Zach Mitchell and John Freeman.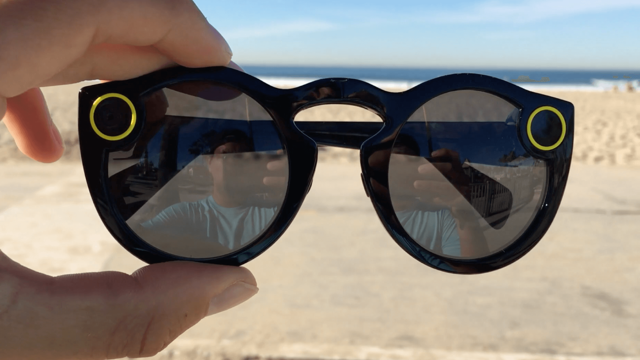 With Snap, Inc. (NYSE:SNAP) expected to release its 1Q 2017 earnings after market close on 10 May 2017, there has been plenty of speculation as to whether the firm will meet, beat or disappoint expectations. But, as we discussed this past Monday on Cheddar's Opening Bell, this earnings release, while it may be its first, is not likely to be its most important, at least from a revenue/earnings perspective.
1Q is never great
Call it the holiday bump, but looking at rivals Facebook (NASDAQ:FB) and Twitter (NYSE:TWTR) as guidance, we're not expecting revenue growth. Facebook reported $8.03b, a +49.3% increase y/y but a decline $770m from the prior quarter. Twitter, meanwhile, reported a y/y decline of -7.8% on revenues of $548m, a drop from the prior quarter of $717m.
Snap enjoyed strong growth in 2016, particularly in the North American market, where revenue increase sequentially q/q from 1Q 2016 of $35.9m to 2Q 2016 of $65.2, 3Q 2016 of $114.8, and 4Q 2016 of $145.4.
From a regional perspective in Q4 2016, North America accounted for $145.4m, or 87.7% of Snap's total 4Q 2016 revenue, while Europe and Rest of World accounted for $14.7m (8.9%) and $5.66m (3.4%), respectively.
Looking to 1Q 2017, consensus revenue estimates range around $158-$160m, a decline from 4Q 2016 revenue of $166m. Given the relative weakness of this quarter, we would not be surprised to see a slight miss on consensus to the $156-$158m range (but would not be surprised to see it on the higher end, particularly if Snap is successful in leveraging IPO buzz into broader "testing" by new advertisers).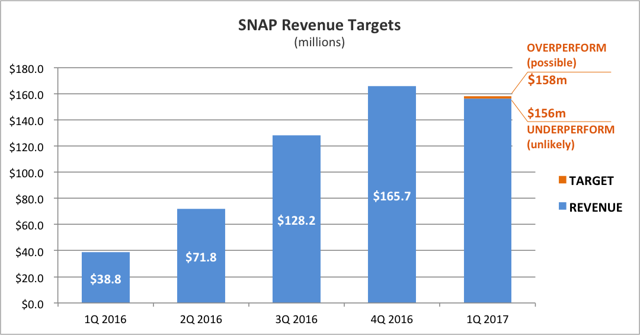 The Users Matter
The more important metric for Snap is the DAU, or daily active users (it counted 158m DAU in 4Q 2016). In contrast to the breakdown of revenue, North America only accounted for 68m DAU (42.8%) in 4Q 2016, with Europe and Rest of World accounting for 52m (32.7%) and 39m (24.5%), respectively. When comparing the regional revenue against DAU numbers, the significance of North American users becomes clear.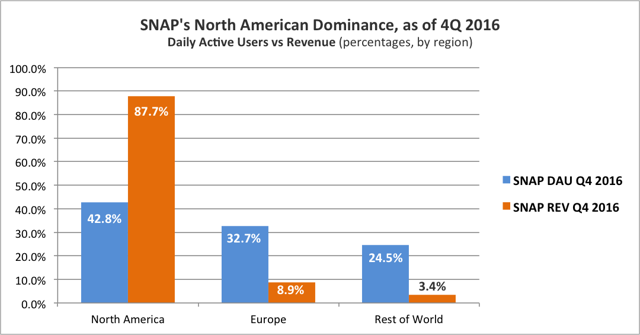 For comparison, these numbers are not far off from Facebook, which generates around 75% of its revenue from North America, which represents less than a third of its total active users.
With the media hype surrounding Snap's IPO, we certainly expect Snap to have increased its DAU count during 1Q 2017, but we're also concerned about the limited demographic focus of Snap's Snapchat and the increasingly strong competition from Facebook's Instagram (and potentially WhatsApp and Messenger).
Consensus estimates for DAU growth in 1Q 2017 are around 6%, or the addition of 9.5m users. Given the ongoing heat from Facebook and Snap's high saturation of its core demographics, we would not be surprised to see new users in the 7m-9m (4% - 6%) range.
We also would be inclined to discount any significant, or unexpected, increase in DAUs or revenue until 2Q results are released (to balance any increases generated by the hype of Snap's IPO).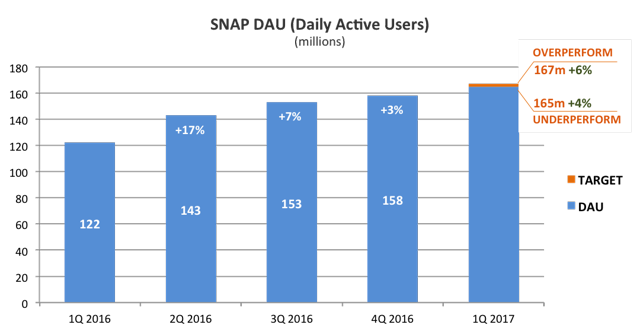 Key will be the mix of North American vs Europe/Rest of World. We're less concerned with Europe/ROW expansion at this point, believing the North American market has significantly higher ARPU potential over the next 12-18 months.
Our 1Q 2017 Earnings Focus
Snap is a young company by many measures, still evolving its video and advertising/revenue models. While 1Q 2017 will be important, we do not believe this quarter will, or should, define the company. Beyond the key DAU numbers, we're watching three key areas in the results and earnings call that we believe set the stage for future growth:
1) Focus = Camera + Media Consumption + Lifestyle: Snap bills itself as a camera company, but we believe this implies more of a "lifestyle" focus, something we'd like to see expanded. As the camera becomes less of a product and more of a feature, Snap needs to bring in other feature elements (beyond its current AR initiatives) that build on this focus. We believe its expansion of video, both as an advertising medium and a content consumption medium, is in the right direction.
Snap's Discover offering already has over 40 content partners (including CNN, Vogue, New York Times, Vox, Mashable, Comedy Central, MTV, and The Economist), and it is expanding its video line aggressively. This includes a strong dose of video and similar consumable content from partners such as Snap shareholder NBCUniversal (NASDAQ:CMCSA), Food Network/HGTV, ESPN, Turner Broadcasting, and the NFL. All of this feeds the lifestyle aspect of Snap - partners that tailor or create content geared towards Snap's core demographic.
More importantly, Facebook, through its combination of offerings, is also driving towards that "all-in-one" lifestyle focus, though towards a decidedly older demographic.
2) Demographic Expansion: Snap currently has a 71% adoption rate in the 18-24yr old US market, while its adoption rate in the 25-34yr old US market is only 37%. More than just DAU growth, we need to see an increase in that older demographic to feel comfortable with Snap's ability to monetize its ad/discovery platform across a larger number of users. This goes hand-in-hand with expansion of its DAU numbers in the North American market.
3) ARPU (Average Revenue per User): Snap's performance ultimately comes down to improvements in its revenue and earnings. Its ARPU number, as reported for FY 2016, lagged significantly behind Facebook ($2.56 to $22.52, respectively). While ARPU in 1Q 2017 may not meet expectations, we're very interested in any changes in the composition of revenue contribution and signs that, at least in the US market, ARPU has a path to move forward.
Included in our look at ARPU will be the breakdown of revenue from Discover (both fixed and video content), Live Stories, Lenses, and Geofilters (we're not looking at "Snaptacles" at all right now).
For additional perspective on Snap's upcoming earnings, Here's an expanded dive into Snap's challenges, with Fred McClimans, Samadhi's Head of Research, from Cheddar's Opening Bell at the NYSE (Monday, May 8, 2017). We'll also be breaking down the results, and Snap's progress, after the earnings call.
For more Samadhi insights, check out our Perspectives on Tech offering in the Seeking Alpha Marketplace.
Disclosure: I am/we are long FB.
I wrote this article myself, and it expresses my own opinions. I am not receiving compensation for it. I have no business relationship with any company whose stock is mentioned in this article.
Additional disclosure: This information is intended as an informational newsletter only. No investment advice is offered. Samadhi Partners, a provider of equity research services and newsletters, is a commonly-controlled affiliate of Samadhi Capital Partners that offers a long/short and long-only strategy. Samadhi and/or its affiliates may have positions in stocks mentioned and/or traded in these names as of today.