Last week, Incyte (NASDAQ:INCY) reported better-than-expected Q1 2017 results driven by a solid performance for Jakafi.
The stock closed up 1.5% because expectations were high into the quarter and the market seems still focused on the next key pipeline readouts related to the IDO1 inhibitor.
Q1 2017 results
Incyte reported Q1 2017 adjusted sales of $384M, 7% ahead of consensus expectation, while EPS was -$0.96, approximately in line with consensus. FY 17 guidance has been reiterated. In summary, it's unlikely that we will see any changes in the consensus numbers for Incyte after this reporting season.
Main takeaways from the quarter
The corporate signals from the Q1 2017 results have been really positive for two key reasons:
The performance of the most important short-term driver for Incyte (i.e. Jakafi) has been better than expected.
The management's tone during the conference call was very bullish related to the key pipeline readouts, which will be presented at ASCO in Chicago in June 2017 related to its immunotherapy compound epacadostat.
On the negative side, Incyte has not provided any additional comments related to the complete response letter received by the FDA on baricitinib:
Last month, with Lilly, we announced some not-so-bright news when the FDA issued a complete response letter for baricitinib for the treatment of patients with rheumatoid arthritis. This will delay any potential U.S. approval of baricitinib versus our original assumption, which was for approval on the April PDUFA date. The CRL indicated that additional clinical data are needed to determine the most appropriate dosage and to further characterize safety concern across treatment arm. We expect that Lilly will now engage with the FDA to discuss the Agency's concern and determine the potential path forward. - Source: Incyte's Q1 2017 Conference Call
Thus, we still can't rule out that the FDA will require a new clinical trial before approving the drug with a consequent delay of 18/24 months to get the drug in the market.
Jakafi sales were $251M, $17M higher than Street expectations, driven by a solid patient demand and some minimal inventory stocking effect. There are 10,000 patients on Jakafi in Q1 2017 compared to an addressable population of around 40,000 patients suffering from myelofibrosis or polycythemia vera. Thus, it looks like this drug will remain a strong driver of growth and cash generation for the company, at least for the next few years.
Lastly, Incyte's management was bullish about the potential clinical profile of its IDO1 inhibitor in combo with Merck & Co.'s (NYSE:MRK) pembrolizumab and Bristol-Myers Squibb's (NYSE:BMY) nivolumab across multiple tumors (i.e. bladder, head & neck, non-small cell cancer, renal, ovarian and triple negative breast cancer) from the Phase I/II trial ECHO-202 and ECHO-204.
Next month, we look forward to the presentation of multiple cohorts of Phase 2 epacadostat data at ASCO in Chicago. The data sets from the ECHO-202 of epacadostat in combination with pembro contain approximately 30 to 40 patients per tumor type. And of these, the bladder and head and neck cancer cohorts will be oral presentation, and the non-small cell lung cancer and renal cancer cohorts will be highlighted in poster discussions. The pooled safety data from across the ECHO-202 study will also be a poster discussion. The ECHO-204 trial of epacadostat in combination with nivo will also be an oral presentation and will include efficacy data from several, but not all of the tumor types being studied in the ECHO-204. Beyond the ECHO-301 trial in melanoma, we expect to start at least eight new pivotal trials of epacadostat plus PD-1 inhibitors across all different tumor types. This generates a total of at least 14 pivotal trials, either in progress or planned for the coming months. - Source: Incyte's Q1 2017 Conference Call
Thus, it's worth noting that the confidence of the management to start many Phase III trials for epacadostat suggests that we should see some strong data at ASCO for this compound. Despite that, I prefer to have more clarity about the actual profile of the combo related to both efficacy and safety before being more aggressive related to the outlook of this compound.
Scenario Analysis
I have modeled a Scenario Analysis to analyze how different expectations related to 2021 sales for baricitinib and epacadostat could affect Incyte's valuation. I used a multiple valuation, assuming that Incyte will trade at 15x 2021 P/E with a peak operating margin of 60% and 15% tax rate.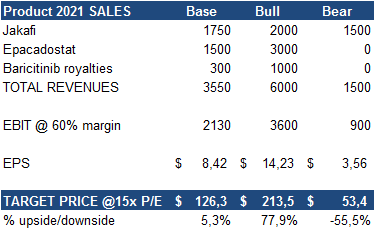 Source: My Own Valuation Model
The base case analysis suggests that Incyte is currently fairly valued. In addition to that, the company has around 77% upside risk under a bull case scenario compared to 55% of downside risk in a bear case analysis. Thus, I think this analysis reinforces my conviction that the risk/reward is currently not compelling enough to chase Incyte.
Conclusion
The key investor takeaway is that the corporate signals have been really good with some positive messages related to both Jakafi and the IDO1 inhibitor. I like Incyte's investment case, but, as discussed here, I think the risk/reward is much less compelling than few months ago, and I will wait for a better (re)entry point later during the year in addition to some more visibility related to the clinical profile of its IDO1 inhibitor. A further interesting analysis about this stock can be found in this excellent article from DoctoRx.
Disclosure: I am/we are long SHPG.
I wrote this article myself, and it expresses my own opinions. I am not receiving compensation for it (other than from Seeking Alpha). I have no business relationship with any company whose stock is mentioned in this article.
Additional disclosure: Not investment advice