Bitcoin continues to soar. It reached new all-time highs at the end of April. And, after breaking that technical resistance, it's now started to go parabolic. The price is up almost $500 per Bitcoin over the past two weeks, with Bitcoin trading up to almost $1,800 today:

Just today alone, Bitcoin has traded in a nearly 10% range, with a strong overnight sell-off met by intense buying. Since the 4 A.M. (Europe time) low, bitcoin is up $100:

This is, needless to say, not a normal market. It's the sort of frenetic topping action you tend to get as wild moves hit their emotional peak. Remember silver's drastic several bucks a day moves as it neared its ultimate top around $50/oz in 2011 for a historic action of this sort of enthusiasm.
That's not to say Bitcoin is immediately topping. It could continue to go higher for a few more days before this current wave breaks. Given the fundamental illiquidity of the market, it's very hard to short Bitcoins, unlike gold, silver, crude, and other such alternative investments that are prone to similar one-way moves. The inherent limitations in the Bitcoin market could allow this parabolic run to go on longer than we'd expect.
That said, there's a difference between buying Bitcoin itself and an even more illiquid Bitcoin trust. I'm speaking specifically of the Bitcoin Investment Trust (OTCQX:GBTC), which is OTC-listed (the SEC didn't approve the Winklevoss Bitcoin ETF that tried to list on a big-board stock exchange).
In recent days, GBTC has gone on an epic run, far outpacing the moves in Bitcoin itself: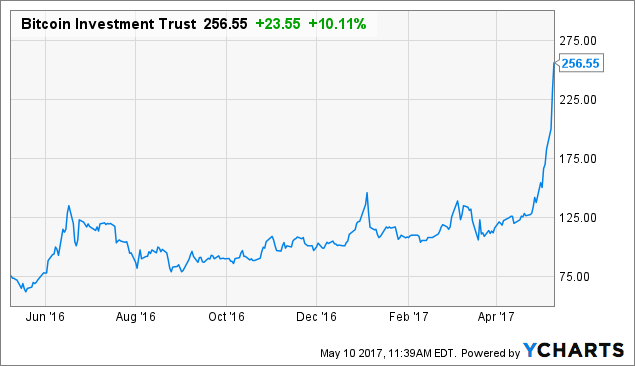 GBTC
data by
YCharts
As you can see, GBTC has more than doubled since late April, while Bitcoin itself is up only around 50%. You can see how this would a problem; GBTC is now trading at a massive premium to its actual value.
GBTC is supposed to be worth one-tenth of a Bitcoin per share (minus management fees that accumulate over the years - the current ratio is now .093 Bitcoins per share). Thus, a GBTC price of $255 implies that Bitcoin is trading around $2,700. And yet, Bitcoin is actually only at $1,780 at present.
From the sponsor's website, we can see this demonstrated rather starkly:

As of Tuesday's close, a $233 GBTC share was backed by merely $158 of Bitcoin. That means, a GBTC buyer today is paying about a 50% premium to get access to the Bitcoin trust.
I get the advantages of being able to buy a publicly-listed ticker rather than buying Bitcoins on the private market. However, I'd argue it's not worth a 50% premium to do so - if you want to make a substantial investment in Bitcoin, make sure to do so at the market price, not a massive premium. People often complain about the physical gold market, since you often have to pay a 2-3% premium to buy metal compared to the futures price. A 2% premium is one thing, but 50% is a totally different matter.
Why Has This Situation Developed?
For one reason, it's unlikely that most people buying GBTC realize what's going on here. As one analyst put it on Twitter:
As he notes, it is very difficult to short GBTC. The OTCMarkets website shows persistently low short interest in GBTC - generally, no more than 15,000 shares on a vehicle with almost 2 million shares outstanding. It's generally very difficult to find shares of OTC-listed stocks to short, unless you deal with exotic offshore brokerages. While there is a massive arbitrage opportunity here, few people with capital have the means to exploit it.
How does this likely play out? Once the price of Bitcoin stops rising, people owning GBTC for the momentum trade will be forced to consider their positions rationally. Once buyers show red ink on their purchases, at least some of them will look to NAV to see what they actually own, and GBTC could get walloped. As it is, Bitcoin would have to top $2,700 for a buyer at today's GBTC price to merely break even assuming GBTC eventually trades back to its NAV.
Bitcoin is a high-risk, high-reward speculation today. I think the price has gotten out of hand and is subject to a large near-term correction. But if you want to speculate, go ahead. However, GBTC, at a more than 50% premium to the price of Bitcoin requires a heavy dose of magical greater fool thinking to justify. If you're long the trust, take advantage of the market's irrationality to sell Bitcoins at the equivalent of $2,700/pop and either buy on the private market at the spot price or wait for a correction in GBTC.
Value Investor's Edge - where I contribute one or two of my top ideas a month - is celebrating its two-year anniversary this week. Enjoy a free trial now to see what we offer there. This is a limited time offer, don't miss out.
Disclosure: I/we have no positions in any stocks mentioned, and no plans to initiate any positions within the next 72 hours.
I wrote this article myself, and it expresses my own opinions. I am not receiving compensation for it (other than from Seeking Alpha). I have no business relationship with any company whose stock is mentioned in this article.