Overview
Every Wednesday, the EIA releases inventory figures for crude oil (NYSEARCA:USO) and petroleum products. Inventory figures are closely monitored to assess the state of current demand. Typically, markets view inventory draws as being bullish while inventory builds are often regarded as bearish, though outcomes are not always black and white.
Crude Oil Inventories By the Numbers
Crude oil inventories declined by -5.2 mmb/d through the week of 5/2/2017 as refinery input declined and imports dropped. Meanwhile, total petroleum product inventories declined by -3.6 mmb/d, driven by a -0.2 mmb/d draw in gasoline and a 1.6 mmb/d decline in distillate inventories. Crude inventories remain at the upper-end of the yearly range, higher than the year-ago period. To be sure, total crude inventories are at 522.5 mmb vs. last year's 508.5 mmb.

Source: EIA
In last week's article, we laid out our reasoning behind our divergent inventory assumptions. We had assumed that due to bloated gasoline inventories, refiners would scale back production leading to a short-term divergence between gasoline and crude oil inventories. In light of today's data, this looks to be partially correct. Refinery inputs declined by -418 tb/d from a five-year high of 17.2 mmb/d to 16.8 mmb/d. This figure is below the current year's four-week average of 17.0 mmb/d but higher than last year's four-week average of 16.0 mmb/d. Strangely, the drop in utilization rates wasn't enough to limit petroleum product production as overall products supplied rose by 651 tb/d w/w. Gasoline products supplied rose by 252 tb/d followed by a 933 tb/d rise in other oil, and 194 tb/d increase in residual fuel oil. We are continuing to expect declining refinery inputs as gasoline supply continues to be elevated.

Source: EIA
Crude Oil Imports Drop Driving Drawdown
Quite surprisingly, crude inventories dropped by -5.2 mmb/d. Digging into the report, it becomes apparent that falling imports may have been the reason. For the week, net imports dropped by ~800 tb/d driven by stronger export volumes and lower import volumes.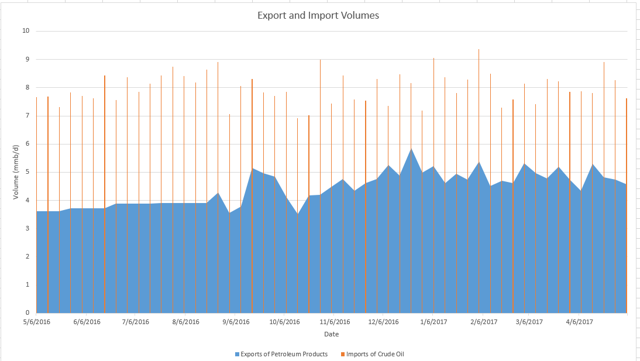 Source: BlackVault Investments Research
Since last year, export volumes are higher while import volumes are below the prior two-year averages. Possible explanations for the drop in imports is a decline in refinery output, particularly non-gasoline products. Light oil, which is produced by US shale, is used more in producing gasoline than heavy oil. The shift toward light oil inputs and gasoline output vs. heavy oil inputs and distillate outputs may be a factor. To be sure, gasoline volumes rose while distillate products declined. We would not put too much emphasis on any one draw figure, particularly if it is the result of falling import volumes.
Conclusion
The short-term picture for inventories will likely be impacted by higher product inventories and lower refinery inputs. Gasoline inventories continue to be elevated and will need to see draws into the summer to convince markets that demand trends are stable.
Crude oil inventories were heavily impacted by growing US production.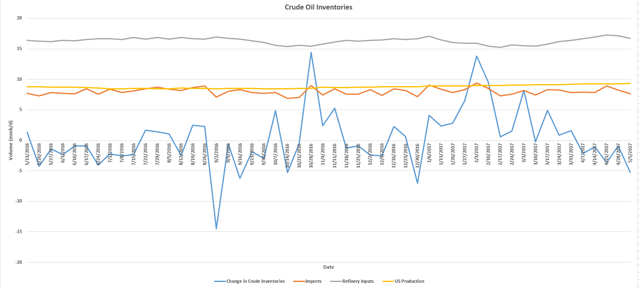 Source: BlackVault Investments Research
Seasonality and rising US production bloated inventories and pressured crude prices. Inventories continue to shake off new supply as refinery inputs increase. This dynamic makes it essential that refinery inputs remain sustainable, which will ultimately rely on healthy downstream demand. The small drop in gasoline inventories represents a continued risk to refinery inputs as bloated gasoline inventories will force refiners to cut production, and crude inventories may build once again. Once again, this could very well be a short-term trend as seasonality picks up. Ultimately, greater clarity is needed.
Disclosure
This article contains the opinions of BlackVault Investments and in no way is acting as an offering and/or solicitation of securities or investment advice.
If you have any questions, feel free to leave them in the comment section or message me directly. Thank you for reading and good luck to all.
Disclosure: I/we have no positions in any stocks mentioned, and no plans to initiate any positions within the next 72 hours.
I wrote this article myself, and it expresses my own opinions. I am not receiving compensation for it (other than from Seeking Alpha). I have no business relationship with any company whose stock is mentioned in this article.