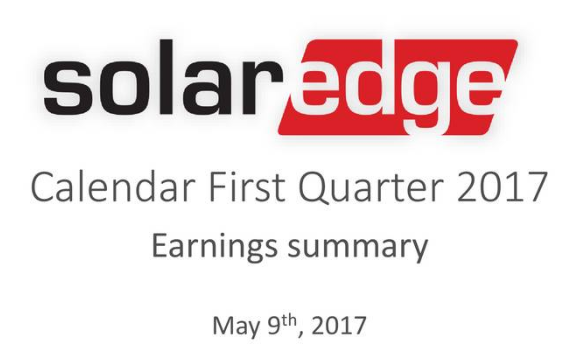 Tough market conditions
I wrote an overview of the solar market on April 10th 2017. As earnings results unroll, my view of the industry remains bearish in the medium term. The market is saturated with cheap products and still faces considerable pressure from fossil fuel current low prices. In addition, companies still require significant government subsidies and investments to remain operational. SolarEdge's (NASDAQ:SEDG) earnings call yesterday reiterates the challenging market conditions, citing instances of bankruptcies, such as Sungevity, and the general credit deterioration of some of their US customers. Nevertheless, it enjoyed an excellent quarter.
Q1 results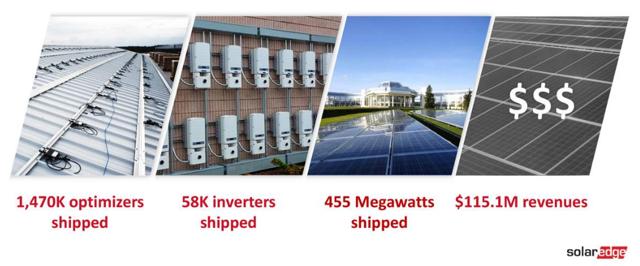 Source: Q1 2017 Earnings Slides
SolarEdge results were very positive. In the quarter ending March 31, 2017, the company shipped 455 megawatts of AC nameplate inverters, under 1.5 million power optimizers and 58,000 inverters.
Q1 2017 reported revenue of $115.1mil, although this represents a decrease of 8.1% from $125.2mil in Q1 2016, it was actually $0.95mil better than expected. The $10mil decrease was due to the flat revenue growth in the US, where ASP was down by 16%. This marked a particularly difficult quarter for the residential segment. Management cited instances of bankruptcies and overall credit deterioration of US customers. However, the commercial segment saw record sales beyond management expectation thanks to the success of HD inverter roll out, yielding higher reliability and cost reduction. Geographically, US was poor. On the other hand, the EU enjoyed the strongest market share growth, with The Netherlands and Germany contributing the most. Japan and Australia also performed well, now accumulating to 10% of the sales mix. Current mix at 65% US, 25% EU, 10% Japan and Australia and 10% Rest-of-the-world (RoW).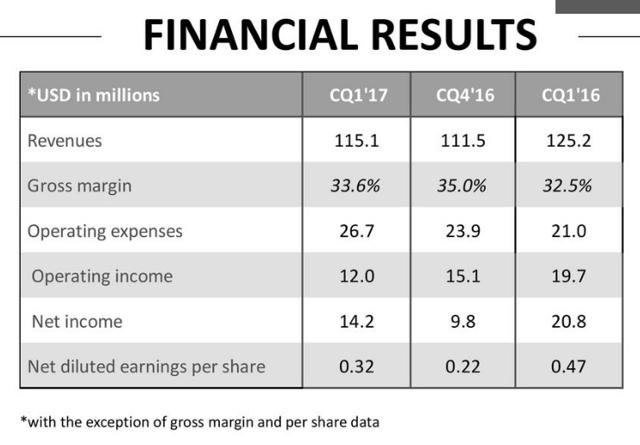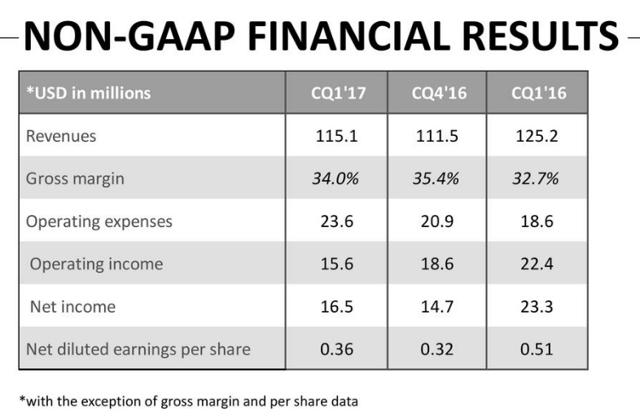 Source: Q1 2017 Earnings Slides
Gross margin - GAAP gross margin of 33.3%, higher than Q1'16. This was due to continued efforts to manufacture more products outside the EU. Thus, we can expect more production in China in the future.
"We are renting up now two automatic lines in China they are supposed to be ramped up before the end of the quarter. From this point on about 50% of everything we'll be producing in China will be coming from automatic line and then we're ramping up another automatic line in Europe. So I think that by the end of the year I would expect that 80%, 85% of all optimizer will be produced from fully automatic line."
Source: Q1 2017 Earnings Call
I find this quite impressive as in the previous three years gross and operation margins were at 24% on average, and now - at 33%.
Net margin decreased from 23.3% to 16.5% and EPS also dropped from $0.51 to $0.36. The main reasons are due to the significant increase in R&D, and sales and marketing expenditure, 31.6% and 22.1% increase compared to Q1'16. However, management is happy with the surge in R&D as they see opportunities to invest in new product developments and further room to cut costs.
FCF and cash position are strong again - especially with capex merely at $2.1mil, considerably lower than the previous year of $5.9mil. Subtract from OCF, SolarEdge ends the quarter with and extra $23.6mil of FCF. As a result, the company's cash position (cash and marketable securities) improved to nearly $250mil, more than one-third of the market cap is cash. Solid!
Takeaway
SolarEdge has been very skilful at navigating through the current challenging market. Despite depressing demand in the residential segment, the company is making inroads within commercial and improving market penetrations in most countries it operates. I particularly like the healthy geographic diversification - currently 65% of sales are in the US and 35% are outside (15% EU, 10% Japan and Australia, 10% RoW). It is in the right position to achieve the management's aim of a 50/50 split (US vs. non-US) by the end of 2018. Within the commercial segment, the sales mix already is at 42% for EU, 42% US, and 15% for RoW. Hence, further strengthening the company's ability to smooth out the adverse effect if one particular market deteriorates faster than others.
"Our long-­term plans is to reach in the end of 2018 more or less 50 percent between residential and commercial and 50 percent between U.S. market and markets in Europe and in Asia. We are above 25% today and moving to the direction of the reaching 50% sometime by the end of 2018. "
Source: Q1 2017 Earnings Call
Another feature I like is SolarEdge's ability to maintain such a pristine balance sheet, holding a cushion of almost $250mil in cash, strong liquidity ratios and remains debt-free in this market condition. Moreover, although Q1 is usually the quietest quarter of the year, minus extraordinary events, if Q2-Q4 performance will not be far off Q1, the company's FCF will be in the ballpark of $90mil for 2017. That makes SolarEdge valued at less than 10x FCF.
At a $700mil market cap, I think there is money to be made. It might not have exciting catalysts like First Solar (NASDAQ:FSLR) Series 6 or asset consolidation but SolarEdge is a runaway powertrain priced very reasonably. The upside is well supported by the positives discussed. More importantly, the downside risk is minimized thanks to its strong business proposition, pristine balance sheet, strong free cash flow, ability to innovate and increasing market penetration in difficult times, and, lastly, management's laser focus to tighten costs.
Disclosure: I am/we are long SEDG, FSLR.
I wrote this article myself, and it expresses my own opinions. I am not receiving compensation for it (other than from Seeking Alpha). I have no business relationship with any company whose stock is mentioned in this article.