With both FibroGen (NASDAQ:FGEN) and Akebia (NASDAQ:AKBA) currently in Phase 3 trials for their drugs, roxadustat and vadadustat, to treat anemia associated with chronic kidney disease (CKD), investors have an eye on both drugs to see which can come out on top. Both drugs are oral HIF inhibitors, hypoxia-inducible factor prolyl hydroxylase inhibitor (HIF-PHI) mimicking the effects of the body's reaction to high altitude. With black box warnings for ESAs, if approved, these drugs have the potential to be a less costly and potentially safer alternative to current treatment options.
Why Investors Should Care:
AKBA recently partnered with Otsuka to develop and commercialize vadadustat in Europe, China and other territories. Combined with its previous partnership with Mitsubishi Tanabe, this could give AKBA an edge over Fibrogen.

FibroGen, however, has the backing of AstraZeneca, collaborating for the development and commercialization of roxadustat in the U.S., China, and other markets.

AKBA points to an addressable market of 1.8M patients in U.S. suffering from anemia related to chronic kidney disease, including approximately 400,000 dialysis patients and points to an unmet need in the market after the FDA issued black box warnings on ESAs.
Why Speak to an Expert:
The expert will be able to weigh in on the previous Phase 2 data from both companies and the likelihood of success with a P3 trial.

The expert will weigh in on the potential of HIF inhibitors vs. existing treatments.

The discussion will focus on chances of approval and market potential of the two candidates, roxadustat and vadadustat. and if one may show superiority.
Who's the Expert?
Director of Division of Nephrology, Norman S. Wikler Professor of Medicine & Professor of Pharmacology at NYU Langone.

In practice for 33 years, double board certified in Nephrology and Internal Medicine, and has extensive experience treating patients with CKD and FSGS.

Published a number of articles in peer reviewed journals and member of several professional organizations including The American Society for Clinical Investigation
Questions Investors Are Asking the Expert:
Please describe your experience treating patients with anemia associated with CKD. Roughly what percentage of your patients suffer from anemia associated with CKD?

Anemia in CKD patients is currently treated by iron pills, erythropoietin injections, red blood cell transfusions, vitamin B12 and folic acid supplements, or managing eating, diet, and nutrition. Which of these treatments do you use in your practice? How do you determine which treatment to use? Please discuss the safety and efficacy of each of these treatment options.

Vadadustat has been shown to inhibit hypoxia inducible factor-prolyl hydroxylase (HIF-PH), leading to stabilization and increased levels of HIFα. There are currently no approved therapies that utilize this mechanism of action. What are your opinions on this mechanism of action? Please compare the safety and efficacy of Vadadustat to treatments currently used.

Roxadustat is an orally administered small molecule that corrects anemia by a different mechanism of action from that of ESAs. As a HIF-PH inhibitor, roxadustat activates a response that is naturally activated when the body responds to reduced oxygen levels in the blood, such as when a person adapts to high altitude. What are your opinions on this mechanism of action? Please compare the safety and efficacy of Roxadustat to treatments currently used.

Roxadustat and Vadadustat are both HIF-PH inhibitors. Has the data suggested any significant differences in safety or efficacy between the two drugs?

How do you view the chances of approval for Vadadustat? For Roxadustat?

Assuming both are approved, what percentage of the market do you think each drug will attain and why? How do you see the market share for each drug changing over the next few years?

Are there any other drugs in development that could disrupt the market?

Could you discuss the different dosing (TIW for Roxadustat vs. both daily and TIW for Vadadustat) in particular the possibility of tachyphylaxis with Vadadustat in the daily dosing as the graph below is illustrating.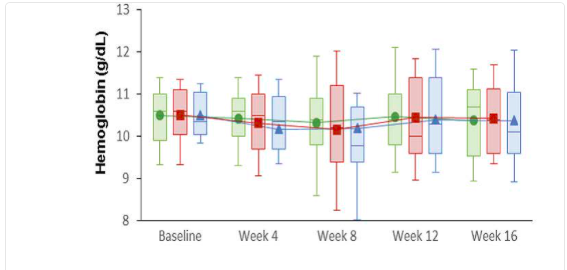 If you're interested in accessing the FGEN/AKBA call and adding your questions for the expert, visit here. A full transcript will be posted to our Seeking Alpha premium service 4 weeks after the call is executed.
Disclosure: I/we have no positions in any stocks mentioned, and no plans to initiate any positions within the next 72 hours.
I wrote this article myself, and it expresses my own opinions. I am not receiving compensation for it. I have no business relationship with any company whose stock is mentioned in this article.