What happened?
An extremely bearish article regarding the AT&T (NYSE:T) and Time Warner (NYSE:TWX) merger was written recently titled, "Will The AT&T/Time Warner Merger Create The Most Expensive Equity In U.S. Trading History."
The author conjures up a very scary future for AT&T shareholders fraught with asset sales, dividend cuts, and massive dilution. This is all due to the massive debt load created by the combined entity. I beg to differ. In the following piece, I make my case now may be exactly the time to buy, not sell.
Contrarian perspective
The current state of affairs regarding AT&T's situation reminded me of this great quote by president Theodore Roosevelt. Roosevelt stated:
"Nothing in the world is worth having or worth doing unless it means effort, pain, difficulty… I have never in my life envied a human being who led an easy life. I have envied a great many people who led difficult lives and led them well."
This is exactly how I feel about AT&T's quest to become the global leader in telecommunications, media, and technology (TMT). In order to do this, AT&T has taken out a large amount of debt to facilitate the build out of a fifth generation network to support unlimited data and content distribution. You can watch the company's latest commercial describing its vision here.
Nevertheless, the author makes a good point the debt load will be extremely high once the merger is completed. He goes on to say this will essentially wreak havoc on the stock and dividend. Yet, I don't see this way for the following reasons.
Debt load not an issue pre-merger, why after?
The author makes the point the company will have one of the highest debt loads of any conglomerate out there. That may be true, but I don't care one iota about the fact.
The fact of the matter is both companies have been handling their respective debt loads just fine prior to the merger. Therefore, I only see the debt becoming easier to handle after the merger. There will surely be increased profits combined with lowered cost due to the synergistic nature of the merger. Both AT&T and Time Warner are handling their respective debt payments just fine as of today. The author states there is a good chance AT&T will have to cut the dividend to service the debt load. I don't see this happening. AT&T is a dividend aristocrat.
Dividend aristocrat status
I did not hear the other author even mention this once. AT&T has grown the dividend for the past 32 years since 1985. This means the company did not cut the dividend when the dot-com bubble busted or during the great recession bottom of 2009. That is a pretty strong dividend-paying resume if you ask me. I have faith AT&T can navigate the debt load and continue to grow the dividend.
The three things I want to see from an income stock in my portfolio is a solid, long-term growth story, safe and predictable cash flows, and a long history of increasing dividend payouts. I would say AT&T has all the bases covered.
Disrupting costs a pretty penny
AT&T is on a quest to become the global leader in telecommunications, media, and technology (TMT). Chairman, Chief Executive Officer and President Randall Stephenson stated:
"Our strategy was focused on becoming the premier integrated communications company in the world, and we have been on a journey to design and deploy the world-class wireless, fiber and Internet Protocol (IP) networks to make that happen."
So the company is spending billions to upgrade the network worldwide. On top of this, AT&T is spending $85 billion to buy Time Warner. Time Warner is the final piece of the puzzle and the key strategic asset that will allow AT&T to disrupt the industry. Stephenson states:
"With Time Warner, we intend to disrupt the existing linear pay-TV model and innovate with new content, addressable advertising and subscription models. Disruption requires bold steps, and combining AT&T's scaled distribution with Time Warner's scaled content creation will allow us to drive a level of competition, innovation and consumer choice the industry and its customers haven't seen before."
I like this plan. What this means to me is the leadership of AT&T has its eye on the ball. This reminds me of another investing mantra I feel may be lost on many so focused on the short term and the past. Wayne Gretzky's famed quote to his son regarding hockey:
"Skate to where the puck is going, not where it has been."
I am buying into AT&T now based on where I see the company going in the coming years, not where it has been. Nonetheless, AT&T hasn't done that bad as of late. Let's take a look at the recent results.
AT&T handling debt load just fine
The following are recent financial highlights. In order for the dividend to be safe, we need to see solid financial results.

Increasing revenues
Consolidated revenues of $168 billion were up approximately 11% year over year.

Source: Att.com
The dividend payout ratio was 70% based on an $11.8 billion dividend payout divided by $16.9 billion in free cash flow. The company reported a record amount of cash flow from operation for 2016 as well.

Source: Att.com
Cash flow from operations was up 25% since 2014. This led to the $16.9 billion in free cash flow, which was up 70% since 2014.

Source: Att.com
Keep in mind this is after servicing the debt.

Source: Att.com
The company had already spent greater than $140 billion in capital expenditures in its network as well as buying up spectrum and wireless operations.
What's more, during this time, the stock has rallied nearly 80% since the 2009 lows.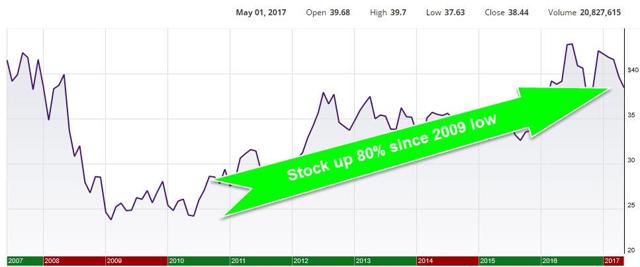 Source: Scottrade.com
Even so, the stock is currently teetering on oversold status with an RSI of 31 at present.
The bottom line
AT&T has set out on a very difficult mission… to disrupt the way content is curated and distributed. In order to do this, a new fifth generation network is needed to deliver the goods. This cost money upfront, hence the high debt load and ratio. Nonetheless, I have faith in AT&T's management to make it happen. You have to have courage in your conviction to make money in the market. If you don't, you inevitably sell out just when you should be doubling down. The fact the merger entity of AT&T and Time Warner will have one of the highest debt loads of the conglomerates is an interesting statistic. Yet, it has no bearing on whether or not the company can handle the load. I say it can and will. Those are my thoughts on the matter. I look forward to reading yours.
Your input is required!
The true value of my articles is provided by the prescient remarks from Seeking Alpha members in the comments section below. Is AT&T a buy right here? Why or why not? Thank you in advance for your participation.
Final note: If you enjoyed this article, please click the "Follow" button. I would greatly appreciate it.
Disclosure: I am/we are long T.
I wrote this article myself, and it expresses my own opinions. I am not receiving compensation for it (other than from Seeking Alpha). I have no business relationship with any company whose stock is mentioned in this article.