Snap (NYSE:SNAP) shares are back to square one. The company delivered a tough quarter this Wednesday evening to say the least, and the stock is trading not too far from the IPO price of $17 a piece after hours.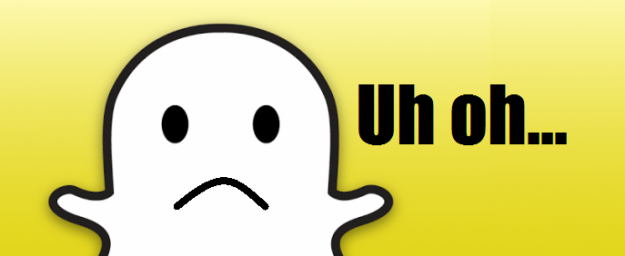 Credit: McMinn
Timid revenues of $149.6 million in the quarter lagged consensus estimate of $158 million, while a whopping $2 billion in SBC (stock-based compensation) helped to push GAAP losses to $2.31 per share. On an SBC-adjusted basis, net loss of $0.23/share compares unfavorably to consensus loss of $0.19.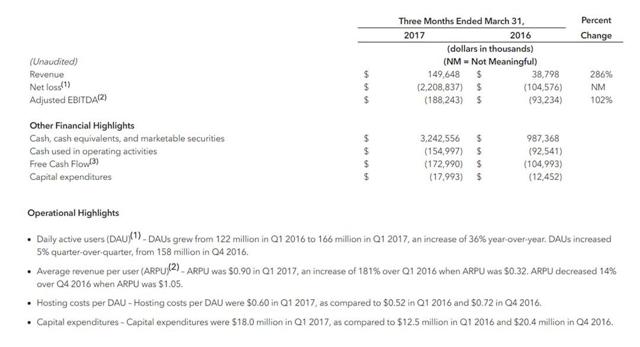 Source: Company reports
The terrible headline numbers mask a slight improvement in DAU (daily active users), which was up 5% sequentially and reversed a growth deceleration trend that had started to take form last year (DAU was up only 3% sequentially last quarter vs. 7% in 3Q16). Remember, from one of my previous articles, that this level of growth is what I project would be necessary, on average, for the company to produce $1 in EPS by 2020 and justify a stock price in the low $20s by then. This, however, might have been the only piece of slightly positive news to come out of Snap's earnings release.
I was very negatively surprised to see the sharp sequential decline in ARPU (average revenue per user) this quarter, to $0.90 from $1.05 in 4Q16. I understand that seasonality might play a role, as the company has exited the 2016 holiday quarter. But keep in mind that ARPU in fact grew by 3% in 1Q16, which makes this quarter's 14% drop seem a bit concerning.
Snap might still be in the early innings of its monetization efforts, considering the company made its first ad dollar as recently as 2014. But to reach the $3 ARPU that I believe is needed to prove the Snap business model viable and the stock price justifiable, it looks to me like there is quite a bit of work yet to be done.
Elsewhere on the earnings report, GAAP gross margin of -9% is better than the -12% achieved in 2016 but is still not something that the company might want to brag about. Hosting cost of $0.60 per DAU continues to look very high to me (+15% YOY), considering the modest $0.90 in ARPU. I doubt, however, that investors will care as much about profitability this early in the game, especially since Snap seems to have a lot of work to do on the user growth and monetization fronts first.
My takeaways
Snap missed its first chance to reward investors who, despite the company's sizable historic losses and uncertainties going forward, chose to give this young tech incumbent a shot. The company continues to be a wild card, and investing in the stock today has become an even riskier proposition, in my view.
In the short term, I expect SNAP to bounce around rather frantically. Traders looking to make a buck on the swings will likely fuel the volatility. But looking further out in the future, 1Q17 results served to push the company farther away, and not closer to, what I believe it needs to produce to justify the current stock price. The minimal level of confidence I had in Snap earlier this year has hit rock-bottom tonight.
To reiterate my previous opinion, I believe investors looking for a great internet company to put their money in could give Facebook (NASDAQ:FB) some consideration. If anything, SNAP might be better suited for speculating at this point.
Note from the author: I invite you to follow me as I build a risk-diversified portfolio designed and back-tested to generate market-like returns with lower risk. I call it the Storm-Resistant Growth portfolio. The early results have exceeded my expectations, as the portfolio is beating the S&P 500 on a risk-adjusted basis despite the raging bull. Take advantage of the 14-day free trial (click here), and get immediate access to all the premium material that I have published so far, including my recent quarter-end report.
Disclosure: I/we have no positions in any stocks mentioned, and no plans to initiate any positions within the next 72 hours.
I wrote this article myself, and it expresses my own opinions. I am not receiving compensation for it (other than from Seeking Alpha). I have no business relationship with any company whose stock is mentioned in this article.