Since Apple (NASDAQ:AAPL) passed Exxon Mobil (NYSE:XOM) in August of 2011 to become America's (and the world's) largest company, the technology behemoth has never looked back. Although Apple would briefly lose its spot as #1 for a short period of time to Alphabet (NASDAQ:GOOG) (NASDAQ:GOOGL), Apple remains atop a list of very impressive competitors.
As I'm writing this article on May 9th, 2017, Apple is currently trading at an all-time high, having just recently eclipsed the $800 billion market cap plateau. The next closest company, Alphabet, is trading roughly $150 billion lower, at around $650 billion. Rounding out the top five respectively are Microsoft (NASDAQ:MSFT) at $530 billion, Amazon (NASDAQ:AMZN) at $450 billion and Facebook (NASDAQ:FB) at $430 billion.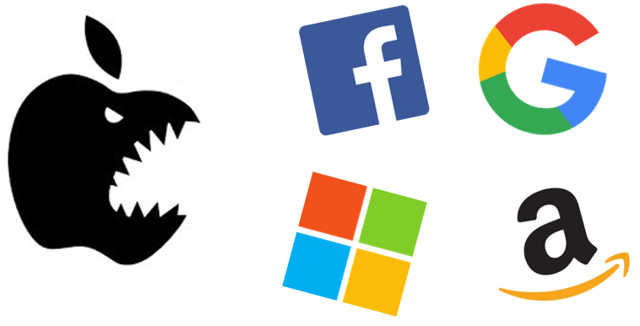 In today's article, I'm going to take a high-level approach to evaluate which of the following three companies will be the largest in the years moving forward:
Apple: The current largest company in America.
Alphabet: The only company to temporarily dethrone Apple as #1 so far.
Amazon: The company which I think has the best chance of permanently dethroning Apple as #1.
I could have chosen to include Microsoft, Facebook, Berkshire Hathaway (NYSE:BRK.A) (NYSE:BRK.B) and several other names; however, for now, I'm only going to consider these three companies.
When examining Apple, Alphabet and Amazon's most recent filings, an overwhelming similarity presents itself - each company generates a large majority of its revenue from one segment. I've presented the data visually below to better outline this idea.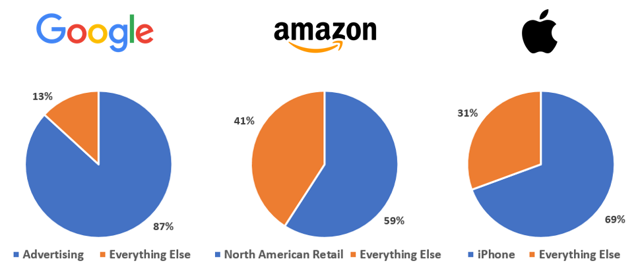 As a result, I'll be looking at the total addressable markets ("TAM") for each of Apple, Alphabet and Amazon's largest revenue sources. More importantly, I'll be examining what each company's TAM will look like in five years and how much market share they can realistically capture. In doing so, I'm hoping to create an "Apple to apples" comparison of three companies which rely on three different markets to generate income. Let's get started.
Apple - iPhones

When looking at global smartphone revenue from the past four years, sales have grown at roughly a 7% CAGR from $330 billion in 2013 to just shy of $430 billion last year. Apple's market share on a per dollar basis has fluctuated over that time, and peaked at 38.5% in 2015 when over $150 billion was spent on iPhones.
With the assumption that the global smartphone market can grow at 10% per year, this presents us with a TAM of roughly $700 billion for Apple in five years. Furthermore, if Apple can capture a 40% share of this market, the company will be able to generate top line figures of $280 billion in 2022.
Alphabet - Advertising

According to eMarketer, spending on global advertising was just over $500 billion in 2015, while coming in at almost $550 billion in 2016. Research indicates that this market is expected to grow at a low single-digit rate over upcoming years. Meanwhile, last year, Alphabet generated $90 billion in revenues, of which roughly 90% came from advertising. As a result, the company generated total advertising revenues of roughly $80 billion, representing a 16% market share of the global advertising market. 2016 advertising revenues for Alphabet grew by almost 20% year over year - one of the strongest figures in recent history.
To project GOOGL's estimated revenue potential from advertising in five years, let's assume global advertising revenue can grow at 5% while Alphabet can muster a 20% growth rate per year in market share traction. In doing so, Alphabet will achieve a 40% market share of a $700 billion market - representing roughly $280 billion in sales.
As a side-note, this was purely a coincidence that both estimates for Apple and Alphabet's potential revenues in five years came in at the exact same figures. On to Amazon.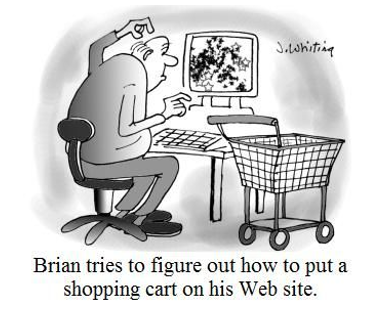 Amazon - North American Retail
When examining Amazon's potential revenues in five years, we first need to consider what total North American ("N.A.") retail sales will be in five years and then how much e-commerce will play into things at that time. According to eMarketer, N.A. retail sales came in at just under $5.5 trillion last year. The market is expected to grow at a 3% pace over the next five years; however, let's assume that number is just 2%.
E-commerce currently only makes up 8% of retail sales in North America. There are many varying estimates as to what percent e-commerce will make up for retail sales in 2022 for North America. As a result, I took an average from a few sources and came up with a figure of 15% to be North America's e-commerce penetration in five years' time. The growth from 8% to 15% represents just under a 1.5% annual overall growth rate per year.
Lastly, Business Insider reported that Amazon accounted for 43% of all online sales in the US last year - a figure which was up from just 25% in 2012. Amazon is also making up more than half (53%) of e-commerce growth in the United States. As a result, I think a number like 67% (or 2/3) is certainly possible for Amazon to achieve as a percentage of North American e-commerce market share in 2022.
Let's put all these percentages into meaningful numbers. If North American total retail sales can grow at 2% over the next five years, this will represent a $6 trillion TAM by 2022. With e-commerce making up 15% of this market, that leaves Amazon with $900 billion in potential online sales from North America. If Amazon can achieve 2 out of every 3 North American online retail sales, the company is looking at a top line of just over $600 billion five years from now.
Analysis
Whew! That was a lot of number crunching. Before I go any further, I've included a chart below to summarize the key details from all of our calculations above.

*10% = 15% e-commerce market share x 67% Amazon share
From the figures above, it's evident that Amazon is expected to achieve a much stronger top line in five years compared to Apple and Alphabet. In fact, if you were to combine Apple and Alphabet's estimated top lines, you still wouldn't achieve Amazon's projected revenue. In addition, when going through my analysis, I rounded up wherever possible and applied optimistic expectations for Apple and Alphabet's market potential growth, while applying the opposite for Amazon. In doing so, I was hoping to achieve a "margin of safety" for Amazon compared to Apple and Alphabet.
In addition, let's also keep in mind the following facts from below:
When conducting the analysis above, we examined global segments for Alphabet and Apple, while looking at just North American retail for Amazon.
Amazon's leading revenue segment makes up less than 60% of its total sales. Google's advertising revenues account for almost 90% of the company's total sales and Apple's iPhone sales make up nearly three quarters of its total revenues.
Amazon is now also getting into brick and mortar retail through its investments in Amazon Go for groceries, display stores, and other concepts.
Last but certainly not least, we must also remember that Amazon is dominating in the cloud space through Amazon Web Services. According to Jeff Bezos, this market also has the potential to be worth "trillions of dollars" as well.
Playing Devil's Advocate...
Now, it's important to remember that while Amazon may achieve much higher revenues than Apple and Alphabet, the company's business model ("Your margin is my opportunity") leaves the company with razor-thin margins.
There are several other factors that come into play. Apple is currently sitting on over $200 billion in cash. If the company can find attractive ways to spend that capital, I may likely have to scrap this article altogether.
In addition, Alphabet is certainly aware that it may have reached its full growth potential in the advertising market. The company has spent much of its reinvested capital in new business lines such as YouTube TV, Nest and other projects.
Many intangibles also come into play - Will the markets each company is focusing on become disrupted by other competitors? Will the current CEOs of these companies still be around in five years? Will each company's current dominant market still be making up a majority of sales in five years?
However, all of these things remain as question marks for now - we can only guess as to what Apple will do with all of its cash or what new business ventures Alphabet will pursue. What is certain, is that Amazon operates in a total addressable market that is much larger than everybody else in the United States. It will be very interesting to see how everything plays out.
Lastly, a huge thank you goes out to Bill Miller, former CIO at Legg Mason Capital Management, who spoke to this idea first on CNBC a few months ago.
On a final note, looking back at our original comic from the beginning, perhaps I should have gone with something that looked more like this...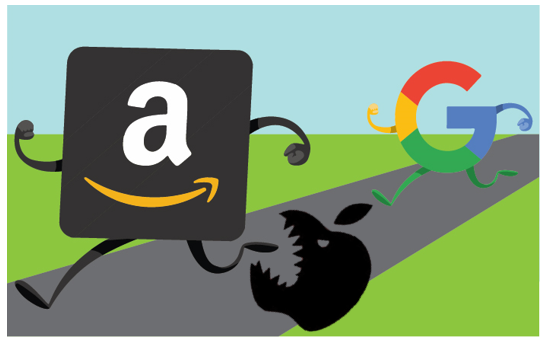 Please feel free to comment and leave your thoughts - as a young investor, I am always looking for ways to continue learning out here! If you enjoyed this article's content please shoot me a follow - I plan on writing more articles in the near future.
Disclosure: I am/we are long AMZN.
I wrote this article myself, and it expresses my own opinions. I am not receiving compensation for it (other than from Seeking Alpha). I have no business relationship with any company whose stock is mentioned in this article.