Bank Stocks Lag S&P 500 Past 90 Days
Chart 1 compares the average stock price change for 16 big banks over the past 90 days. While the S&P 500 is up 3.8%, the average big bank stock is down -1.9%. Only four banks - Citigroup (NYSE:C), Bank of America (NYSE:BAC), Comerica (NYSE:CMA), and KeyBank (NYSE:KEY) - have positive share price change over the past 90 days. Twelve banks have negative returns: Capital One (NYSE:COF), BB&T (NYSE:BBT), Fifth Third (NASDAQ:FITB), Zions (NASDAQ:ZION), Regions (NYSE:RF), Huntington (NASDAQ:HBAN), U.S. Bank (NYSE:USB), Wells Fargo (NYSE:WFC), M&T (NYSE:MTB), JPMorgan Chase (NYSE:JPM), PNC (NYSE:PNC) and SunTrust (NYSE:STI).
Chart 1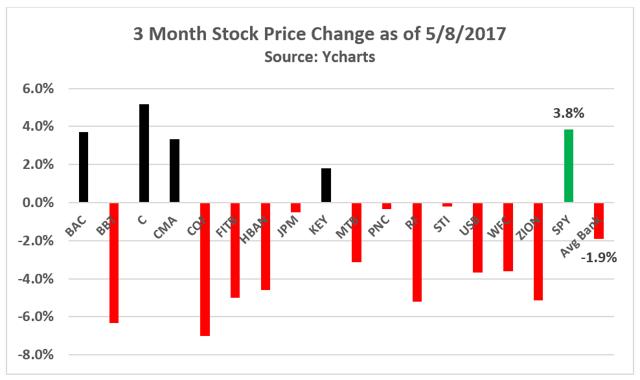 Loan Slowdown Hits Banks
In mid-March of this year, I advised Seeking Alpha readers that lending activity among banks had slowed considerably since November 2016. Sure enough, first quarter earnings calls confirmed that bank lending among the 16 big banks fell on average -.5% quarter over quarter. Chart 2 shows that the majority of big banks saw loans decline at the end of the first quarter compared to year-end 2016.
Chart 2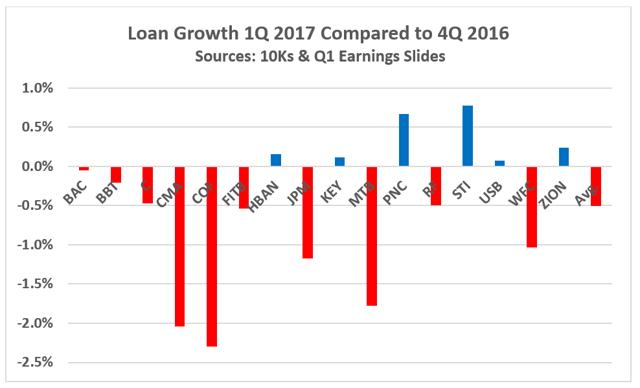 The decline in lending is in stark contrast to the positive trend established since Q1 2013, as shown in Chart 3. Investors should pay special attention to loan growth trends since Q2 2016.
Chart 3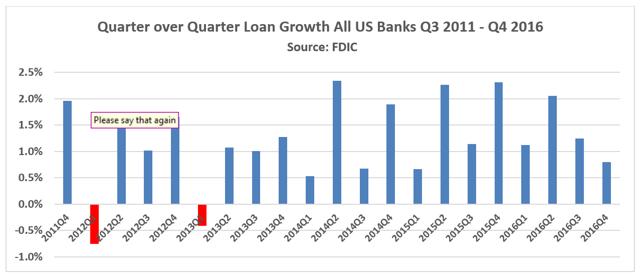 Fed Report: Senior Loan Officer Survey May 8, 2017
The Federal Reserve regularly surveys bank senior loan officers regarding lending conditions in the U.S. The most current report is dated May 8, 2017. It reveals three big trends that have short-term and long-term implications to bank investors.
Loan demand is slowing
Banks continue to struggle increasing the spread of loan rates over cost of funds
Banks are tightening credit standards for auto, commercial real estate, and multifamily lending
The following loan categories are analyzed for this post: auto, credit card, commercial and industrial (C&I), commercial real estate (CRE), and multifamily. All of the following charts are drawn from the Federal Reserve's Senior Loan Officer Survey for May 8, 2017.
Excluded from the analysis is 1-4 family mortgage lending (i.e., home loans). These loans are excluded because my research shows this category of lending actually destroys shareholder value for the majority of banks in this business because profitability is less than cost of capital. (Source: Investing in Banks, RMA 2016.)
Slowing Loan Demand
On February 19, I gave Seeking Alpha readers a heads up that banks with big auto loan exposure faced severe challenges ahead. On the next trading day, February 21, Ally (NYSE:ALLY) closed a few cents off its all-time high. Since February 21, Ally is down -15.7% and Capital One, another active auto lender, is off -12%. As chart 4 reveals, after three years of increasing demand for auto loans, during the past two quarters, senior bankers' report a decline in auto loan demand. This is not good news for either the banks, automakers, or the overall economy.
Chart 4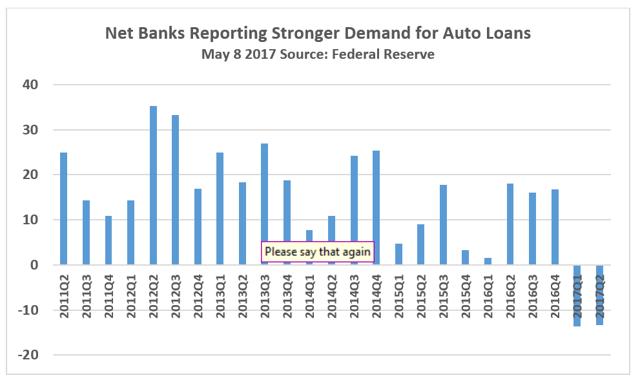 As Chart 5 shows, demand for credit cards is slipping at the same pace as auto loans. The weakness in auto and credit card should concern investors - and the Trump administration and Federal Reserve Open Market Committee - expecting consumers to help propel the economy forward on a 3% plus GDP growth rate.
Chart 5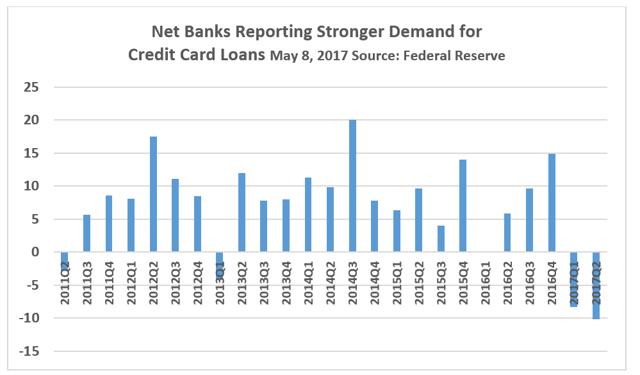 Readers of my recent book about bank investing know that farm and C&I lending provide the best risk-adjusted returns for banks over time. The problem for bank investors is that farm lending represents less than 2% of overall U.S. bank loans. However, C&I represents a much more significant 21%. The next two charts address demand for C&I loans from larger and smaller businesses.
As can be seen in Chart 6, large corporations' and middle market companies' demand for loans stalled out beginning in early 2016. Although a number of bank CEOs spoke during first quarter earnings calls about the optimism they are hearing from corporate borrowers, those same CEOs noted that the optimism is not translating into more loans. Chart 6 confirms the CEO observations.
Chart 6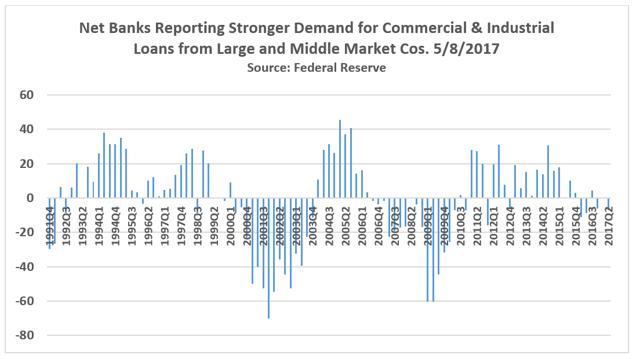 Large corporations and middle market companies are not alone in their sluggish demand for loans. Small firms mirror trends seen in larger companies. See Chart 7.
Chart 7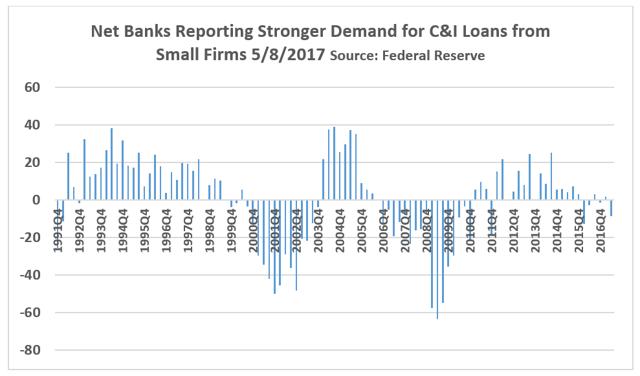 CRE lending demand fell in the second quarter of 2017 after three straight years of increasing demand as data in Chart 8 show.
Chart 8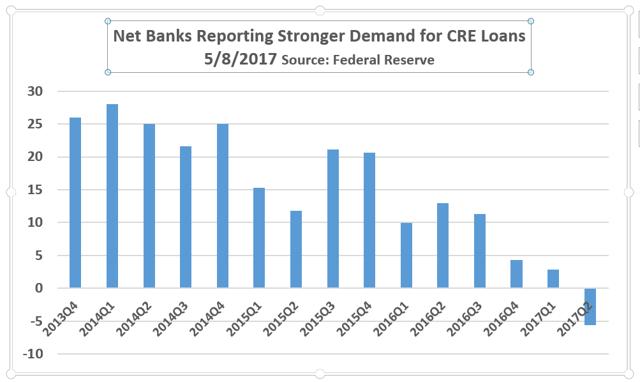 Chart 9 indicates multifamily lending demand has also slowed in recent quarters. Active multifamily lenders have been among the nation's best long-term performing banks. A good example is Signature Bank (NASDAQ:SBNY) whose investors have enjoyed a 312% growth in stock price over the past 10 years; however, SBNY's stock price is down over -10% during the past 90 days (source: Ycharts).
Chart 9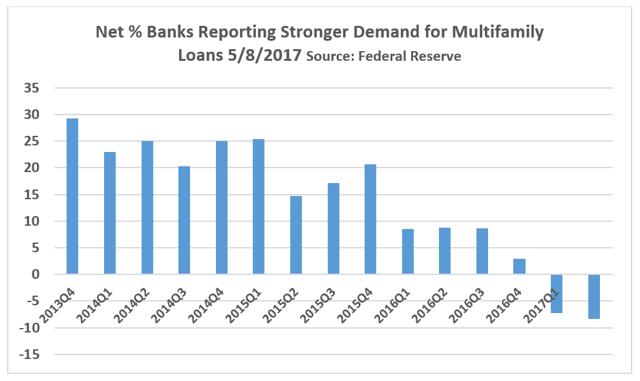 Banks Continue to Face Loan Pricing Pressure
The marked slowdown in loan demand is not helping banks improve loan pricing which is needed to drive an improvement in net interest margins. Charts 10 and 11 reveal the challenge bankers face in increasing loan rate spreads over their cost of funds for C&I loans. These charts also partially explain why bank margin pressures have been so acute in recent years.
It is worth noting that banks experienced similar challenges from 2004 to 2006, which corresponds with the last time the Fed hiked interest rates. The 2004-2006 data do not bode well for investors expecting swelling net interest margins from rising rates.
Chart 10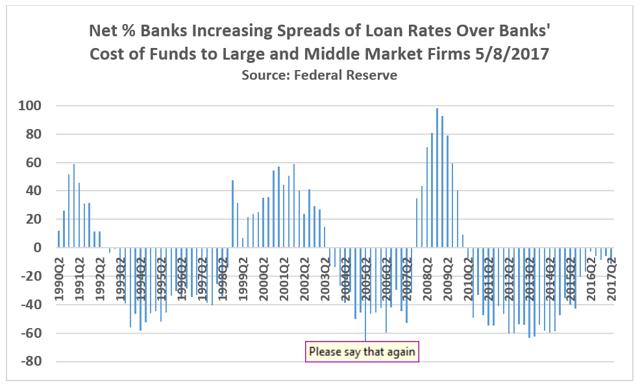 Chart 11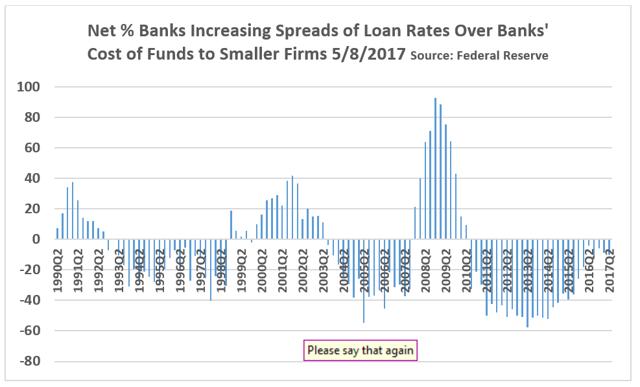 Bank Lending Standards Tighten
Banks are not only suffering from sluggish loan demand but also from concerns that credit quality is beginning to show signs of deterioration. Chart 12 indicates that bankers began tightening standards for auto loans back in the second half of 2016. For some banks like Ally and Capital One, the tightening appears to be several quarters late.
Chart 12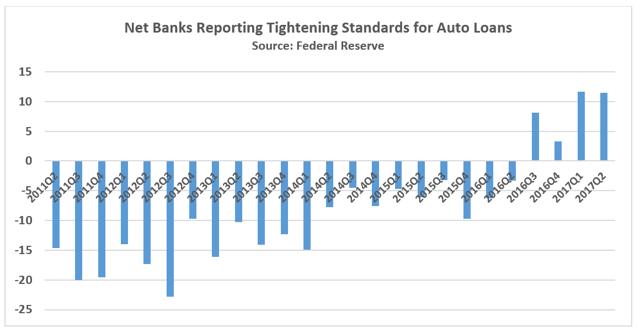 The banking industry has a long history of misgauging the risk of CRE loans. These loans were at the root of nearly 3000 bank and S&L failures during the second half of the 1980s and another 500 failed community banks between 2008 and 2011. Investors should consider it good news that bankers began tightening standards for CRE loans in late 2015 as revealed by chart 13. As a rule of thumb, bank investors should know that large banks are less likely to engage in CRE lending than small community banks. Therefore, tightening standards for CRE lending has significant implications for investors in the nation's 5500 community banks.
Chart 13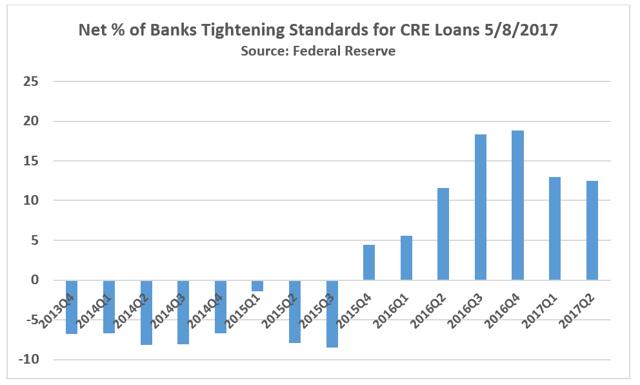 In contrast to the checkered past of CRE lending, banks have enjoyed more than three decades of solid multifamily lending activity. But as can be seen in Chart 14, bankers across the country now appear hyper-concerned that the rapid growth and multifamily loans in recent years may lead to problems. Lending standards have tightened considerably since late 2015.
Chart 14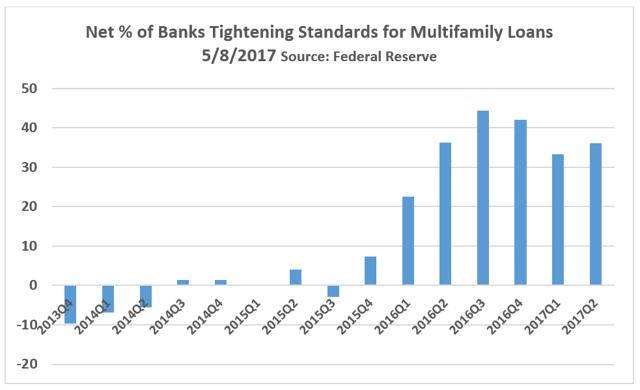 While auto, CRE, and multifamily lending standards have ratcheted up over the past year, in contrast, banks have not tightened standards for credit card or C&I lending as shown in chart 15-17. My review of first quarter 2017 bank earnings calls for about 50 banks did not reveal any significant concerns about credit card trends. Similarly, I saw few concerns with C&I lending.
Chart 15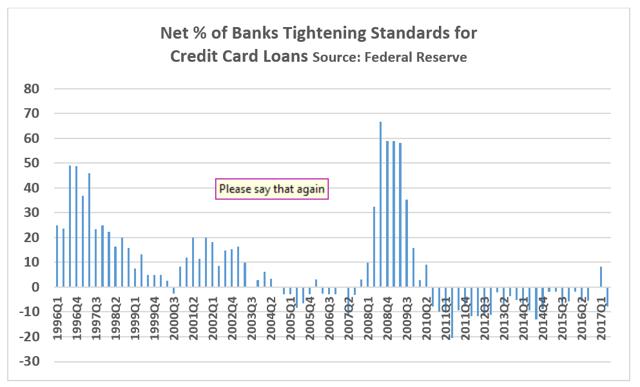 Chart 16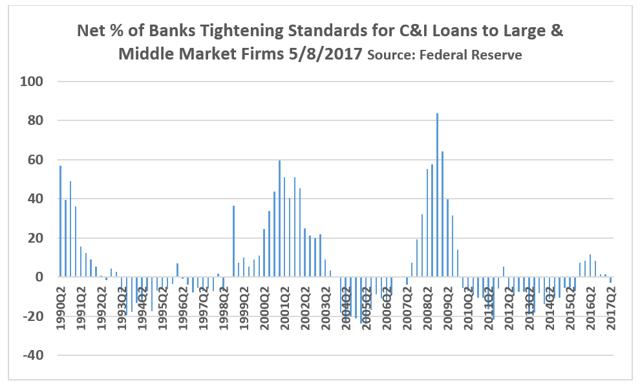 Chart 17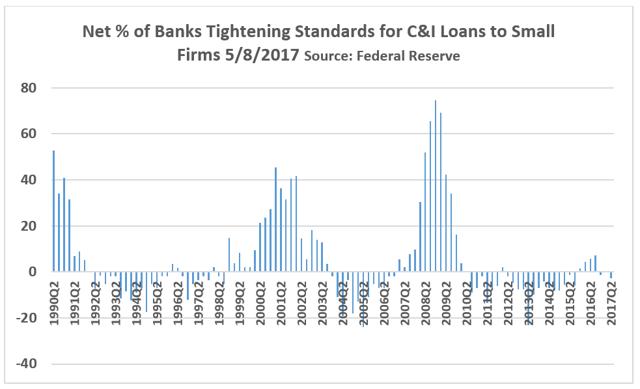 Conclusions
The 17 charts shown in this post indicate that the banking industry may be at a turning point. The same may be true for the overall US economy.
After four strong years of loan growth, bank lending has slowed considerably since November 2016. Perhaps, it is no coincidence that first-quarter 2017 GDP growth was anemic at .7%.
The slowdown in lending is clearly a contributing factor behind the inability of bank stocks to keep pace with the S&P 500 during the past 3 months. Bank investors should be concerned about 2017 revenue growth.
Investors expecting GDP to grow 3% or better during the remainder of 2017 will want to pay close attention to bank lending this year. It is hard to imagine how the economy can grow significantly in the absence of robust bank lending. Likewise, banks need a strong economy to grow. My research shows that bank earnings thrive with a 3% plus GDP. Anything less than 1% is highly problematic.
The Fed's recent rate hikes and solid probability of another hike in June suggest the economy is strong and getting stronger. While improving unemployment rates may confirm this notion, the slowdown in lending is clearly a contrary indicator of a robust economy.
But is the slowdown in bank lending a leading indicator of trouble ahead for the US economy? If so, the Fed will prove for the second time in a decade its inability to forecast the economy. Rest assured that lawmakers fed up with the Fed are closely monitoring economic growth.
However, let's be clear about one thing: credit quality numbers across the industry continue to look very good. But the fact that banks are tightening auto, CRE, and multifamily lending suggest bankers see warning signs of trouble ahead.
And that might be the best news of all. Long-term bank investors do not want to experience a big spike in provision for future loan losses.
Perhaps, the silver lining behind the slowdown in lending is that bankers - and for that matter, bank regulators - have learned this truth after three decades that witnessed 3500 bank failures:
The best time to tighten credit standards is before it's obvious that it's time to tighten credit standards.
I am bullish overall on the U.S. economy and equities. However, if bank lending remains sluggish into Q3 and GDP fails to grow 3%, I plan to reduce equity exposure and modestly sell off some bank holdings.
Disclosure: I am/we are long JPM, CMA, HBAN. I wrote this article myself, and it expresses my own opinions. I am not receiving compensation for it (other than from Seeking Alpha). I have no business relationship with any company whose stock is mentioned in this article.
Additional disclosure: As a long-term Bank of America employee (retired 2011), I continue to have certain financial interests in BAC but do not currently own BAC shares.