Consumer spending took a good-sized hit in the first of three estimates of 1st quarter output, posting an anemic 0.3% quarter-over-quarter (QOQ) gain. Durable new orders for the greater economy through the end of March fell 0.2% with fabricated metals products (down 0.8%), machinery (down 0.2%), computers and electronic equipment (down 0.2%), computers and related equipment (down 3.8%), communications equipment (down 1.2%), motor vehicles and parts (down 0.8%) and all other durable goods (down 0.4%) appearing to underscore a rather dismal month for both consumer and corporate spending. While many of these estimates will likely change in subsequent estimates, consumer spending nonetheless hit its lowest ebb since the 4th quarter of 2009. For an economy dependent on such spending for about 70% of total economic output, concern is certainly warranted. Then again, you wouldn't know consumer spending took such a beating by looking at the Consumer Discretionary Select Sector SPDR (XLY) for the period (see Figure 1, below). Consumer discretionary spending is up about 10% year-to-date (YTD). Investor support has been strong for much of the period, even penetrating the red zone of overpurchase three separate times over the period. XLY has been a fairly strong buy since mid-April.
Figure 1: Consumer Discretionary Select SPDR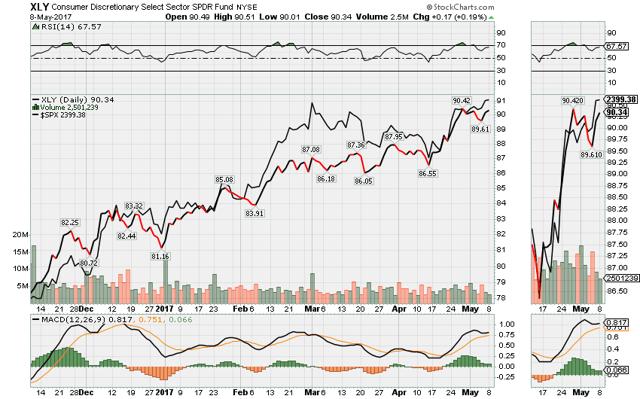 Of course, XLY gets a pretty good boost from its four top holdings which collectively soared 23% on the year. Amazon (AMZN) leads the pack with a 14% weighting and is up just over 27% on the year. The McDonald's Corporation (MCD) and Home Depot (NYSE:HD) are neck-and-neck, up 19% and 18% on the year with a 4.24% and 7.17% weighting, respectively. Priceline.com (PCLN) is the highest flyer year-to-date with a return of 30% and holds a 3.5% weighting. Interestingly, remove any of these positions and XLY reverses market course rather dramatically for the period. There was a good deal of selling of XLY throughout the month of March, perhaps due in part to the broad levels of political uncertainty stirred up during the month with the attempted repeal of the Affordable Care Act (ACA). With the very public flameout at the end of the month, investor confidence staged an outsized rally that stretched into the second week of April before being cut off abruptly as uncertainty returned with the razor-thin passage of the American Health Care Act by the House of Representatives in the first week of May (see Figure 2, below).
Figure 2: XLY less Home Depot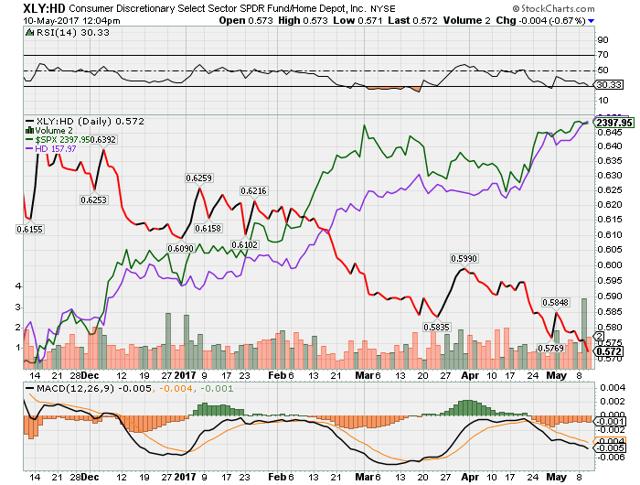 Home Depot is an interesting position upon which to dwell for a moment not only from its inclusion in a consumer discretionary spending position such as XLY but also for its ability to speak to ongoing trends in the housing market. The S&P Case-Shiller Home Price Index through the end of February posted its highest year-over-year (YOY) growth rate of 5.78% since July 2014. Home prices in the Pacific Northwest have been on a tear over the past two years. Seattle home prices are up more than double the 20-city average at 12.1% - and almost 5-times the 2.5% YOY wage growth posted in April. Prices in Portland have actually fallen into the high single digits since December after 15 consecutive months in double-digits stretching back to September 2016. Still, the city's home prices exceed national wage growth by a factor just short of 4. Denver, Dallas and San Francisco all have similar storylines.
Most of the overheated housing markets in the country are hampered by some variant of supply shortage - from labor to zoning restrictions to rising prices of lumber and other building materials to rising interest rates and a pullback in first time home buyers. The national inventory of existing homes for sale came to 3.8 months through the end of March, pushing the median selling price up to $236,400 in March, up almost 7% YOY. For new homes, the median selling price during the month was $315,100, with overall construction relative to the number of US households hitting levels last seen in 1957. Still, homebuilders have benefited from rising home prices which have placed welcome upward pressure on operating margins (see Figure 3, below).
Figure 3: SPDR Homebuilders ETF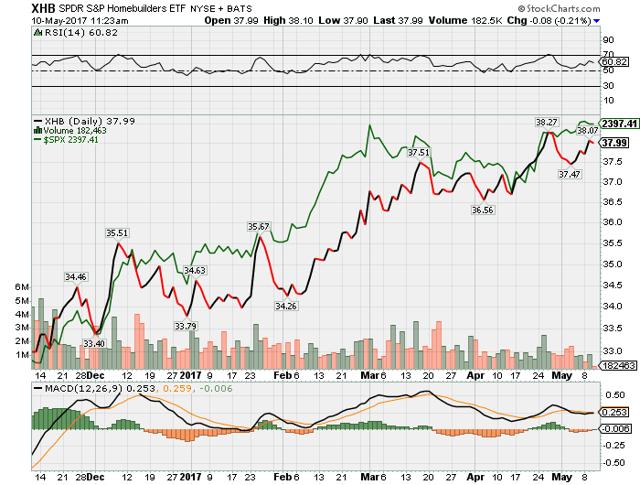 Given the rising prices for both existing and new homes in many markets across the country, it is telling to note that the four top holdings of SPDR Homebuilders ETF (XHB) are not homebuilders at all, but home furnishing companies like Williams-Sonoma (WSM) which commands the top spot in weighting at 4.60%, home security supplier Johnson Controls (JCI) at 4.57%, Tempur Sealy (TPX) at 4.56% and Fortune Brands Home & Security (FBHS) at 4.54%. PulteGroup (PHM) and Toll Brothers (TOL) are the only two home builders in the top 8 holdings mixed in with Lowe's (LOW), Bed Bath & Beyond (BBBY) and Home Depot. With little risk of supply exceeding demand in the existing home space - about 90% of the market - in the near future, the expectation that home prices will continue to increase over the medium term becomes all the more likely. Rising home prices combined with increasing interest rates will continue to squeeze first-time home buyers out of the market, a home-buying segment that commanded over 40% of the market; in March that figure was 32%. With fewer bids on first-time homeowner homes the latter stays put, which places downward pressure on the all-important trade-up market - which in turn increases the demand for home improvement projects that play to the market expertise of Home Depot, Lowe's and similar home improvement centers. The trend is more than likely to continue over the medium term and beyond as HD becomes plan "B" for many a first-time homeowner trapped by market constraints.
Figure 4: SPDR Homebuilders ETF less Home Depot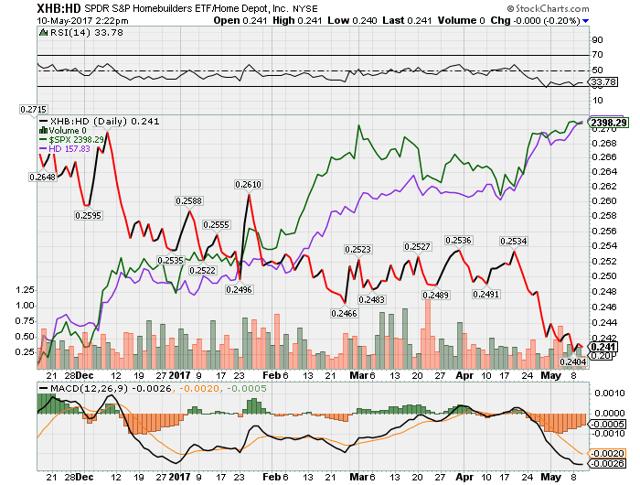 HD's weighting and the weighting of all of the top holdings in SPDR Homebuilders ETF are much more evenly distributed than those of XLY which eliminated the pronounced decline in the mid-February period portrayed in Figure 2 (above) once HD was divided out of the graph. Dividing HD out of the SPDR Homebuilders ETF created a narrow range of trading from the mid-February to mid-April period before a sharp loss of investor confidence came to the fore in the waning days of April and into the first week of May that has yet to reverse course.
HD's net sales have been growing at mean annual rate of 6% since 2012, with the last two fiscal years through 2017 hitting 7% YOY. Gross profit averages out at 6% for the period with fiscal year ending 2017 hitting 7% YOY. Earnings per share growth came to an outsized 21% while comprehensive income grew at 17% for the period.
I would project HD's earnings to $7.68 for 2018 based on a 19% YOY overall earnings growth rate for the next 12-month period. HD's projected share price target should come in at about $169, based on 7% YOY revenue growth or just a shade over 22-times earnings.