GW Pharmaceuticals (NASDAQ:GWPH) released its results for Q2 2017 which were slightly below expectations in revenue terms. The key issue is the amount of cash in hand for bringing drugs to market in 2017 and 2018. This remained at a very healthy level as the company outlined further testing schedules.
Results
Cash and Cash equivalents as of 31st March were a healthy £306.3 million. This compares to £374.4 million as at 30th September 2016. Revenue for the 6 months was £3.7 million compared to £6.3 million for the 6 months ending 31st March 2016. This emphasizes the not very sparkling sales performance of their "Sativex" drug. Additionally, it represents the reduced R & D fee recharges on the partner funded Sativex cancer pain studies.
Loss for for the 6 months ending 31st March 2016. The loss was equivalent to US$1.70 per share. Consensus earnings had been for a loss of equivalent US$1.45 per share. This led to an approximate 3% fall in the stock price. This should be seen as a buying opportunity.
Company Financials
For all drug development companies, the billion dollar question is always whether they have enough money to bring drugs to market. The FDA and EMA processes are long and tortuous. Investors stand the risk of the company running out of liquidity, or of share dilution. GW Pharma is well placed in this regard.
At the analysts call, it was confirmed that the company expected to spend cash at between US$130 million to US$150 million for the year ahead.
Key indicators as below illustrate the relatively healthy cash position: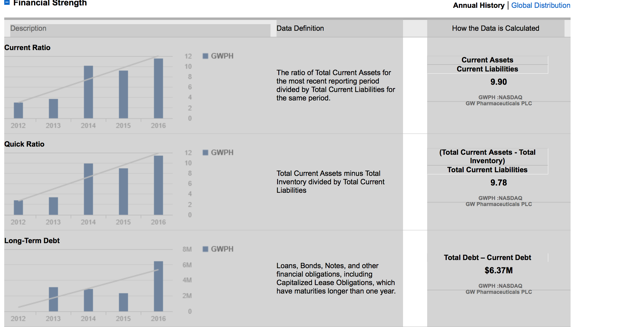 Both the current ratio and quick ratio are healthy, and on an improving curve. Current ratio refers to year ahead liabilities compared to cash in hand. Quick ratio refers to cash and short-term investments compared to financial liabilities. Long-term debt has increased but is manageable.
The ratio of long-term debt to capital has improved. The proportion of debt to capital has declined substantially. The proportion of long-term debt to equity has declined substantially. These are all very positive factors.
The Year Ahead
My recent article gave details of the very promising drug development program and conditions to be treated from GW Pharma, so I will not repeat that here.
The company's expectations for the milestones for the year ahead are detailed below: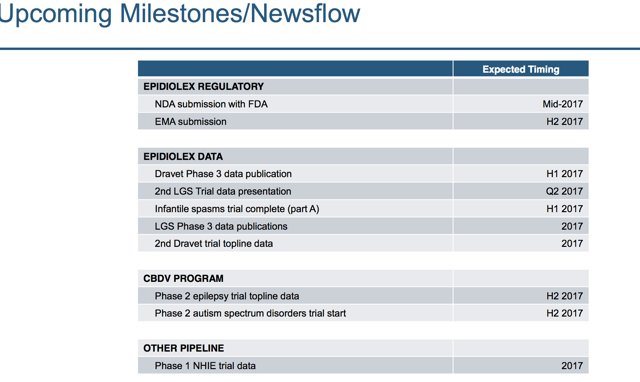 This schedule was confirmed by the company along with the results announcement. Concerning the NHIE trials, it was confirmed further that the Phase 1 trial was complete and Phase 2 trials are under way with the FDA. Orphan drug status has been confirmed both in the USA and in Europe.
This is the big year really for the company, as it nears what it hopes to be final approval for "Epidiolex" from the FDA and ramps up its manufacturing and marketing capabilities. The company passed a U.K. regulatory Good Manufacturing Practice (GMP) inspection of manufacturing facilities in December 2016. It expects an FDA GMP inspection in H2 2017. The company stated that it was "on track to deliver significant commercial launch inventory."
"Epidiolex" now has 1500 patients on trial. 97% of those who completed Phase 3 trials have entered into long-term extensions. The progress on the other drugs under testing is accelerating.
At the analysts call Dr Stephen Wright gave further details on the "Epidiolex" trials and the recent presentation at the American Academy of Neurology. He stressed the very low incidence of adverse effects. In themselves these were mainly just sleepiness and decreased appetite.
As per the charts printed in this article, Wright also gave more details on the promising results so far of tests for their proprietary CBDV. This is being tested in relation to epilepsy, autism spectrum related disorders and for Rett Syndrome. Other tests were proceeding on GWPH patented cannabinoid treatments for NHIE and for recurrent glioblastoma.
The Macro Political Situation
The uncertainty over the Trump Administration's stance towards cannabis continues. As I have detailed in previous articles, the extreme anti-cannabis stance by Attorney General Sessions has been a cause of concern. He had previously come out with the somewhat strange statement, "Good people don't smoke marijuana". He has quite wrongly compared its effects to that of heroin. The opinion of the American public and of individual States appears to be against Sessions however.
The tide of public opinion on marijuana as a whole seems quite clear. The graph below shows this: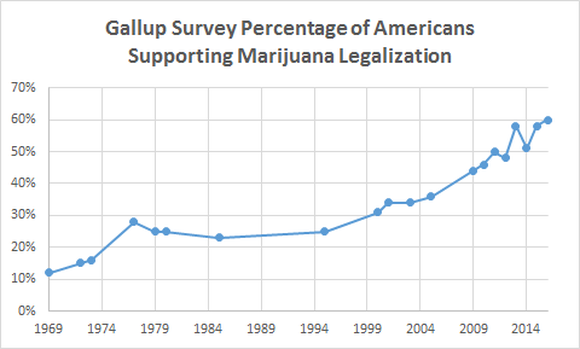 On medical marijuana specifically it is even more clear-cut. 29 States now have medical marijuana laws on their statute books. The legalization process state-by-state is shown below: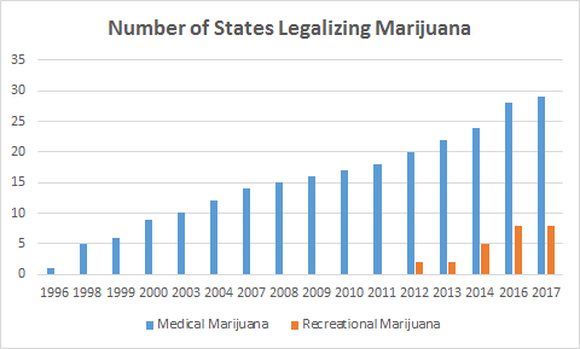 Sessions, a keen advocate of States' rights, will have a difficult time rolling back these initiatives. Back in March it was reported he had indicated to senators that the States would have the final say on the matter. In April senators passed the Rohrabacher-Farr amendment. This effectively protects individual the own laws of individual States on medical marijuana against anything the Federal Government might wish to do. This was an important moment. Effectively Congress was facing down the Justice Department.
One of the most bullish potentials for GW Pharma is its lead position in medical marijuana research. It is possible that long-term many conditions will be able to be treated favorably.
Some recent research published in the magazine "Nature Medicine" in Europe provides interesting insight into new potential positive effects of cannabis. This was undertaken utilizing low doses of the pyschoactive element in cannabis, THC (tetrahydrocannabinol). It appears to have positive effects on memory problems in older people by stimulating the endocannabinoid system. Dementia is of course a huge future medical problem with ageing societies. Because of the THC element, taking pure natural cannabis for this would have its problems. A drug developed from cannabis for this would of course be a different matter.
For GW Pharma in fact some restrictions on medical marijuana may be beneficial. If their cannabinoid drugs get approved by the FDA and marijuana in its natural form is not approved, then of course GW Pharma has less competition. However it would not be favorable for the company to be in a situation whereby the whole idea of cannabis was taboo. So the present stand-off between Federal and States Governments may be to their advantage.
Conclusion
Following the results, the situation for GW Pharma remains very much the "status quo". The company has plenty of cash in hand to meet its short-term and medium term objectives. If the promising testing and approval objectives are met as expected, then long-term the company should be in a very healthy position.
Disclosure: I am/we are long GWPH.
I wrote this article myself, and it expresses my own opinions. I am not receiving compensation for it (other than from Seeking Alpha). I have no business relationship with any company whose stock is mentioned in this article.